7th Montreal World Cup- CDM
Canada, May 30, 2004
Main page Results World Cup standings
Report
L to R - Judith Arndt (Nurnberger), Olivia Gollan (AUS National) and Genevieve Jeanson (RONA) at 200 meters to go
Photo ©: Rob Karman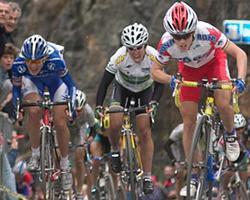 Genevieve Jeanson (RONA) sprinted to victory today in the 6th round of the women's World Cup in Montreal after a tumultuous week which has left doubt whether she will be suspended for failing to appear for testing after a previous World Cup race earlier in the year.
In fact, the Montreal native was boosted by not only a boisterous hometown crowd, but some anger over the possible suspension. Perhaps that anger was just the fuel she needed to out sprint Judith Arndt (Nurnberger) and Olivia Gollan (Australian National Team) after 12 laps of the grueling 8.3km Mt Royale Circuit.
Arndt was disappointed with second place after having finished in the same position last week at the Tour de L'Aude in France. After the race, Arndt told Cyclingnews "I was second, not good enough today." In contrast Gollan was pleased with her result as she was there mainly to protect the World Cup lead of team mate Oenone Wood. "I just followed Genevieve on the final lap as I knew she'd be the one to beat but I had nothing left in the last 200 meters." Gollan told Cyclingnews.
It was a race of attrition as riders starting falling off the pace on the second trip up the Mt Royale climb, a 1.7 km grind of varying grades. The pack continued to be whittled away until only about half of the field remained as the climb took it's toll and the attacks began.
Oenone Wood
Photo ©: Rob Karman

On the offensive early was French legend Jeannie Longo-Ciprelli who lead the first time up the climb and was active throughout the race, though was never able to get away.
The Quark team was also aggressive with Amy Moore getting up the road on lap 5 with Christina Peick-Anderson (S.A.T.S.). That move was short lived but they tried again 3 laps later with Audrey Lemieux going solo for just over a lap.
Jeanson's RONA team was very attentive at the front all day and their plan to keep everyone in check played out perfectly as Genevieve arrived to the base of the climb on the final lap rested and ready to attack. She had payed attention to the chilly wind that had blown steadily throughout the race and timed her attack at just over 500 meters to go when the wind was at her back. Only Gollan and Arndt were able to grab her wheel but neither could repeat the feat when Jeanson went again at 200 meters to gap them by several bike lengths at the line. "It was rage. Rage was driving me." - Jeanson said.
Photos
Images by Rob Karman/Cyclingnews www.roadbikephotos.com
Results - 99.6 km
1 Geneviève Jeanson (Can) Equipe Cycliste Rona               2.55.46 (33.99 km/h)
2 Judith Arndt (Ger) Equipe Nürnberger Versicherung                 
3 Olivia Gollan (Aus) Australian National Team                      
4 Barbara Heeb (Swi) Swiss National Team                        0.04
5 Amber Neben (USA) T-Mobile Professional Cycling Team              
6 Andrea Graus (Aut) Austrian National Team                         
7 Anita Valen (Nor) Team S.A.T.S.                                   
8 Annette Beutler (Swi) Swiss National Team                         
9 Trine Hansen (Den) Team S.A.T.S.                              0.06
10 Lyne Bessette (Can) Quark Cycling Team                       0.10
11 Christine Thorburn (USA) Webcor Cycling Team Composite           
12 Rachel Heal (GBr) British National Team                          
13 Modesta Vzesniauskaite (Ltu) Safi-Pasta Zara Manhattan           
14 Kim Anderson (USA) T-Mobile Professional Cycling Team        0.16
15 Erinne Willock (Can) Equipe Cycliste Rona                        
16 Anna Zugno (Ita) Safi-Pasta Zara Manhattan                       
17 Johanna Buick (NZl) Victory Brewing Cycling Team             0.19
18 Susan Palmer-Komar (Can) Genesis Scuba/FFCC                  0.22
19 Kori Kelly (USA) Genesis Scuba/FFCC                              
20 Teodora Ruano Sanchon (Spa) Spanish National Team            0.32
21 Regina Schleicher (Ger) Safi-Pasta Zara Manhattan            0.42
22 Jeannie Longo-Ciprelli (Fra) French National Team            1.01
23 Manon Jutras (Can) Team S.A.T.S.                             1.11
24 Felicia Greer (Can) Webcor Cycling Team Composite            1.13
25 Tina Mayolo-Pic (USA) Genesis Scuba/FFCC                     1.20
26 Katrina Berger-Grove (USA) Equipe Cycliste Rona                  
27 Katheryn Curi (USA) Equipe Cycliste Rona                         
28 Ourada Brooke (USA) Victory Brewing Cycling Team             1.24
29 Madeleine Lindberg (Swe) Equipe Nürnberger Versicherung      1.29
30 Christina Peick-Anderson (Den) Team S.A.T.S.                 1.35
31 Sigrid Corneo (Ita) Nobili Rubinetterie-Guerciotti               
32 Maribel Moreno (Spa) Spanish National Team                   1.53
33 Chrissy Ruiter (USA) Basis Aude                              2.03
34 Daniela Fusar Poli (Ita) Nobili Rubinetterie-Guerciotti      2.18
35 Mari Holden (USA) T-Mobile Professional Cycling Team         2.26
36 Dotsie Cowden (USA) T-Mobile Professional Cycling Team       2.32
37 Dede Demet-Barry (USA) T-Mobile Professional Cycling Team    3.33
38 Laura Val Gilder (USA) Genesis Scuba/FFCC                        
39 Nicole Demars (Can) Victory Brewing Cycling Team                 
40 Magali Le Floch (Fra) Quark Cycling Team                     3.36
41 Amy Moore (Can) Quark Cycling Team                           3.38
42 Audrey Lemieux (Can) Quark Cycling Team                      3.54
43 Diana Ziliute (Ltu) Safi-Pasta Zara Manhattan                    
44 Oenone Wood (Aus) Australian National Team                   3.58
45 Hiroko Shimada JAP Webcor Cycling Team Composite             4.02
46 Margaret Hemsley (Aus) Australian National Team              4.12
47 Zita Urbonaite (Ltu) Safi-Pasta Zara Manhattan                   
48 Anna Milkowski (USA) Equipe Cycliste Rona                    8.46
49 Helen Kelly (Aus) Equipe Cycliste Rona                       9.21
50 Emma Rickards (Aus) Victory Brewing Cycling Team                 
51 Charlotte Goldsmith (GBr) British National Team                  
52 Alison Wright (Aus) Nobili Rubinetterie-Guerciotti               
53 Grace Fleury (USA) Genesis Scuba/FFCC                            
54 Kym Shirley (Aus) Nobili Rubinetterie-Guerciotti                 
55 Catherine Marsal (Fra) Nobili Rubinetterie-Guerciotti            
DNF Jennifer Stephenson (Can) Canadian Development Team             
DNF Ann-Marie Miller (USA) Verizon Wireless Wheelworks              
DNF Caroline Montminy (Can) Quebec Team                             
DNF Anna Gusmini (Ita) Nobili Rubinetterie-Guerciotti               
DNF Iosune Murillo Elkano (Spa) Spanish National Team               
DNF Kele Hulser (USA) Basis Aude                                    
DNF Leticia Gil Parra (Spa) Spanish National Team                   
DNF Michelle Beltran (USA) Webcor Cycling Team Composite            
DNF Julie Bélanger (Can) Canadian Development Team                  
DNF Marie-Pier Bédard (Can) Canadian Development Team               
DNF Stéphanie Bourbeau (Can) Quebec Team                            
DNF Megan Elliott (USA) Quark Cycling Team                          
DNF Emily Sandwith (Can) Canadian Development Team                  
DNF Janine Verstraeten (USA) Verizon Wireless Wheelworks            
DNF Louise Yaxley (Aus) Australian National Team                    
DNF Tara Ross (Can) Canadian Development Team                       
DNF Naiara Telletxea Lopez (Spa) Spanish National Team              
DNF Nicole Freedman (Isr) Basis Aude                                
DNF Alicia Genest (USA) Verizon Wireless Wheelworks                 
DNF Leah Toffolon (USA) Verizon Wireless Wheelworks                 
DNF Julie Hutsebaut (Can) Quebec Team                               
DNF Élisa Gagnon (Can) Quebec Team                                  
DNF Laura Yoisten (Can) Canadian Development Team                   
DNF Joan Davies (USA) Webcor Cycling Team Composite                 
DNF Meredith Miller (USA) Team S.A.T.S.                             
DNF Anne Samplonius (Can) Quebec Team                               
DNF Kirsten Robbins (Can) Victory Brewing Cycling Team              
DNF Yulia Razenkova (Rus) Safi-Pasta Zara Manhattan                 
DNF Jessica Phillips (USA) Equipe Nürnberger Versicherung           
DNF Katy St-Laurent (Can) Basis Aude                                
DNF Petra Rossner (Ger) Equipe Nürnberger Versicherung              
DNF Lara Kroepsch (USA) T-Mobile Professional Cycling Team          
DNF Arantzazu Azpiroz (Spa) Spanish National Team                   
            

World Cup standings after round 6

1 Oenone Wood (Aus) Australian National Team                        202 pts
2 Zoulfia Zabirova (Rus) Team Let's Go Finland                      154
3 Mirjam Melchers (Ned) Team Farm Frites - Hartol                   115
4 Angela Brodtka (Ger) German National Team                          79
5 Judith Arndt (Ger) Nurnberger                                      77
6 Olivia Gollan (Aus) Australian National Team                       77
7 Sonia Huguet (Fra) French National Team                            75
8 Genevieve Jeanson (Can) Rona                                       75