An interview with Davide Rebellin, April 18, 2004
The new Rebellin or the old one?
Davide Rebellin and Michael Boogerd in the race's closing moments
Photo: © AFP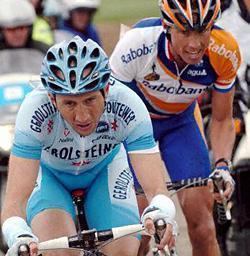 It's been a long time between drinks for a Davide Rebellin victory in a World Cup race. His last World Cup win came in 1997, when he won both Clasica San Sebastian and the Championship of Zurich - more than seven years ago. But as Cyclingnews' Chief Online Editor Jeff Jones writes, today's victory was cool headed and stylish, beating a home favourite on his preferred terrain with complete aplomb.
"In the last kilometre I was calm," said Rebellin of his tactics on the Cauberg, which saw him slow to a near standstill while Michael Boogerd grew increasingly nervous behind him, eventually jumping with 350m to go. Rebellin took his wheel, waited until 100m to go, and passed Boogerd to take a clear win. "I saw that the finish suited me, I felt in good condition and I wasn't scared of Boogerd," he added.
Rebellin and Boogerd attacked the six-man lead group on the Fromberg (the third last climb) with 17 kilometres to go, and Rebellin committed himself completely to staying away. "I thought it was a good moment to go," he said. "We worked perfectly together and it was definitely the right break. We knew what the gap was and maybe there was a bit of risk letting the speed drop, but Boogerd would go, as he certainly didn't want to lose. For me it was perfect that Boogerd led out."
Despite thousands of drunk Dutch fans yelling for Boogerd in the finale, Rebellin didn't succumb to any external pressure to let the favourite win. "It's normal that Boogerd gets the crowd support. I know it's important for a Dutch rider to be in first position in this race. But I'm the Italian that the Italian fans were cheering for and I'm proud I could do something nice for them today."
A smile that spelled the end of a drought
Photo: © AFP

Rebellin's win brought an end to a semi-drought of Italian World Cup victories this season, and he agreed it was important for both him and Italian cycling. "Yes, certainly. I should say that today was one of my objectives, along with Flèche Wallonne and Liege-Bastogne-Liege. I came into good condition at the right moment. Of course it's important for Italy, as we've been a little bit poor lately. It's also good for myself and the future, and I have more certainty for the remaining races in the season."
"You can expect more from me"
Photo: © AFP

A criticism often leveled at Rebellin is that he's always in the right break, but rarely makes the final attack or secures the victory. Why was today different? "It's true that things were different today," was his honest reply. "The circumstances were different. I felt by going with Boogerd we would make it to the finish. So it was easier to go through with the attack. But there is also the fact that I have had problems with my health [intestinal troubles in 2002] which are now in order. In future you can expect more from me and I think I can continue at this level now."
Rebellin qualified his answer by saying that although it's been a long time since his last World Cup win, "I've still won other nice races. I've had a lot of bad luck with a lot of second and third places. Of course you have to have things go your way to win a one day race."
The death of his friend Denis Zanette early last year also had a big effect on Rebellin, whose win today - reminiscent of Alexandre Vinokourov/Andrei Kivilev - brought him to say: "The win today was for Denis Zanette. He was my best friend and I hoped I could win a big race for him and his wife. I certainly got the strength today from Denis Zanette to win."
Other Cyclingnews interviews Full Amstel Gold Race coverage