39th Amstel Gold Race - CDM
Netherlands, April 18, 2004
2003 results Preview Start List Past winners
The Battle of the Cauberg
By Jeff Jones
Defending champion Alexandre Vinokourov
Photo © Elmar Krings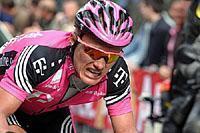 By far the youngest of the spring classics - and the only one to be named after a beer - the Amstel Gold Race in the Netherlands is the third April spring classic. Last year's date switch with Liege-Bastogne-Liege means that it's slightly more logically placed in the calendar, as the race's 31 short climbs make it more similar to the Ronde van Vlaanderen rather than Liege-Bastogne-Liege, which has fewer, but longer climbs. Again as last year, the race finishes atop the steep Cauberg climb, which has to be tackled a total of three times during the 250.7 kilometre parcours.
The race has been dominated by the Dutch since the late 1970's, with Dutch riders standing on top of the podium 17 times in 38 editions. But in the last decade, the winners have come from several different nations, which is probably a reflection of the Amstel Gold Race's growing importance on the cycling calendar. The only two Dutch winners in the last 12 years have been Erik Dekker and Michael Boogerd (Rabobank), who are both favourites to win in 2004. Boogerd has been on the podium four times since 1999, and is thus always a contender in the Amstel Gold Race.
The defending champion is Alexandre Vinokourov (T-Mobile), who put in a well timed attack late in the race last year to hold off Boogerd and Di Luca and the rest of the leading group on the Cauberg. So far this year, Vinokourov has shown himself to be in excellent form when he wants to be, his three stage wins in Paris-Nice a testament to that. He will be supported by a strong team that includes World Cup leader Steffen Wesemann, Erik Zabel and Daniele Nardello.
Third last year, Saeco's Danilo Di Luca will be back for another crack at it in 2004. He will be accompanied by Mirko Celestino, who has shown glimpses of top form this year. Another Italian to watch is Paolo Bettini (Quick.Step), who is looking to accumulate some more World Cup points in his quest to win the overall title again this year.
Michele Bartoli (CSC) won this race in 2002, and has had a fairly heavy classics season so far, without any outstanding results. But if everything goes right for Bartoli, he'll be there at the end and surely a danger to contest the finish on the Cauberg. His teammates include Jörg Jaksche and Kurt-Asle Arvesen, both good on hilly terrain.
There was no Flanders-Roubaix double (or even a single) for Peter Van Petegem (Lotto-Domo) this year, although few would deny that he is in good shape. Van Petegem hasn't finished on the podium in the Amstel, but if his mind and legs are set on it, he could be there this time. Teammate Leon van Bon is also in good form, and should not be counted out.
After punctures at inopportune moments cost Franco Vandenbroucke (Fassa Bortolo) any chance of a result in Flanders and Roubaix, the blond Belgian will try and redeem things in the Amstel Gold Race. It's difficult to assess VDB's form, but perhaps this time the cards will fall his way. His teammates Fabian Cancellara and Juan Antonio Flecha have been riding well too of late.
Other riders to consider in the Amstel equation include Laurent Brochard (Ag2r), Davide Rebellin (Gerolsteiner), Oscar Camenzind (Phonak) and Franco Pellizotti (Alessio-Bianchi).
Live coverage
Cyclingnews will be covering the 39th Amstel Gold Race live from start to finish. Coverage starts at 10:15 CEST (Europe)/4:15 EDT (USA East)/1:15 PDT (USA West)/18:15 AEST (Australia East).
Past winners
Year First                      Second                           Third    
2003 Alexandre Vinokourov (Kaz) Michael Boogerd (Ned)            Danilo Di Luca (Ita)
2002 Michele Bartoli (Ita)      Serguei Ivanov (Rus)             Michael Boogerd (Ned)
2001 Erik Dekker (Ned)          Lance Armstrong (USA)            Serge Baguet (Bel)          
2000 Erik Zabel (Ger)           Michael Boogerd (Ned)            Marcus Zberg (Swi)          
1999 Michael Boogerd (Ned)      Lance Armstrong (USA)            Gabriele Missaglia (Ita)    
1998 Rolf Järmann (Swi)         Martin den Bakker (Ned)          Michele Bartoli (Ita)       
1997 Bjarne Riis (Den)          Andrea Tafi (Ita)                Beat Zberg (Swi)            
1996 Stefano Zanini (Ita)       Mauro Bettini (Ita)              Johan Museeuw (Bel)         
1995 Mauro Gianetti (Swi)       David Cassani (Ita)              Beat Zberg (Swi)            
1994 Johan Museeuw (Bel)        Bruno Cenghialta (Ita)           Marco Saligari (Ita)        
1993 Rolf Järmann (Swi)         Gianni Bugno (Ita)               Jens Heppner (Ger)          
1992 Olaf Ludwig (Ger)          Johan Museeuw (Bel)              Dimitri Konyshev (Rus)      
1991 Frans Maassen (Ned)        Maurizio Fondriest (Ita)         Dirk De Wolf (Bel)          
1990 Adri van der poel (Ned)    Luc Roosen (Bel)                 Jelle Nijdam (Ned)          
1989 Erik Van Lancker (Bel)     Claude Criquielion (Bel)         Steve Bauer (Can)           
1988 Jelle Nijdam (Ned)         Steven Rooks (Ned)               Claude Criquielion (Bel)    
1987 Joop Zoetemelk (Ned)       Steven Rooks (Ned)               Malcolm Elliott (GB)        
1986 Steven Rooks (Ned)         Joop Zoetemelk (Ned)             Ronny Van Holen (Bel)       
1985 Gerrie Knetemann (Ned)     Jos Lieckens (Bel)               Johnny Broers (Ned)         
1984 Jacques Hanegraaf (Ned)    Kim Andersen (Den)               Patrick Versluys (Bel)      
1983 Phil Anderson (Aus)        Jan Bogaert (Bel)                Jan Raas (Ned)              
1982 Jan Raas (Ned)             Stephen Roche (Ire)              Gregor Braun (Ger)          
1981 Bernard Hinault (Fra)      Roger De Vlaeminck (Bel)         Alfons De Wolf (Bel)        
1980 Jan Raas (Ned)             Alfons De Wolf (Bel)             Sean Kelly (Ire)            
1979 Jan Raas (Ned)             Henk Lubberding (Ned)            Sven-Ake Nilsson (Swe)      
1978 Jan Raas (Ned)             Francesco Moser (Ita)            Joop Zoetemelk (Ned)        
1977 Jan Raas (Ned)             Gerrie Knetemann (Ned)           Hennie Kuiper (Ned)         
1976 Freddie Maertens (Bel)     Jan Raas (Bel)                   Lucien Leman (Bel)          
1975 Eddie Merckx (Bel)         Freddy Maertens (Bel)            JospehBruyère (Bel)         
1974 Gerrie Knetemann (Ned)     Walter Planckaert (Bel)          Walter Godefroot (Bel)      
1973 Eddie Merckx (Bel)         Frans Verbeeck (Bel)             Herman Vanspringel (Bel)    
1972 Walter Planckaert (Bel)    Willy De Geest (Bel)             Joop Zoetemelk (Ned)        
1971 Frans Verbeeck (Bel)       Gerben Karstens (Ned)            Roger Rosiers (Bel)         
1970 Georges Pintens (Bel)      Willy Vanneste (Bel)             Andre Dierickx (Bel)        
1969 Gudio Reybrouck (Bel)      Jos Huysmans (Bel)               Eddy Merckx (Bel)           
1968 Harry Steevens (Ned)       Roger Rosiers (Bel)              Daniel van Rijckegem (Bel)  
1967 Arie den Hartog (Ned)      Cees Lute (Ned)                  Harry Steevens (Ned)        
1966 Jean Stablinski (Fra)      Bernard van den Kerckhove (Bel)  Jan Hugens (Ned)            
							     
Distance and time

Year                              km    km/h
2001 Erik Dekker (Ned)           255  38.620
2000 Erik Zabel (Ger)            258  41.110
1999 Michael Boogerd (Ned)       253  38.547
1998 Rolf Järmann (Swi)          258  38.280
1997 Bjarne Riis (Den)           253  41.689
1996 Stefano Zanini (Ita)        250  42.600
1995 Mauro Gianetti (Swi)        250  39.261
1994 Johan Museeuw (Bel)         249  37.260
1993 Rolf Järmann (Swi)          249  37.343
1992 Olaf Ludwig (Ger)           248  38.219
1991 Frans Maassen (Ned)         244  40.135
1990 Adri van der poel (Ned)     249  41.507
1989 Erik Van Lancker (Bel)      242  40.187
1988 Jelle Nijdam (Ned)          242  37.386
1987 Joop Zoetemelk (Ned)        242  38.943
1986 Steven Rooks (Ned)          242  39.665
1985 Gerrie Knetemann (Ned)      242  37.446
1984 Jacques Hanegraaf (Ned)     242  40.584
1983 Phil Anderson (Aus)         247  41.434
1982 Jan Raas (Ned)              242  38.354
1981 Bernard Hinault (Fra)       237  39.741
1980 Jan Raas (Ned)              237  41.417
1979 Jan Raas (Ned)              238  39.507
1978 Jan Raas (Ned)              237  37.803
1977 Jan Raas (Ned)              230  39.894
1976 Freddie Maertens (Bel)      230  39.078
1975 Eddie Merckx (Bel)          230  37.231
1974 Gerrie Knetemann (Ned)      238  38.963
1973 Eddie Merckx (Bel)          238  35.650
1972 Walter Planckaert (Bel)     237  37.653
1971 Frans Verbeeck (Bel)        233  37.622
1970 Georges Pintens (Bel)       240  37.745
1969 Gudio Reybrouck (Bel)       259  40.782
1968 Harry Steevens (Ned)        245  41.704
1967 Arie den Hartog (Ned)       213  43.711
1966 Jean Stablinski (Fra)       302  38.649

Women

Year First                      Second                 Third    
2002 Leontien Van Moorsel (Ned) Mirjam Melchers (Ned)  Katherine Bates (Aus)
2001 Debby Mansveld (Ned)       Mirjam Melchers (Ned)  Leontien Van Moorsel (Ned)