59th Vuelta a España - GT
Spain, September 4-26, 2004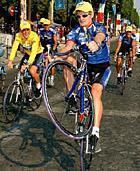 Floyd in action
Photo: © AFP
Hangin' In There: The Floyd Landis Vuelta diary
During the Tour de France in 2002, Cyclingnews first welcomed Floyd Landis as a reporter. The talented, gutsy, 28 year old former mountain biker had ridden his way to a start in the Tour as a key part of Lance Armstrong's USPS squad, and went on to distinguish himself as an key member of the now legendary "Blue Train" at Le Tour.
Floyd also endeared himself to Cyclingnews readers for his unique take on life in the peloton, and in the 2004 Vuelta he continues his exclusive journal "Hangin' In There."
Heras the strong man
Stage 12 - September 16: Almería - Observatorio Meteorológico de Calar Alto, 145 km
Triki Beltran & Floyd in stage 12
Photo: © Lavuelta.com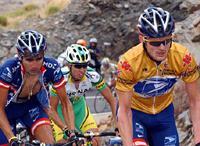 Hi, I am writing to you from the start of the stage in El Ejido which I am told is the hottest place in Spain - and this morning it is indeed another hot morning here in the Vuelta.
Yesterday was a hard day because it was short and there was nothing between the climbs, just up and down all day. It was inevitable that sooner or later Roberto was going to get the jersey from me. He is the strongest here and I have been saying that from the beginning. I held on as long as possible and I am real happy about that but I was starting to get tired there. I have been going all year, fighting all season so I am not disappointed.
The team worked really hard for me so they deserved me to keep fighting and hanging in. The three climbs yesterday had never been used in the Vuelta before, they were pretty special climbs. The first one was really hard, the second one was hard, and - guess what? - the third one was hard too. Did I mention they were all hard? Because they were so hard I didn't get to check out the scenery but people tell me that before the first climb we passed a imitation western town, complete with a wooden fort, that was built for the spaghetti westerns filmed in the area.
But it was a good day. I am not disappointed, the pressure is off now and I don't have the whole field racing against me. Liberty have been riding the whole time like they have the lead and now they do. They are probably certain to win the race because they are the strongest team here. I am still rooting for Valverde as well, I hope he is okay after the crash. I think he is doing well. He will keep trying.
I heard some stuff that went on between Johan and Tyler Hamilton. I really don't know what to say about that. From Tyler's perspective he probably sees it differently. The team has worked really well for me, but maybe Tyler is comparing the way we work for Lance at the Tour and the way they have been helping me. You can't compare these things, it is different, Lance has won the Tour so many times but the guys this week have spent everything to help me so I can't complain. They have been an outstanding team.
Triki and I are both fine. Neither of us will be able to contest the climbs with Roberto the way he is climbing right now, not many people can beat him. So Triki and I will keep fighting and we are going to help each other when and if we can. In the end if one of has to help the other that will work out fine.
It has been hot the past week but the heat doesn't really worry me. Yesterday was strange because it was hot but in the mountains it was really, really cold. I know today won't be cold! I have seen enough rain so I don't mind the heat.
It's nice to hear people have been writing in to the Cyclingnews team and supporting me. Thanks a lot. But remember I have had a good run in the gold, the Vuelta was never a major objective for the year but it has been good to have some form here. It is fun to keep trying, we will see what we can make out of it but like I have said all along Roberto is the favourite and he confirmed it yesterday.
I am not sure if we can make the podium here either. There are a lot of strong guys in the top ten and I didn't come here with any goals so anything I get out of it is a bonus. But for sure Roberto is on a different level right now. He has a strong team and they are not taking any risks with their tactics.
Hasta mañana,
Floyd