59th Vuelta a España - September 4-26, 2004
An interview with Tyler Hamilton, September 2, 2004
"A field experiment"
By Anthony Tan
There was no stopping Hamilton in Athens; can he do the same in Spain?
Photo ©: AFP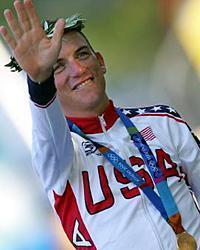 Tyler Hamilton may be cautious about his chances of victory in the final Grand Tour of the year, likening his decision to ride a 21-day race in September as "a bit of field experiment", but the 33 year-old was just as cautious before a career-defining victory in Athens a fortnight ago - which saw him being crowned Olympic time trial champion.
He has the form. Most likely, he has the fitness. And after Athens - a win he said was done on pure anger - he certainly has the fire. So what's stopping him?
One team time trial, three individual time trials, six flat stages, eleven mountain stages - and a dozen possible contenders...
Cyclingnews: Firstly, a huge congratulations on your success in Athens. You were one of about four favorites in the time trial, including Jan Ullrich, Serguei Gonchar and Michael Rogers, but from what was said before and afterwards, you were also the only one who lived up to the media's and one's own personal expectations. Would you agree with that?
Tyler Hamilton: I was encouraged after the road race. I felt pretty good considering I had been away from racing for over three weeks. It was a good test for my back as well, because the course was a little bit technical. But my goal was to ride well in the time trial. In the end, I was happy with the way it all worked out.
Road to glory
CN: In the weeks leading up to Athens, you mentioned spending a great deal of time riding your TT bike. It clearly paid off for you, but why was that so important given your familiarity with the discipline to begin with, and what sort of work were you doing?
TH: First and foremost, the position on the time trial bike is very different than the one you use on the road bike. I train on my time trial bike consistently throughout the season because you don't get as many opportunities to race on your time trial bike as you do on your road bike. When you are targeting a specific time trial with a big goal in mind, it makes sense to practice more. The more comfortable you are, the faster you will go. It's like sharpening a skill set you don't use every day.
"I like that there are three time trials and a team time trial. This means four out of the 21 stages suit my strength."
CN: The Athens road race was your first race back after leaving the Tour early. For various reasons - most of which related to the heat and the parcours - the race was described by many as the hardest one-day race they'd ever done. How tough was it for you?
Pensive before the road race
Photo ©: AFP

TH: I thought the weather made things difficult. I think the day of the road race was one of the hottest days of the Games. But honestly, the circuit wasn't as hard as I thought it was going to be. I thought there would be a bigger selection by the end. The peloton was still pretty large for a difficult one day race like that.
CN: How would you describe your team's performance on that day? In retrospect, would you guys have done anything differently?
TH: The US team rode strong. We were active all day. I think a harder circuit would have played in our favor. Any time we tried to cover a move or make one of our own we were matched. All in all, we were happy with the way we rode as a team, although we wish the final outcome had been better. It was nice no one went down on the slick pavement - there were a lot of big crashes that day.
CN: Your climbing power was enough to stay and finish in the front group of roughly 35 riders, although it seemed you were often positioned further back than you would have liked on the climbs. How confident were you feeling about your abilities to do a solid time trial in four days' time?
TH: I felt good during the road race, but honestly it was more of a test or a warm up for me. With the time trial looming, I didn't want to burn too many matches that day. We only had three days of rest between races. If there was an opportunity, I would have taken it, but I didn't want to make any suicidal moves. Sure, I would have liked to have been able to go with Bettini, but he was just too strong. I felt like I could ride comfortably in the group, which was a good feeling after being away from racing for such a long time.
Also you have to remember, it was really hot and any kind of big move would have certainly left me depleted. Just look what happened to the women who competed in the marathon and then tried to do distance events on the track a few nights later - they were cooked. Sometimes you have to pick your battles; maybe it was a blessing in disguise that I was not able to get into the winning breakaway.
TT time
In the zone
Photo ©: AFP
Going off gut feel
Photo ©: Rob Jones

Going for gold
Photo ©: Rob Jones

A victory kiss
Photo ©: AFP

A special moment
Photo ©: AFP

Big day for USA
Photo ©: epicimages.us

CN: Your team-mate Bobby Julich said the TT course wasn't as technical as he would have liked, saying he would have preferred a course with more ups and downs. What was your opinion of the course in the days leading up to the TT - did you think it was one you could excel in?
TH: I too, had expected the course to be a little more technical than it was. But there were some difficult turns that could have caused problems with the slippery pavement. It was a little less rolling than we expected, but the winds off the water were challenging enough to make up for the difference.
CN: After having problems with your radio early on, you rode the entire race without any communication, with no idea of how your competitors were faring. In some ways, did the inconvenience allow you to achieve your maximal effort?
TH: The same thing happened to me the last time I rode the Mt. Washington Hill Climb in New Hampshire in '99. The guy giving me splits off the media truck jammed his watch, so I rode into that finish much the same way I did in Athens - not having any idea how I had done. When you are out of communication you have to rely on your gut and what your body tells you. Beyond that, you just have to hope for the best.
CN: What was the most special thing about your win? How did you celebrate?
TH: It was special win for a number of reasons. I have always dreamed of being an Olympian. The Sydney Games were a little disappointing for me, so to be able to be in Athens and to achieve what I did was really overwhelming. Winning a gold medal in the Olympics will always be a top highlight of my cycling career. I was happy my wife was there to share the experience with me. We were able to celebrate afterwards with the entire US Olympic cycling team and their families. It was a special time and a big day for the USA. Bobby Julich and Dede Demet-Barry's success made the day all the more special.
Form & fitness
CN: Judging from your performances at the Games, it appears you are almost back to 100 percent. Where would you say you're at in terms of your back injury, your fitness and your ability to recover?
TH: I'm feeling a little bit better every day. But then again, two one-day races are a lot different than a Grand Tour. So I have to keep everything in perspective. For, now I think everything is as good as it can be under the circumstances. My back is improving - although it still looks like I got run over by something...
CN: Your wife Haven says that you're currently doing a lot of climbing to test your back, and you'll only ride the Vuelta if all goes well. At this stage, what are your chances of showing up at the start on September 4?
TH: Right now, I am confirmed to start the race on the 4th. I went back out and saw another group of mountain stages with my teammates Oscar Sevilla, Kike Gutierrez and Santos Gonzalez after the Games. At training speed, my back was cooperating, so we will give it a go and see what happens. We'll take it day by day though.
CN: You previewed some of the stages for this year's Vuelta before the Olympics; now you're currently previewing a few more. Are you taking a leaf out of Lance's book, so to speak?
TH: I think there is a long history of disciplined riders previewing the difficult stages of the Grand Tours beforehand. It's part of doing your homework. The more you know about the race, the better prepared you will be for the challenges ahead.
La Vuelta
CN: If you go, do you go to win, or go for the podium?
TH: We'll see how it goes. There will be a lot less pressure on me compared to the Tour. If Oscar Sevilla is going good and has a better fitness level than me, I will be happy to sacrifice it all for him. We may also opt to select various stages to try and win. Since I have won a stage in both the Tour and Giro, it would be nice to get one in the Vuelta as well. We'll see how it goes. Traditionally, at this point in the season, I'm on a plane headed for the United States, so this is going to be a bit of field experiment, racing on such a high level so late in the year.
CN: With three individual time trials including a hill-climb TT and seven hilltop finishes, the parcours for this year's Vuelta certainly appears to favour the climbers. You can do well at both, but do you prefer a climbers' race?
TH: I like that there are three time trials and a team time trial. This means four out of the 21 stages suit my strength. However, some of the climbs I've seen are brutal, so there will be some evening out between the TT and climbing specialists. Overall, I think the course favors the pure climbers.
CN: Out of the three Grand Tours, the Vuelta is probably the most different, and arguably most stressful, in that the stages are shorter and the route is challenging right from the first week. You haven't ridden the Vuelta before, but does this scenario appeal to you?
TH: I actually rode eight stages of the Vuelta a few years back (in '99). Things didn't go so well for me there, but that was also after finishing the Tour de France. No doubt about it, it's a hard race and the course is designed differently than the other two Grand Tours. But we'll see how it goes. I'll let you know how well the scenario suits me later in September!
CN: Heras, Nozal, Gonzalez de Galdeano, Valverde, Zubeldia, Frigo, Mancebo, Casagrande, Pecharroman, Cunego, Beloki, Garzelli, Vinokourov, Evans, Beltran - and yourself - are all scheduled to take to the start in León a week from now. At least on paper, this year's race appears to be one of the most wide-open and hotly-contested Vueltas we've seen in years. Would you agree, and who do you consider to be your most dangerous threats?
TH: I expect all of the guys you mentioned to be going for it. I think Vino and Valverde are big favorites for the race given that they sat out the Tour. Riders like Frigo and Beloki will have a lot of support on their sides after tough seasons. I think it's going to be an interesting race.
CN: Is the team's sole objective to win the race, or are there other goals?
TH: We will give the race our best shot. A lot of people don't realize Sevilla and Pereiro have been injured since the Tour in addition to what I've been through. OP (Oscar Pereiro) will not start but Sevilla seems to have recovered enough to give it a go. We have a strong line-up and everyone is motivated. And we are open to rolling with situations as they arise. I think we will know by the end of the first 10 days if we have the goods to contest the GC or if we should focus on day to day opportunities. So stay tuned...