91st Tour de France - July 3-25, 2004
Tour tech - July 7, 2004
Edited by Anthony Tan
Got tech? Send press releases, news, and tech questions to the Cyclingnews tech-heads.
A Classic Tour de France: Part II
With today's Stage 3 profile looking more like the parcours for the Ronde Van Vlaanderen or Paris-Roubaix, it came as little surprise to see team mechanics preparing riders' bikes as if they were about to ride one of the Spring Classics. As it turned out, choice of equipment was very important indeed.
In Part II of today's Tour tech, Chief Online Editor Jeff Jones took a look inside the pits of T-Mobile, Gerolsteiner and Lotto-Domo on a Classic Tour de France stage.
The Gerolsteiner Wilier fleet
Photo ©: Cyclingnews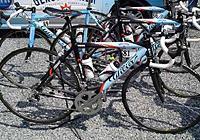 Although there were only 3.9 kilometres of cobbles to ride across in Stage 3, most teams were not taking any chances with their equipment. At the start in Waterloo, it was obvious that there had been a few changes, as instead of the deep profile carbon rims that we are used to seeing, many teams had opted for standard 36 spoked box-section rims with 23-28mm tubulars.
"We're going to use special wheels," T-Mobile's Luuc Eisenga told Cyclingnews before the start. "Low FIR rims, 36 spokes, and 23mm continental tyres with extra puncture protection. We rode the same wheels in Paris-Roubaix and Flanders."
Eisenga added that the team carries a total of "90-100 wheels" during the Tour in order to handle any occasion.
Kessler on SRM
T-Mobile's Matthias Kessler's Giant
Photo ©: Cyclingnews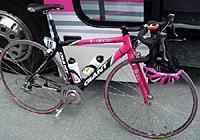 T-Mobile's Matthias Kessler has ridden the first few stages of the Tour with an SRM power measuring device fitted to his bike. Although such pieces of equipment are common in training and "training races", to use one in the world's biggest race is uncommon, as most teams are concerned with making their bikes as streamlined and lightweight as possible.
When asked about the reason for using the SRM, Eisenga told Cyclingnews "It can provide us with a lot of interesting information. We're just testing out a new device on the crank, and under his saddle we can install a communication device and upload the data by mobile phone."
The additional weight is not a problem at all for Kessler - it's the same as taking a half empty water bottle from the team car. If all goes well, then he will be using the SRM for most, if not all, of the Tour.
To provide more detail on the T-Mobile Giants, the company has a special site on the TdF machines, called "magentareign".
Photography
Images by Jeff Jones/Cyclingnews
A Classic Tour de France: Part I