91st Tour de France - July 3-25, 2004
Tour tech - July 7, 2004
Edited by Anthony Tan
Got tech? Send press releases, news, and tech questions to the Cyclingnews tech-heads.
A Classic Tour de France: Part I
With today's Stage 3 profile looking more like the parcours for the Ronde Van Vlaanderen or Paris-Roubaix, it came as little surprise to see team mechanics preparing riders' bikes as if they were about to ride one of the Spring Classics. As it turned out, choice of equipment was very important indeed.
In Part I of today's Tour tech, European Editor Tim Maloney managed to see how the USPS/Berry Floor boys prepped themselves on a Classic Tour de France stage.
'Plata Negra' (Black Silver): Lance Armstrong's Trek Madone SL
Photo ©: Cyclingnews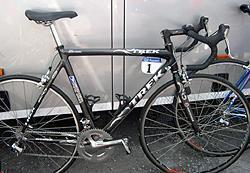 This morning in the team compound at the Tour de France départ in Waterloo, Cyclingnews snuck into the USPS-Berry Floor bus area where we snapped a pix of Lance's Trek Madone SL, affectionately nicknamed 'Plata Negra' (Black Silver) by team mechanic Juanito Lujan.
Before they threw us out, we collared Scott Daubert, Trek's Pro Team manager. We asked Scott what was different about the team bikes today for Stage 3's difficult roads. "USPS-Berry Floor will ride Bontrager Classic wheels today that they use just for races where there are cobbles like Tour of Flanders, Gent-Wevelgem and Paris-Roubaix - or any other race with cobbles," said Daubert.
Custom made Bontrager Classic wheels
Photo ©: Cyclingnews

The Bontrager Classic wheels feature
Photo ©: Cyclingnews

"These are custom tubular wheels that are made specially by Trek for the team; every year, we build them 40 pairs. The technical specs are 32 hole tubular box-section, heat treated rims 21.5mm wide with eyelets. The rims weigh about 400 grams, but since we don't sell the Bontrager Classics, we've never weighed them.
"One unique element to our Bontrager Classic wheels is that they have different rims for the front and rear wheels. The rear wheel uses OSB, which means Offset Spoke Bed that positions the spoke holes 2.5mm right of center so there's no dish in the rear wheel.
"The rims are laced to Bontrager Classic hubs with 32 straight-gauge DT spokes and brass nipples. Another interesting element of this wheel set are the hubs - we made them up specially because it uses a stainless-steel cartridge bearing with contact seals," explained Daubert.
"We discovered that the duration of the tough classic races, combined with the typically bad weather and the high-pressure cleaners the team uses, forced us to develop a more durable hub from when we introduced it to the team in 2002. However, at this point there are no plans to commercialize this product, but the technology will certainly be used in Bontrager wheels in the future."
Photography
Images by Tim Maloney/Cyclingnews
A Classic Tour de France: Part II