Recently on Cyclingnews.com
91st Tour de France - July 3-25, 2004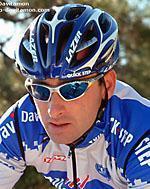 In action
Photo: © Quick-Step Davitamon
California Dreamin' - The Paolo Bettini Diary 2004
He's from California, down near the beach, but this guy's no surfer dude. Paolo Bettini is from La California, near Cecina on the Tuscan coast in Italy.
The Quick.Step-Davitamon rider had a fantastic 2003 season, winning his second consecutive World Cup, this time with three wins in one season - a feat unequalled by any other rider - plus an Italian championship and the world number one ranking. For the 2004 Tour de France, Bettini is back on Cyclingnews with his exclusive English-language diary.
Stage 8 - July 11: Lamballe - Quimper, 168 km
Stage 9 - July 13: St Leonard de Noblat - Guéret, 160.5 km
Stage 10 - July 14: Limoges - St Flour, 237 km
Calm before the storm
Hi everyone on Cyclingnews,
Almost...
Photo ©: Trent Wilson

Bettini & Bramati
Photo ©: Sirotti

So the first part of the Tour is over, and after an air-transfer we got into Limoges pretty late. As you probably saw, the two stages before the rest day were good for me.
I was attacking a lot and almost won a stage in Quimper. I jumped away on the final climb to the finish with 1500 meters to go, but when I turned around to look, I saw that only McEwen had managed to stay on my wheel. We got a good gap, but Robbie didn't want to work with me, so I decided to sit up. I wasn't just going to bring McEwen to the finish and then watch him win. So the group reabsorbed us and my chance for a stage win went up in smoke. It was really too bad. But my condition is improving every day so that gives me confidence.
So back to the rest day: the team went for a two-hour ride in Limoges, then me and my usual room-mate, [Davide] Bramati relaxed by watching a DVD in our room. He's a great guy and does so much work for me and Boonen; I hope I can repay him someday. After the rest day, we have ideal terrain for an attacking rider like me in the Massif Central region.
On the stage to Gueret, I tried but nothing worked. Today on July 14th, my teammate Richard Virenque had an incredible day. He took all nine KOMs and won the stage to Saint-Flour; since it was France's national holiday, it was a really big deal. Bravo... I was happy to give up my maillot pois to Richard since he is going for his seventh time as best climber at the Tour. And finally the weather has changed after a week of cold and rain - to finally race with the sun and warm weather is another thing entirely!
Thanks for reading.
Ciao a tutti!
Paolo
Results Stage 8
Results Stage 9
Results Stage 10