Recently on Cyclingnews.com
91st Tour de France - July 3-25, 2004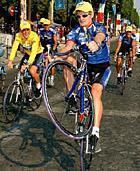 Floyd in action
Photo: © AFP
Hangin' In There: The Floyd Landis Tour Journal
During the Tour de France in 2002, Cyclingnews welcomed Floyd Landis as a reporter. The talented, gutsy, 28 year old former mountain biker had ridden his way to a start in the Tour as a key part of Lance Armstrong's USPS squad, and Landis went on to distinguish himself as an important member of the now legendary "Blue Train" at Le Tour.
Floyd also endeared himself to Cyclingnews readers for his unique take on an American rookie's life in the Tour De France peloton. 2004 has Floyd return with his exclusive journal "Hangin' In There."
Paris tomorrow! Lance breaks the Tour record
Hi to all the people reading my diary on Cyclingnews,
So I have to say that this last week at the end of the Tour has been good. The team was in a strong position; sure, we still had to work, but it was doubtful that anyone could enough time out of Lance to be a threat. We were in a safe position and the team rode well. For me, it was good since I didn't have to work until the end of the stages and could show everyone what I can do.
On the major Alpine stage to Le Grand-Bornand, we were expecting T-Mobile to attack and it sort of happened. They had to attack since it was their last chance. We realized that once Ullrich lost so much time in the first mountain stages in the Pyrenees, he could never get it back. Ivanov was pulling for Ullrich on the Col de la Forclaz so Ullrich could attack, but he was pulling so hard that Jan got dropped. I don't know what was transpiring there. But if you consider their circumstances, that Ullrich needed to make up five minutes, they didn't have any other choice.
You might have seen Lance talking to me on that last climb. He's telling me what to do - for him, sitting on my wheel, it's obviously not as hard, so I just have to listen to him because some guys can attack and some can't. He was telling me to keep the pace steady and maintain the pace you can go at. Then he would tell me 'this guys dropped' or 'that guys dropped'. Finally at the top of the final col, as we went under the KOM, Lance said to me, 'Do you want to win the stage?' and then he said, 'If you want to win the stage, go now. Just go on the downhill and they probably won't chase you, they have no reason to chase you', but Ullrich and Kloden were having none of it and brought me back. Then at the end I tried again with a kilometer and a half to go, but they got me again so I just kept going as hard as I could to keep Kloden close. I figured Lance would sprint and I didn't know it was going to be that close. That was something to see! Lance won three stages in a row and they were all different. But he was generous enough to offer me the opportunity to win the stage;
My wife Amber came to the Tour today; it was great to see her. She told me I've gotten a lot of emails from friends telling me good job and everything so thanks for your support. It's not always that easy to see what I do during the race, especially during the last week of the Tour, but I know I've been strong the whole way. Even though I've had a cold for the last few days, my legs feel really good.
There have been a lot of rumors floating around about what I'm doing next year. At this point, I'm at the end of my contract with USPS-Berry Floor, like pretty much all the riders on the team. First of all, I don't know exactly what I want because I am still exploring my options for next year. I haven't made any decisions yet. I've talked to USPS-Berry Floor about next year, but I don't know what the situation will be next year on this team, as in who's racing for who. I do also have some other options next year where I would have some opportunities for myself. But I've had a very good time and very good experiences with USPS-Berry Floor and it would be very hard to leave here. I just have to look carefully at my options and keep things open because USPS-Berry Floor has been good to me and they came to me first; they want me to stay for next year. At this point in my career, I just have to look out for myself and my family.
Tomorrow we get up and take the TGV train from Besancon to Montereau for the final stage. We're staying in an incredible chateau just south of the city and had a great dinner tonight to celebrate everything, just the team and the staff. This is the third year in a row for me to be part of the winning team at the Tour de France and the final day is always an incredible experience. Giro has made us special helmets and Nike has special team uniforms too. You just can't believe what it's like to do the final parade as part of Lance's team. Not only is it a huge honor, but tomorrow will be really special, since Lance will set a new record for Tour de France wins and he'll make it six in a row! I've been so lucky to be there for the last three of them. We have a fantastic team at USPS, too. All the riders and the staff are fantastic. Above all, congratulations and thanks for letting me be a part of it, Lance!
Amber and I will fly home Monday and I'll get to see my daughter Ryan. I miss her since it's been like three months since I've been home. After a few days of rest, I'll start getting ready for the Vuelta in September. I don't have to do much since I'll come out of the Tour with great fitness. So thanks for reading again, since it's lights out as we have a big day tomorrow in Paris.
Until Next Time,
Floyd