91st Tour de France - July 3-25, 2004
A victory of another kind
It was Iban Mayo's worst possible moment: dropped, demoralised and desperate. But in this moment of darkness, the Orange Tide from Euskaltel-Euskadi banded together, and witnessed a victory of another kind. Martin Hardie reports.
Euskaltel-Euskadi riders and fans united: "Our fans were with him [Mayo] to the death," says David Etxebarria.
Photo ©: Jon Devich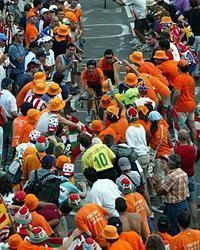 On Saturday morning at the breakfast table in Lourdes, I wished my friends from Durango well. I didn't tell them to win, I just asked David, Unai and Iban to take care. I knew already then that Haimar might not get through the stage and as I sat with my mates, my training group, I wondered about how they all looked like skeletons compared to the guys I had last seen at home a couple of weeks back.
Then, last night after the great disappointment on the road to Plateau de Beille, Iban Mayo and David Etxebarria reflected upon the day's happening. By the time of their arrival at the finish line, Armstrong had probably already fled the scene, escorted by the police to a helicopter set aside to ferry him to his hotel. There is nothing of that for Euskaltel.
Budgets, pull and status do not grant these guys all of the glamour of a Hollywood star. Like the route yesterday, there is no doubt in my mind that this is not a level playing field. That is one thing that makes Euskaltel what they are. And for the four Euskaltels that came home so late - Unai, David, Iņigo and Iban - they had no police escort to escape the waiting throngs, they had no over-the-top, Hollywood-style entourage and they did not come home in shame nor did they come home alone. Disappointment yes, but shame or lonely in their quest, never.
The message that Iban learned and that he passed on to his countrymen was that at times like these, you do not lock yourself away or flee. What you do is you thank all those who came out to help you over the painful journey to the finish line, and who will continue to help you, whether you are a winner or not.
The simple message of Iban to his countrymen was: "Compaņeros, aficiķn: eskerrik asko"; Team mates, fans and supporters: Thank you very much.
Stage 13: Iban Mayo's darkest hour
Photo ©: Caroline Yang

Iban also freely admitted that during that day he learned more about himself, the bike and the Tour than he had in all his previous rides. "I have to thank David, Unai and Iņigo that were the ones that stayed with me and lifted my spirits all the time. I learnt a lesson: you have to continue. Always. It would have been easy to get off the bike and make my way home.
"I had the temptation to do it, I am not going to deny that, but my director and my team-mates made me see that this would not solve anything. It would not have served to achieve a thing.I haven't left the Tour, nor much less like I had hoped, but I am convinced that in these hard moments you learn a lot more than you do in the good moments."
"I also have to thank all the Basque fans that helped me finish the stage. They were fantastic. I am so thankful to all of them. They were marvelous to me. To see their support rather than any anger, well it made me want to stay there in front of them, with them, like they wanted, and like they thought I should be. I can't say more than: 'Thank you so very much, everyone.'"
Many people asked Iban yesterday: 'What happened?'
"It is a good question" was his reply. "The truth is I just don't know... the only thing is that I arrived at the Tour very strong, physically and mentally, but with the falls I just haven't returned to the same point. I haven't felt good, at any time, but life goes on. I am convinced that this experience will help me a lot in the years to come. I am 26 years old, I believe that I am still a young cyclist with a margin to improve, and with this I have more fortune and I can go on to be better.
"What is more important is that the world does not end with the Tour. Sure this race was my great objective for the year and I came with the intention of being very good here. I don't think that anyone can say that my season has been a failure, because up until July, my year has been wonderful. What will I do after the Tour? At the moment I don't really know, but now I have to get to the finish in Paris, which is still a long way away."
David Etxebarria: "Our Tour will come."
Photo ©: Jon Devich

Iban's veteran teammate, David Etxebarria, talked to us about 'Iban's victory'. "Of course we are disappointed," he said. "Everyone hoped that yesterday would be a great day for the team, for Iban, for our fans... but it couldn't be."
David continued: "When something won't go, there is nothing you can do about it. Iban didn't feel good and what happened, happened. The only thing a teammate could do is keep his spirits up and accompany him to the finish. It wasn't easy. Iban was destroyed, demoralised, physically and psychologically, and he got off the bike. Between us all, we convinced him that he had to continue, to get to the finish. He got back on and continued and this was a great victory. I'll explain why."
"Iban learnt more yesterday than he did in his previous two Tours. The experience he had is something that you cannot put a price on as you face the coming years. The great champions demonstrate that they are such in the worst moments and he demonstrated it in the worst moment possible. Suffering in the way he did to come in 37 minutes behind Armstrong, when he came here to put his face right in front of the American... he didn't do that, but his great victory was of another type."
"Iban rose up yesterday like he has never risen, and our fans were with him to the death. They were fantastic on the Plateau de Beille. The people lifted his spirits so much along with the rest of us as well. It felt like we were the leaders of the race. It was incredible to see all our fans on the road to help him. 'Don't worry Iban, next year,' they said. 'You are the best Iban', 'In the Alps, Iban, in the Alps,' everyone screamed.
"My fear is that the Alps might not go as well for us in the Tour; it is nearly impossible for a rider to recover. But we know that we have to get to Paris, calmly. Our Tour will come.