91st Tour de France - July 3-25, 2004
Aussie Tour Wrap-up
A three-week rollercoaster ride
Former Australian road champion and Cyclingnews reporter at the Le Tour, John Trevorrow, spent much of the his eighth Tour de France in the company of the 10 Australians who were scheduled to ride the world's greatest bike race. He relives the Aussies' three-week rollercoaster ride, and caught up with a few of his mates a few days ago, including green jersey champion Robbie McEwen and HEW Cyclassics winner Stuart O'Grady.
Let the party begin!
Photo ©: Caroline Yang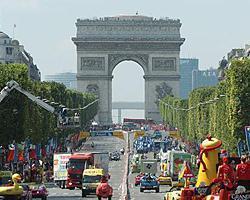 This year's Tour de France didn't have quite the final day I had been expecting. On the last night, after many hours in the media centre knocking all the 'hard earned' Aussie quotes into some sort of shape for Cyclingnews readers, I headed straight to the after-party (as you do).
While enjoying a few quiet ales with Stuey, Robbie, Baden, Matt Wilson and many of the riders from other parts of the globe, someone was having an equally good time outside breaking into my car. I lost my laptop and quite a few other items, but the major victim was Honie Rowley who had left her television camera and tripod with me. That was stolen from the car also.
It looks as though Honie's insurance is going to fall well short of the replacement value, so we are organizing a competition to raise some funds to help fill the void. (More information on this soon.)
As I haven't had the opportunity to finish off my tour wrap-up, now with the aid of my new computer and although a little late, I will do so.
The final night of the tour is always a fun gig and most of the guys grab the opportunity to let their hair down with great gusto. Many of the stories have to stay on tour, but one that sticks with me is when Thor Hushovd arrived late in the evening and sidled up next to Robbie and bought him a beer. Nice gesture I thought until I looked at the brand - a Desperado. There was a bit of good-natured banter over that one.
It was an incredible Tour de France - or was it the Tour de Lance?
I was fortunate enough to be there, reporting on the duckin' and divin' from an Aussie perspective. It was a lot of fun, and although I have covered the last eight tours, it was something special with ten Aussies on the start list.
First casualty: Matt White
Photo ©: Rebecca Sullivan

As we all know, it didn't turn out that way with Matty White tragically crashing out only hours from the start and it seemed to set off a crazy set of circumstances in the first week for the Australians.
Virtually every day held a high and a low for the men from Down Under. If Robbie was up there placing in a stage, then Stuey or Mick Rogers would be crashing out the back. The next day it would be vice versa and there didn't seem to be a day when there was not some sought of drama for the Australians.
Nick Gates, who was keen to rid himself of the demons from his non-finish last year, crashed out when he damaged his knee (I spoke to him yesterday and he is only just back on the bike, riding first race next week, the five-day Tour de L'Ain) and then Brad McGee had his back/hip problem and is still searching for answers. The list goes on with Baden Cooke and his blood flow problems first in one leg and then the other (hopefully being fixed as we speak).
Sounds like the beginning of a sad novel but the Aussies showed their true metal as the tour progressed and we all saw Robbie fight back from injury and dominate the green jersey, and Stuey spend a couple of days in his favourite color and also take a stage.
Much has been said about Lance's record-breaking sixth victory. One headline proclaimed it the "Texas Chain-ring Massacre". Very clever, but you would have to attack at least once to have a massacre.
No 'Texas Chain-ring Massacre'; simply no rivals
Photo ©: Caroline Yang

Even though Lance only has to race as hard as his rivals force him to, I couldn't help but feel a little disappointed in the lack of a real challenger. Sure, Basso looked good during the first week in the mountains, but he was always going to lose five minutes in the time trials. All the favoured challengers fell away under the relentless pressure applied by the Posties. But hey, these guys were supposed to be able to challenge Lance. What the hell happened!
One day I saw all the major contenders going out the back on a tough climb and it was George Hincapie who as setting the pace. Now I don't want to devalue George's important role, but I don't think he has been employed for his mountain climbing skills. Lance did not have to attack on any occasion and a couple of my fellow scribes worked out that outside the time trials, Lance only spent nine kilometers at the front in the whole tour.
There is no doubt that Lance hit the Tour in tremendous form showing how meticulously he had prepared. I suppose we have to believe Tyler Hamilton when he says he was in pain from his fall. Any one who can finish fourth overall (2003) with a cracked collarbone at least deserves that. But for Ullrich and Mayo there are no such excuses. They just couldn't cut the mustard. Kloden rode a perfect race for someone not touted as a winner and it will be interesting to see how he matches up next year when the pressure is really on.
For me, the most memorable moment in the Tour was on Stage 11 when the bunch was approaching the finish sprinting for fourth spot. This was however, very important for the 20 plus points that were up for grabs in the battle for maillot vert.
How does he do it?
Photo ©: Chris Henry

About 400m out and at the bottom of a steady climb, Robbie was caught in bit of a squash with Thor Hushovd and another rider. As he swerved to avoid falling he managed to pull both feet from the pedals. The sight of McEwen sitting on the crossbar one foot dragging on the ground and the other clicking in to place was breathtaking. O'Grady was caught up in it as well and couldn't believe that McEwen was able to stay upright.
Now this all happened only 350 metres from the line with Zabel and Hushovd well on their way. McEwen had not only been passed by another 20 or so riders, but had lost much of his momentum.
I would like to see an overhead replay of the final sprint because, unless some aliens got involved, the next few hundred metres probably bare witness to the best sprint ever produced. Amazingly McEwen got past Zabel and crossed the line right behind Hushovd.
I spoke to Robbie last night and although he as only too happy to relive the incident, he was more interested in talking about Stuart O'Grady's brilliant World Cup win. Robbie was not on the start line as he has not fully recovered from his back fracture.
"10 bucks on Stu!"
Photo ©: Sirotti

"I was sitting at home with a few Aussies - nine to be exact - and as they approached the final kilometre, a few names were being bandied about; I said to Gatesy and Willo, 'Stuey will win. Come on, put up the money $10 says Stuey will win.'
"Well, they wimped it although they probably wouldn't bet against Stuey, but he put in a superb sprint. Especially about 400m out when he had to dive off Bettini's wheel and slide by some dude on the barricade and came back on the wheel . The winning moment, I reckon. Whitey did great job."
What about stage 11?
"Well you have pretty much summed up what happened and I can't really explain how I managed to get back to Zabel but I can remember thinking as I sat on the top bar, 'Shit, I am going to have to get my feet in quick.' The left foot went straight in but the right took about three goes. I just gave it everything and it is amazing how much extra strength you get when you are that angry.
What did you think of Armstrong's record win?
"Lance was incredible and the best prepared. There is no reason why he can't win another one if he wants to."
In good company
Photo ©: Caroline Yang

I noticed you having a chat with Lance on a couple of occasions. Looks as though you two have sorted things out?
"Water under the bridge, mate."
I caught up with Stuart O'Grady on the phone yesterday as he was turning the pedals over in Denmark preparing for that country's Tour starting today. Stuey was still coming to grips with his brilliant win in the World Cup.
"Puffing a bit mate, but hey, what a great day. It is definitely the biggest win in my career. It's unbelievable.
"I really didn't think I had the form. Matter of fact all week I felt tired and I told the team at the meeting the night before that I didn't think I was going to be up for it. I told them all not to ride for me. Funny how quick things can change. I felt good at the finish and just got the perfect run." O'Grady rode a perfect sprint in Hamburg to surge past last year's HEW winner and World Cup champion Paolo Bettini and world champion Igor Astarloa to win.
"An unbelievable day"
Photo ©: Christine Schramm

"I owe a lot to Matty. When the hammer came down and there was only about 30 left, I thought I was the only one from my team left. I noticed a split in the group and I just starting to think about what to do about it when I heard this Aussie voice say, 'You want me to shut it down, mate?' You bloody ripper Whitey! I said. He did a great job."
"After The Tour of Denmark finishes on Sunday, I'm heading down to Italy to catch up with the guys and then it's off to Athens. I am really looking forward to that. The hill is a bit steeper in Athens compared to Hamburg but it's not as long. It should suit me."
Mick Rogers said he wasn't disappointed with his 22nd place but I'm sure he would be just a little. Sure, the crashes in the first week must have taken a bit out of him but I thought he would have climbed a little better. Still, he's only a youngster and you can't help but be impressed. I reckon he will get a time trial medal in Athens. Gold preferred.
A solid Tour for Sunderland
Photo ©: Chris Henry
Scott Sunderland rode a very solid tour. It is hard to imagine that this journeyman who has been around forever, was only riding his second Le Tour. But he made it a good one. With a few top-10 finishes and some good days in the mountains, Scott still found the energy to ride most days for Caucchioli. "That's what I'm paid for mate," he said.
Alby Davis also rode a good tour and never seemed to be in too much trouble. He can do a little bit of everything and on his day can sprint with the best. "It certainly is a huge event. The roar of the crowd as we hit Paris was just awesome."
Matt Wilson rid himself of those demons from last year and got quite emotional as he approached the finish in Paris. "As soon as I turned onto the Champs Elysees and the crowd erupted, I got a lump in the throat. I also got a bit of a tear in the eye - that was until I felt myself dropping out the back and I soon realised I had work to do. Time for sentiment after the finish."
Of course, the other major disappointment was the omission of Cadel Evans by Team T-Mobile. Add to that the double whammy of being left out of the Olympic team. I spoke to Cadel last night and he was in surprisingly high spirits. "Well there is some good news. I have just been told I am riding the Vuelta and I am really looking forward to that.
Changes afoot for Cadel?
Photo ©: Cor Vos

What about your omission from the Tour and the Olympics?
"Look, they were both negative shocks. But hey, you have to learn to deal with setbacks and hopefully learn from them."
Since Cadel did not want to go over old news, I asked about his rumored signing with the new Lotto team alongside Robbie McEwen, Nick Gates and Henk Vogels.
"Yes, I am in negotiations with them and it will be finalized one way or the other in a couple of days. And yes, it would be a very good option and it seems like it will have a great spirit."
Cadel was keen to get out on the bike and said to ring him in a couple of days and he would confirm his team for next year.