The current time in Athens is 08:45 on October 2, 2023 - For current weather, click here
28th Olympic Games - JO
Athens, Greece, August 14-28, 2004
Results Qualification & first round Finals Track 101
August 21: Men's 4km Individual Pursuit finals
Wiggins wins battle of the Brads
The battle of the Brads
Photo ©: AFP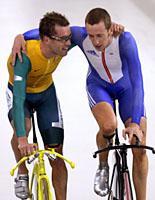 British talent Bradley Wiggins has beaten his Australian rival Bradley McGee in the final of the men's 4000m individual pursuit to win the gold medal. Wiggins clocked 4:16.304 to beat McGee by just over 4 seconds, the Australian never heading Wiggins during 16 laps of the velodrome. It was also something of a turnaround for Wiggins, who was caught by McGee in the final of this event at the Commonwealth Games in Manchester two years ago.
"I am very happy that I beat Brad McGee," said Wiggins, who maintains a good friendship with the Australian outside competition. "It was the best race I ever had. My legs were very good. I had a great attitude and I was enjoying each moment.
"Gold, it's what I wanted to have since I was four years old when I saw it for the first time on television. "It's something which happens to others on television. We don't think it can happen to us." McGee, who has won three bronze medals at past Olympic Games, was not too disappointed with silver, having come into the event with a back injury which has required daily treatment for the last six weeks. "I'm happy, who couldn't be happy with a silver medal at the Olympics," said the 28 year old. "But if I really look at it, I'm not in my best-ever form and I'm racing a guy in the form of his life.
Bradley Wiggins (GBr)
Photo ©: epicimages.us

"It's a pleasure to ride against Bradley Wiggins. I like our rivalry but we are friends at the end of the race."
Spain's world champion Sergi Escobar won the bronze, beating Britain's Rob Hayles in a time of 4:17.947 compared to Hayles' 4:22.291. "It was my first Olympic Games," said Escobar. "I am happy that the result was to win a medal. I will never forget the moment."
© AAP & Cyclingnews
Photography
Images by www.epicimages.us
Images by AFP Photo
Results
For bronze

3 Sergi Escobar (Spain)                   4.17.947 (55.825 km/h)
4 Rob Hayles (Great Britain)              4.22.291

For gold and silver

1 Bradley Wiggins (Great Britain)         4.16.304 (56.183 km/h)
2 Brad McGee (Australia)                  4.20.436