The current time in Athens is 23:08 on March 30, 2023 - For current weather, click here
28th Olympic Games - JO
Athens, Greece, August 14-28, 2004
Results Men's road race Women's road race Men's time trial Women's time trial
Start list Results Live coverage
August 18: Men's Time Trial, 48km
Tyler Hamilton takes Gold, Bobby Julich Bronze as USA dominates
Ekimov superb for Silver, Rogers close in 4th
By Tim Maloney, European Editor
Tyler Hamilton (USA)
Photo ©: AFP
Just after the Olympic Individual Time Trial ended, Team USA riders Tyler Hamilton and Bobby Julich embraced each other on a windy summer evening in the Greek coastal town of Vouliagmeni with a hug of joy and celebration, as both Americans knew they had medaled in the 48km Olympic time test. Tyler Hamilton and Bobby Julich had the rides of their lives along the coast road south of Athens to respectively win gold and bronze as Team USA took two out of three medals in the men's event. With Dede Demet-Barry's silver in the Women's Individual Time Trial earlier in the day, American riders now own 50 percent of all the Olympic TT medals awarded in Athens. Despite the absence of Lance Armstrong, Team USA's road riders have had an excellent Olympic Games, propelling Team USA into the lead for cycling medals won with Olympic road cycling concluded.
With his tremendous today win in the Men's Individual Time Trial, Tyler Hamilton has delivered the first gold for American in men's road cycling since Alexi Grewal won the Olympic road race in Mission Viejo twenty years ago, and becomes with Lance Armstrong and now Bobby Julich one of the only American men to medal in the Olympic TT. Hamilton first showed his abundant talent against the clock when he finished 2nd, 1'10" behind '97 Tour winner Jan Ullrich in a hot, hilly, hard Stage 7 of the 1998 Tour, 0'08 ahead of fellow American Bobby Julich.
The men's TT podium (L to R):
Photo ©: AFP

Certainly, the Man from Marblehead had a disappointing Tour de France last month, where he was forced to abandon on Stage 12 due to a crash that badly bruised his back on Stage 6 in Angers. But despite the fact that his back still isn't 100 percent, today in Athens, in his 28th career win as a pro rider, Hamilton turned the talent on in the last 12km with a breakthrough gold medal winning performance. Today's ride has been a long time coming for the likeable Hamilton, who said post-race that, "It was brutally hard today with the heat and the wind, so it was important to stay calm and gauge your efforts carefully during the race. I started maybe a little too hard and then I backed off on the way back on the first lap. I felt stronger on the second lap."
Hamilton also talked about the significance of his win, saying, "I could have been last in every race this year but the gold medal today makes this a perfect year for me. This makes up the disappointment of the Tour." With the Vuelta a Espaņa next for the American, the Olympic gold may be just the ticket to provide the confidence boost that can propel Hamilton to more glory in Spain.
Viatcheslav Ekimov (Russia)
Photo ©: AFP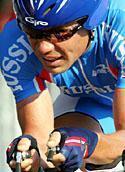 Sandwiched between the two American medalists was incredible Russian Viatcheslav Ekimov. Although he was the defending Olympic TT champ, at 38 years of age (he'll turn 39 next February), most observers wrote the Russian rider off, but that didn't bother Ekimov. Ahead at the 24km time split, Eki held the hard-charging Hamilton to only a 0'05 gain with 12km to go, but the rapid Russian faded on the last leg back to Vouliagmeni and ended up just behind Hamilton in second.
Never very talkative, Eki discussed his race, saying, "It was a very nice course for me today; exactly the kind of TT course I like. I was a little disappointed with my second lap today, but still it was a great day for me."
Great indeed; Ekimov added to his incredible palmares, that now include an Olympic Gold (2000) and Silver (2004) in the TT, World Track Championships in Points Race (1991), Pursuit (1990), World Hour Record (1989), Tour De France Stage Wins (1991), Tour DuPont (1994), Tour Of China (1995), 3 Days of De Panne (1996-2000) and GP Eddy Merckx (with Lance Armstrong, 2000) among his 55 pro wins. Although he has allegedly decided to retire at the end of 2004 after 14 years as a pro, Eki explained today after the Olympic TT that, "To finish second in the Olympics after such a hard season and the Tour De France gives me a lot of motivation for the coming years." Will we see the 39 year old Ekimov in Discovery Cycling colours next season? Don't bet against it now!
Bobby Julich (CSC)
Photo ©: AFP

Enjoying his best season since his third place in the 1998 Tour de France, Bobby Julich had a superb ride to win the bronze medal in the Olympic TT. Julich had languished while at the Telekom squad, but when the Reno, Nevada rider changed teams this season to Bjarne Riis's CSC outfit, the 32 year old American got a new lease on life this season. Despite riding with a newly discovered broken scaphoid bone in his right wrist from a Tour de France crash, Julich had the time trial performance of his career.
A beaming Julich explained post-race, "I knew that this really wasn't my kind of course today; I prefer a more technical course with lots of ups and downs and the speed is 47-48 km/h but I knew the winning time today would be over 50km/h. I had good legs but I didn't expect this result today; I had no idea I was riding this well." But now, Julich's Olympic Bronze medal will always testify just how well indeed the American was riding today in Athens.
How it unfolded
Peter Van Petegem (Belgium)
Photo ©: AFP
On a windy Wednesday summer afternoon along the coast south of Athens, 38 riders took the start of the Men's Individual Time Trial of the 28th Olympic Games in Athens, Greece, with Robert Hunter and Filippo Pozzato not starting. Starting fifth in the first wave of rides, Belgian classics specialist Peter Van Petegem set the fastest early time at all the intermediate time checks and took the lead with 1h0'35. His time held up until TT specialist Rene Andrle (Czech Republic) came in with 1h0'27, 0'08 faster than the Belgian.
Andrle was the best of the first wave of riders and his time was best until the second wave started and Ukrainian Yuriy Krivtsov powered home with in 59'49, first rider under the hour. Out on the course, Kashechkin (Kazakhstan) abandoned. Krivtsov's fast time didn't remain for long, as after setting the fastest intermediate split, Igor Gonzalez De Galdeano (Spain) came home with the new fast time, 59'27, and the Spaniard's time held as fastest ahead of TT specialists Victor Hugo Peņa (Colombia), Marc Wauters (Belgium) and Christophe Moreau (France). Meanwhile evergreen Canadian tester Eric Wohlberg came in with 1h00'30, a faster time than many Euro-pro's like Bodrogi, Van Petegem and Høj's.
Michael Rogers (Australia)
Photo ©: AFP

Igor Gonzalez de Galdeano was fastest as the third and final wave began at 5pm local time, with the big guns like Ullrich, Hamilton, Rogers, Bodrogi, Rich, Ekimov, Cancellara and Gonchar yet to pound a pedal in anger. After Vinokourov (Kazakhstan), Botero (Colombia) and Petrov (Russia), Spanish TT champ Jose Ivan Gutierrez left the start house, heavily bandaged from his bad crash in last Saturday's Men's Individual Road Race. Gonzalez De Galdeano's time held up until Vinokourov rode in with 58'58, almost 0'30 faster than the Spaniard. Neither Botero, Petrov, Gutierrez nor Gonchar could get past Vino, with the Ukrainian posting a particularly slow time today.
As German Michael Rich powered in to oust Vino by almost a minute with 58'09, his lead didn't last long as Ekimov came through with the first ride under 58 minutes with a 57'50. Eki's time looked good but it wasn't clear if he had managed to get time back from Hamilton, whom he had trailed by 0'04 with 12km to go at the turnaround in Agia Marina. Julich was next up with a shot at Eki and the American was 0'05 behind the Russian with 12km to race.
Tyler Hamilton (USA)
Photo ©: AFP

At the finish with his 57'58, Julich had lost 3 more seconds on Eki but was still ahead of Rich and looked like he could medal. Australian Mick Rogers and Julich had been back and forth all day but the young Aussie, who had been 0'05 ahead of Julich at the penultimate time check, faded slightly over the last 12k to finish in 58'01, just 0'03 behind Bobby. After Rogers finished, there wasn't long to wait until Hamilton arrived a minute later. Hamilton finished in a blistering 57'31 (50.062 km/h avg.), pulling out 13 seconds from Ekimov in the last 12km to win the 2004 Olympic TT. Last rider to finish was a disappointing Jan Ullrich, who was never a contender today and ended up 7th, finishing in just over 59'00.
Photography
For a thumbnail gallery of these images click here
Images by www.epicimages.us
Images by Rob Jones/www.canadiancyclist.com
Images by AFP Photo
Results
1 Tyler Hamilton (USA)                    57.31.74 (50.062 km/h)
2 Viatcheslav Ekimov (Russia)              0.18.84
3 Bobby Julich (USA)                       0.26.45
4 Michael Rogers (Australia)               0.29.93
5 Michael Rich (Germany)                   0.37.72
6 Alexandre Vinokourov (Kazakhstan)        1.26.40
7 Jan Ullrich (Germany)                    1.30.30
8 Santiago Botero Echeverri (Colombia)     1.33.02
9 Igor Gonzalez De Galdeano (Spain)        1.55.51
10 Fabian Cancellara (Switzerland)         2.10.64
11 Yuriy Krivtsov (Ukraine)                2.17.66
12 Christophe Moreau (France)              2.18.54
13 Marc Wauters (Belgium)                  2.27.89
14 Michal Hrazdira (Czech Republic)        2.35.49
15 Victor Hugo Pena Grisales (Colombia)    2.38.15
16 Jose Ivan Gutierrez (Spain)             2.51.06
17 Rene Andrle (Czech Republic)            2.55.55
18 Eric Wohlberg (Canada)                  2.59.75
19 Peter Van Petegem (Belgium)             3.03.99
20 Frank Hoj (Denmark)                     3.05.75
21 Thomas Dekker (Netherlands)             3.06.31
22 Laszlo Bodrogi (Hungary)                3.12.57
23 Serguei Gonchar (Ukraine)               3.28.73
24 Evgeny Vakker (Kyrgyzstan)              3.49.36
25 Sergio Paulinho (Portugal)              3.53.89
26 Benoit Joachim (Luxembourg)             4.18.72
27 Rubens Bertogliati (Switzerland)        4.44.82
28 Kurt-Asle Arvesen (Norway)              4.49.54
29 Evgeni Petrov (Russia)                  5.18.58
30 Stuart Dangerfield (Great Britain)      5.28.98
31 Dawid Krupa (Poland)                    5.35.31
32 Thor Hushovd (Norway)                   5.38.62
33 Heath Blackgrove (New Zealand)          5.48.37
34 Thomas Lovkvist (Sweden)                6.11.96
35 Gorazd Stangelj (Slovenia)              6.14.10
36 Matej Jurco (Slovakia)                  6.50.84
37 Slawomir Kohut (Poland)                 8.47.55
DNF Andrey Kashechkin (Kazakhstan)                
DNS Filippo Pozzato (Italy)                       
DNS Robert Hunter (South Africa)                  
Intermediate time checks

12 km

1 Viatcheslav Ekimov (Russia)             14.15
2 Michael Rogers (Australia)               0.02
3 Tyler Hamilton (USA)                     0.04
4 Michael Rich (Germany)                   0.07
5 Fabian Cancellara (Switzerland)          0.09
6 Alexandre Vinokourov (Kazakhstan)        0.11
7 Bobby Julich (USA)                       0.11
8 Jan Ullrich (Germany)                    0.13
9 Igor Gonzalez De Galdeano (Spain)        0.14
10 Santiago Botero Echeverri (Colombia)    0.15
11 Jose Ivan Gutierrez (Spain)             0.29
12 Serguei Gonchar (Ukraine)               0.29
13 Laszlo Bodrogi (Hungary)                0.30
14 Victor Hugo Pena Grisales (Colombia)    0.30
15 Marc Wauters (Belgium)                  0.32
16 Christophe Moreau (France)              0.33
17 Thomas Dekker (Netherlands)             0.34
18 Frank Hoj (Denmark)                     0.37
19 Yuriy Krivtsov (Ukraine)                0.40
20 Michal Hrazdira (Czech Republic)        0.43
21 Evgeni Petrov (Russia)                  0.44
22 Eric Wohlberg (Canada)                  0.49
23 Peter Van Petegem (Belgium)             0.52
24 Evgeny Vakker (Kyrgyzstan)              0.56
25 Rene Andrle (Czech Republic)            0.56
26 Rubens Bertogliati (Switzerland)        1.02
27 Benoit Joachim (Luxembourg)             1.02
28 Thor Hushovd (Norway)                   1.04
29 Sergio Paulinho (Portugal)              1.07
30 Kurt-Asle Arvesen (Norway)              1.15
31 Thomas Lovkvist (Sweden)                1.23
32 Heath Blackgrove (New Zealand)          1.25
33 Dawid Krupa (Poland)                    1.27
34 Matej Jurco (Slovakia)                  1.33
35 Stuart Dangerfield (Great Britain)      1.38
36 Gorazd Stangelj (Slovenia)              1.39
37 Slawomir Kohut (Poland)                 1.55

24 km

1 Viatcheslav Ekimov (Russia)             28.33
2 Michael Rogers (Australia)               0.04
3 Tyler Hamilton (USA)                     0.05
4 Michael Rich (Germany)                   0.10
5 Bobby Julich (USA)                       0.10
6 Santiago Botero Echeverri (Colombia)     0.37
7 Jan Ullrich (Germany)                    0.38
8 Igor Gonzalez De Galdeano (Spain)        0.40
9 Alexandre Vinokourov (Kazakhstan)        0.40
10 Fabian Cancellara (Switzerland)         0.45
11 Victor Hugo Pena Grisales (Colombia)    1.02
12 Christophe Moreau (France)              1.04
13 Marc Wauters (Belgium)                  1.07
14 Yuriy Krivtsov (Ukraine)                1.07
15 Michal Hrazdira (Czech Republic)        1.10
16 Laszlo Bodrogi (Hungary)                1.11
17 Peter Van Petegem (Belgium)             1.11
18 Jose Ivan Gutierrez (Spain)             1.12
19 Thomas Dekker (Netherlands)             1.17
20 Serguei Gonchar (Ukraine)               1.18
21 Frank Hoj (Denmark)                     1.19
22 Eric Wohlberg (Canada)                  1.20
23 Evgeny Vakker (Kyrgyzstan)              1.29
24 Rene Andrle (Czech Republic)            1.34
25 Sergio Paulinho (Portugal)              1.48
26 Rubens Bertogliati (Switzerland)        1.50
27 Benoit Joachim (Luxembourg)             1.53
28 Evgeni Petrov (Russia)                  1.53
29 Kurt-Asle Arvesen (Norway)              2.07
30 Thor Hushovd (Norway)                   2.08
31 Dawid Krupa (Poland)                    2.22
32 Thomas Lovkvist (Sweden)                2.29
33 Stuart Dangerfield (Great Britain)      2.42
34 Heath Blackgrove (New Zealand)          2.42
35 Gorazd Stangelj (Slovenia)              2.44
36 Matej Jurco (Slovakia)                  3.03
37 Slawomir Kohut (Poland)                 3.47

36 km

1 Tyler Hamilton (USA)                    43.23
2 Viatcheslav Ekimov (Russia)              0.05
3 Michael Rogers (Australia)               0.06
4 Bobby Julich (USA)                       0.11
5 Michael Rich (Germany)                   0.23
6 Alexandre Vinokourov (Kazakhstan)        1.00
7 Jan Ullrich (Germany)                    1.00
8 Santiago Botero Echeverri (Colombia)     1.03
9 Igor Gonzalez De Galdeano (Spain)        1.05
10 Yuriy Krivtsov (Ukraine)                1.29
11 Fabian Cancellara (Switzerland)         1.30
12 Christophe Moreau (France)              1.36
13 Marc Wauters (Belgium)                  1.36
14 Victor Hugo Pena Grisales (Colombia)    1.41
15 Michal Hrazdira (Czech Republic)        1.45
16 Jose Ivan Gutierrez (Spain)             1.50
17 Laszlo Bodrogi (Hungary)                1.58
18 Eric Wohlberg (Canada)                  2.02
19 Frank Hoj (Denmark)                     2.02
20 Thomas Dekker (Netherlands)             2.03
21 Peter Van Petegem (Belgium)             2.11
22 Serguei Gonchar (Ukraine)               2.13
23 Rene Andrle (Czech Republic)            2.17
24 Evgeny Vakker (Kyrgyzstan)              2.47
25 Sergio Paulinho (Portugal)              2.55
26 Benoit Joachim (Luxembourg)             3.16
27 Rubens Bertogliati (Switzerland)        3.17
28 Evgeni Petrov (Russia)                  3.28
29 Kurt-Asle Arvesen (Norway)              3.37
30 Thor Hushovd (Norway)                   3.40
31 Dawid Krupa (Poland)                    4.03
32 Stuart Dangerfield (Great Britain)      4.11
33 Heath Blackgrove (New Zealand)          4.11
34 Thomas Lovkvist (Sweden)                4.19
35 Gorazd Stangelj (Slovenia)              4.31
36 Matej Jurco (Slovakia)                  5.04
37 Slawomir Kohut (Poland)                 6.00