The current time in Athens is 17:46 on February 4, 2023 - For current weather, click here
28th Olympic Games - JO
Athens, Greece, August 14-28, 2004
Friday, August 13, 2004
An interview with Michael Barry
"Positioning is crucial"
With only three riders in tomorrow's men's road race - Michael Barry, Gord Fraser and Eric Wohlberg - the Canadian team will be playing a watching game, hoping to position their riders in the right spot if a decisive break happens. One of them is Michael Barry, who spoke to Rob Jones in Athens about the team's tactics on Saturday.
Michael Barry and George Hincapie
Photo ©: USA Cycling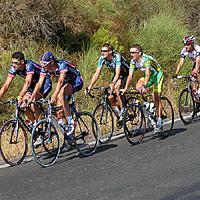 Cyclingnews: First of all Michael: what about this opportunity to race at the Olympics with your wife (Dede Demet-Barry, of the U.S. team who will race the women's road race on Sunday, and the time trial next Wednesday)?
Michael Barry: We obviously train and ride a lot together at home (in Colorado), but this is awesome to be here together. In Atlanta (his first Olympics) I was pretty young, and overwhelmed by everything, so I couldn't take a lot of it in. Now, it is definitely good to come back and share it with my wife, especially since it is her first time at the Olympics.
We spend a lot of time apart (Michael races mainly in Europe for U.S. Postal and Demet-Barry in North America for T-Mobile), so it is pretty neat to be able to call her up in the morning, talk and have breakfast together.
CN: How about the course? Some of the U.S. pros and French riders have been calling it dangerous.
MB: There are definitely a few technical sections, and some off-camber corners, but it is nothing worse than some other stuff we have raced. We were taking about it yesterday while training, and some of us agreed that it was similar to Lancaster (Wachovia Classic in Pennsylvania).
CN: What about strategy? It isn't quite the same as at the World's, where the big teams have 10-12 riders. Here they only have five and Canada has three (Barry, Gord Fraser and Eric Wohlberg).
MB: Positioning is crucial - I think the initial selection will happen from behind (i.e., riders dropping off the peloton). It is hard to stay away, because of the fast descent, and the wind was actually pretty strong when we rode the course.
Dede Barry (USA) and Eric Wohlberg (Canada)
Photo ©: epicimages.us

I think we (Canada) have a pretty good idea of where we fit in the field, and what we can do. We want to be well positioned, and save our energy for the last laps - a similar strategy to World's last year (where Barry finished 7th). The big Euro teams will all be riding for one rider, and we won't be expected to do work at the front. It is not too hard a race to read.
CN: Canada has yourself, who is going very well (finishing 6th in Denmark last weekend), Gord Fraser as a sprinter and Eric Wohlberg, who can also do well in a long break. Have you talked about how you are going to handle different scenarios in the race?
MB: If there is a group together at the finish, Gord is our obvious choice. He can go toe to toe with any of those guys in a sprint. We all know each other pretty well, and we are all mature riders, all professionals; so everyone knows what they have to do. we will be communicating through the race, so we can tell each other who is going well and who is having problems.
CN: Finally, what is next after Athens, and what about next season? We have heard that you have received a number of offers.
MB: I'm going to stay and watch Dede race (on Sunday), and then back to Spain. I'm going to do the Vuelta and then, hopefully the World's.
For next year - I haven't signed with anyone yet. U.S. Postal has been really good to me, a great team, but I'm looking at different options, a number of different possibilities. I'm going to look at things over the next couple of weeks and see how things shake out.
Michael did confirm that U.S. Postal/Discovery Channel is one of the squads that he has talked with for next season.