Malaysia Airlines Herald Sun Tour of Provincial Victoria - 2.3
Australia, October 14-24, 2004
Main Page Results Previous Stage Next Stage
Stage 12 - October 23: Warragul - Mt Baw Baw, 87.7 km
There's a new kid on the block...
Swede Ljungblad keeps his cool and takes yellow
By Rod Morris in Mt Baw Baw
Matthew Lloyd (Mitchell Supplies)
Photo ©: Shane Goss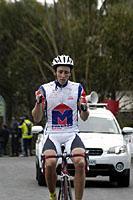 Nine months ago, Matthew Lloyd had never competed in an open road race - today he claimed victory in the toughest stage of the Malaysia Airlines Herald Sun of Provincial Victoria. The 21-year-old Lloyd from St Kilda in suburban Victoria won the arduous Warragul to the peak of Mt Baw Baw and while it may have only been 87.7 km, almost half the distance was uphill, climaxing at 1900 m above sea level.
In a dramatic day of racing in the penlutimate stage of the HST, Swedish rider Jonas Ljungblad (Europcar - Pelaco) wrested the overall lead from Victorian favourite David McKenzie (Bicycle Superstore), shifting a 43 second deficit into a 1'33 minute lead and, barring disaster, will claim the tour victory after the final stage at Traralgon on Sunday.
Ljungblad, who has now won three stages of the HST - two this week and one in 2002 - only has to stay upright in the 81.6 km kermesse around the streets of Traralgon to win the biggest race of his life. "I felt very nervous before the start of today's race and I am glad to have finished so high up in the stage and of course, take the yellow leader's jersey," Ljungblad said. "I rode up Mt Baw Baw in 2002 and finished seventh, so I knew what to expect, I knew where the flat spots were and when the climbs got a bit more difficult. That experience really helped me today. Two years ago I rode on a 23 chain ring, today I switched it to a 25 and it made a bit difference," he said.
There were plenty of casualties from the top 10 on GC honours up Mt Baw Baw, with McKenzie - although only slipping from first to second - almost certainly out of calculations. The 93 second difference will be too much for McKenzie to regain - unless Ljungblad himself becomes a race casualty.
While Ljungblad finished the Mt Baw Baw stage in fifth place, McKenzie limped home in 14th place, a clear 2 minutes behind the Swede and almost four minutes behind the surprise packet, Matthew Lloyd. Early tour leader Karl Menzies was dumped from second to ninth after finishing Mt Baw Baw in 25th position and almost 7 minutes later than Lloyd crossed the line.
At the start of the day, South Australia's gold medal Olympian Luke Roberts would have given himself a chance of GC honours, but a puncture just 8km from the finish effectively ended the dream. Roberts didn't really recover from the wheel change and after coming across the line alongside Menzies, South Australian Corey Sweet (Latrobe City) and German Thomas Liese (Malaysia Airlines) fell from fourth to 10th and like all others, out of contention for overall honours.
The main field descend at 90kmís an hour
Photo ©: Shane Goss

Without a doubt, the gutsiest ride of the day cam New South Welshman Phillip Thuaux (Jayco), who hit out from the bunch as soon as the race started. With Queensland's Tony Mann (Argon 18 Bikes - Caravello) riding in tandem with him, the pair were away for more than 45 km before any significant moves came from the bunch. Mann was spent and meandered his way through the convoy - albeit the wrong way - finishing the stage in 62nd. Thuaux featured in all four intermediate sprints - winning three - and won the first six hill climbs, finishing second in the seventh and fourth in the all-important last sprint, which signalled the end of the race.
Matthew Lloyd, who trains in the Dandenongs, is in his first season as a professional bike rider after brief flirtations with rowing and triathlons. "This is awesome, I didn't expect to win, I just thought I would be chasing backsides all day," Lloyd said. "Without doubt, this is the biggest thing I've ever won. I was no danger on GC, so I suppose the others didn't take much notice of me... but I'm not complaining."
Whilst he may not have been a threat for overall honours, Lloyd's win did jump him into 8th position and for a 21-year-old in his first real multi-stage tour, that's no mean effort. Ljungblad will enjoy carrying his first yellow jersey in Traralgon on the final day, but David McKenzie will be hurting.
David Mckenzie (BicycleSuperstore) is comforted
Photo ©: Shane Goss

"I am really disappointed to have lost my lead, because I don't think I will ever get a better chance," he said. "I gave it 120% and I couldn't find 1% more. I had plenty of crowd support, not just on the mountain, but right the tour, so for that I'm not disappointed, but that's racing, that's how it goes. Tomorrow is another day and anything can happen, one things for sure, I'm not going to throw the towel in."
The Traralgon Kermesse, signalling the end of the 2004 Herald Sun Tour will start at 1.30 p.m. and is scheduled to finish at 3.30 p.m. after the field of 67 riders have completed 20 laps of a 2.85 km circuit.
Photography
Images by Shane Goss/www.licoricegallery.com
Results

1 Matthew Lloyd (Aus) Mitchell Building Supplies           2.44.53
2 Benoit Poilvet (Fra) Provincial Victoria                    0.36
3 Chrisophe Le Mevel (Fra) Provincial Victoria                0.51
4 Phillip Thuaux (Aus) Jayco                                  1.15
5 Jonas Ljungbald (Swe) Europcar - Pelaco                     1.44
6 Daniel McConnell (Aus) Victorian State Home Loans           2.04
7 Ben Brooks (Aus) McGee - NSW Institute Of Sport             2.08
8 Simon Gerrans (Aus) Jayco                                   2.18
9 Ruber Marin (Col) Subaru                                    2.29
10 Timo Scholz (Ger) Malaysia Airlines                            
11 William Walker (Aus) Jayco                                 3.11
12 Nick Kiraly (Aus) Victorian State Home Loans                   
13 Jamie Burrow (GBr) Europcar - Pelaco                       3.29
14 David McKenzie (Aus) Bicycle Superstore                    3.45
15 Glen Mitchell (NZl) Active For Life                        3.59
16 Rob Sharman (GBr) Sungold Milk - Warrnambool               4.05
17 Scott Guyton (NZl) Bicycle Superstore                      4.09
18 Chris Bradford (Aus) CGU Insurance                         4.20
19 Kristian House (GBr) Bendigo                               4.53
20 Tomas Buchacek (Cze) Latrobe City                              
21 David Tanner (Aus) McGee - NSW Institute Of Sport          5.30
22 Corey Sweet (Aus) Latrobe City                             6.08
23 Thomas Liese (Ger) Malaysia Airlines                           
24 Luke Roberts (Aus) Latrobe City                                
25 Karl Menzies (Aus) Bicycle Superstore                      6.16
26 Eric Wohlberg (Can) Active For Life                        6.19
27 Chris Sutton (Aus) McGee - NSW Institute Of Sport          6.51
28 Kieran Page (GBr) Bendigo                                  6.54
29 Dominique Perras (Can) Active For Life                     7.02
30 Peter Milostic (Aus) Argon 18 Bikes - Caravello            7.22
31 Craig McCartney (Aus) Provincial Victoria                  7.49
32 Jonathan Cantwell (Aus) Half Mile Creek                    8.04
33 Steven De Decker (Bel) Half Mile Creek                     8.21
34 Domenic Gatto (Aus) Victorian State Home Loans             8.24
35 Nathan Jones (Aus) CGU Insurance                           8.35
36 Scott Lyttle (NZl) Mitchell Building Supplies              8.58
37 Robert McLachlan (Aus) Argon 18 Bikes - Caravello              
38 Richard Moffatt (Aus) McGee - NSW Institute Of Sport           
39 Mateusz Mroz (Pol) Europcar - Pelaco                       9.10
40 Andrew Graham (Aus) Uno Clothing                           9.48
41 Matthew Goold (Aus) Active For Life                       11.18
42 Jorge Libonatti (Uru) Active For Life                     11.19
43 George Vallins (Aus) Uno Clothing                         13.04
44 Nigel Dunstone (Aus) Argon 18 Bikes - Caravello           14.13
45 Hans De Clercq (Bel) Bicycle Superstore                        
46 Dermot Nally (Irl) Sungold Milk - Warrnambool             16.24
47 Jeremy Hunt (GBr) Latrobe City                            19.41
48 James Meadley (Aus) Mitchell Building Supplies            21.32
49 Russell Van Hout (Aus) Subaru                                  
50 Philip Finnegan (Irl) Sungold Milk - Warrnambool          22.12
51 Trent Wilson (Aus) Subaru                                      
52 Paul Healion (Irl) Sungold Milk - Warrnambool             22.34
53 Damian Forster (Aus) Uno Clothing                         23.15
54 Dean Downing (GBr) Bendigo                                23.23
55 Anthony Challinor (Aus) Argon 18 Bikes - Caravello        23.31
56 Joel Pearson (Aus) Provincial Victoria                    23.41
57 Daniel Newnham (Aus) Mitchell Building Supplies           24.54
58 Thomas Gronqvist (Swe) Europcar - Pelaco                       
59 Ben Johnson (Aus) Malaysia Airlines                            
60 Rhys Pollock (Aus) Uno Clothing                                
61 Matthew Rex (Aus) CGU Insurance                                
62 Tony Mann (Aus) Argon 18 Bikes - Caravello                29.00
63 Bart Heirewegh (Bel) Half Mile Creek                      30.53
64 Trent Stevenson (Aus) Provincial Victoria                      
65 David Harrigan (Aus) Latrobe City                              
66 Artur Krzeszowiec (Pol) Europcar - Pelaco                 33.08
67 Mark Roland (Aus) Victorian State Home Loans              54.04
 
Sprints
 
Sprint 1, Mocka 39 - Rokeby Hall
 
1 Tony Mann (Aus) Argon 18 Bikes - Caravello                     3 pts
2 Phillip Thuaux (Aus) Jayco                                     2
3 Trent Wilson (Aus) Subaru                                      1
 
Sprint 2, Mocka 53 - Police Station
 
1 Phillip Thuaux (Aus) Jayco                                     3 pts
2 Tony Mann (Aus) Argon 18 Bikes - Caravello                     2
3 Trent Wilson (Aus) Subaru                                      1
 
Sprint 3, Mocka 61 - Soldiers' Memorial
 
1 Phillip Thuaux (Aus) Jayco                                     3 pts
2 Tony Mann (Aus) Argon 18 Bikes - Caravello                     2
3 Trent Wilson (Aus) Subaru                                      1
 
Sprint 4, Mocka 76 - Noojee Hotel
 
1 Phillip Thuaux (Aus) Jayco                                     3 pts
2 Tony Mann (Aus) Argon 18 Bikes - Caravello                     2
3 Trent Wilson (Aus) Subaru                                      1
 
Hill climbs
 
Climb 1, Cat.4 Mocka 30
 
1 Phillip Thuaux (Aus) Jayco                                     3 pts
2 Tony Mann (Aus) Argon 18 Bikes - Caravello                     2
3 Trent Wilson (Aus) Subaru                                      1
 
Climb 2, Cat.4 Mocka 43
 
1 Phillip Thuaux (Aus) Jayco                                     3 pts
2 Tony Mann (Aus) Argon 18 Bikes - Caravello                     2
3 Trent Wilson (Aus) Subaru                                      1
 
Climb 3, Cat.3 Mocka 67
 
1 Phillip Thuaux (Aus) Jayco                                     5 pts
2 Tony Mann (Aus) Argon 18 Bikes - Caravello                     3
3 Trent Wilson (Aus) Subaru                                      2
 
Climb 4, Cat.2 Mocka 84
 
1 Phillip Thuaux (Aus) Jayco                                     7 pts
2 Luke Roberts (Aus) Latrobe City                                5
3 Ruber Marin (Col) Subaru                                       3
 
Climb 5, Cat.3 Mocka 89
 
1 Phillip Thuaux (Aus) Jayco                                     5 pts
2 Jonas Ljungbald (Swe) Europcar - Pelaco                        3
3 Luke Roberts (Aus) Latrobe City                                2
 
Climb 6, Cat.3 Mocka 92
 
1 Phillip Thuaux (Aus) Jayco                                     5 pts
2 Benoit Poilvet (Fra) Provincial Victoria                       3
3 Matthew Lloyd (Aus) Mitchell Building Supplies                 2
 
Climb 7, Cat.3 Mocka 96
 
1 Benoit Poilvet (Fra) Provincial Victoria                       5 pts
2 Phillip Thuaux (Aus) Jayco                                     3
3 Nick Kiraly (Aus) Victorian State Home Loans                   2
 
Climb 8, Cat.1 Mocka 110
 
1 Matthew Lloyd (Aus) Mitchell Building Supplies                10 pts
2 Benoit Poilvet (Fra) Provincial Victoria                       6
3 Chrisophe Le Mevel (Fra) Provincial Victoria                   4
 
General classification after stage 12
 
1 Jonas Ljungbald (Swe) Europcar - Pelaco                 25.22.25
2 David McKenzie (Aus) Bicycle Superstore                     1.33
3 Ben Brooks (Aus) McGee - NSW Institute Of Sport             1.45
4 Benoit Poilvet (Fra) Provincial Victoria                    3.04
5 Glen Mitchell (NZl) Active For Life                         3.38
6 Timo Scholz (Ger) Malaysia Airlines                         3.41
7 Simon Gerrans (Aus) Jayco                                   4.19
8 Matthew Lloyd (Aus) Mitchell Building Supplies              4.27
9 Karl Menzies (Aus) Bicycle Superstore                       4.35
10 Luke Roberts (Aus) Latrobe City                            4.45
11 Scott Guyton (NZl) Bicycle Superstore                      5.08
12 Rob Sharman (GBr) Sungold Milk - Warrnambool               5.31
13 Kristian House (GBr) Bendigo                               6.05
14 David Tanner (Aus) McGee - NSW Institute Of Sport          6.23
15 Phillip Thuaux (Aus) Jayco                                 6.53
16 Kieran Page (GBr) Bendigo                                  7.04
17 Dominique Perras (Can) Active For Life                     7.24
18 Jamie Burrow (GBr) Europcar - Pelaco                       8.24
19 William Walker (Aus) Jayco                                 8.41
20 Tomas Buchacek (Cze) Latrobe City                          9.43
21 Domenic Gatto (Aus) Victorian State Home Loans            10.02
22 Chris Bradford (Aus) CGU Insurance                        10.29
23 Corey Sweet (Aus) Latrobe City                            10.34
24 Eric Wohlberg (Can) Active For Life                       10.36
25 Peter Milostic (Aus) Argon 18 Bikes - Caravello           12.41
26 Matthew Goold (Aus) Active For Life                       12.47
27 Craig McCartney (Aus) Provincial Victoria                 12.49
28 Ruber Marin (Col) Subaru                                  13.33
29 Andrew Graham (Aus) Uno Clothing                          15.11
30 Robert McLachlan (Aus) Argon 18 Bikes - Caravello         15.28
31 Nick Kiraly (Aus) Victorian State Home Loans              16.33
32 Jorge Libonatti (Uru) Active For Life                     18.36
33 Mateusz Mroz (Pol) Europcar - Pelaco                      21.43
34 Rhys Pollock (Aus) Uno Clothing                           27.56
35 Ben Johnson (Aus) Malaysia Airlines                       31.46
36 Chrisophe Le Mevel (Fra) Provincial Victoria              33.40
37 Jonathan Cantwell (Aus) Half Mile Creek                   35.02
38 Thomas Liese (Ger) Malaysia Airlines                      41.10
39 Dermot Nally (Irl) Sungold Milk - Warrnambool             49.21
40 Chris Sutton (Aus) McGee - NSW Institute Of Sport         53.45
41 Dean Downing (GBr) Bendigo                                54.09
42 Nathan Jones (Aus) CGU Insurance                          59.49
43 Richard Moffatt (Aus) McGee - NSW Institute Of Sport    1.00.41
44 Nigel Dunstone (Aus) Argon 18 Bikes - Caravello         1.02.28
45 Scott Lyttle (NZl) Mitchell Building Supplies           1.05.32
46 Hans De Clercq (Bel) Bicycle Superstore                 1.10.08
47 James Meadley (Aus) Mitchell Building Supplies          1.13.51
48 Anthony Challinor (Aus) Argon 18 Bikes - Caravello      1.14.49
49 Bart Heirewegh (Bel) Half Mile Creek                    1.15.20
50 Steven De Decker (Bel) Half Mile Creek                  1.17.47
51 Jeremy Hunt (GBr) Latrobe City                          1.22.32
52 Thomas Gronqvist (Swe) Europcar - Pelaco                1.23.05
53 Russell Van Hout (Aus) Subaru                           1.24.04
54 Daniel McConnell (Aus) Victorian State Home Loans       1.24.27
55 George Vallins (Aus) Uno Clothing                       1.29.39
56 Mark Roland (Aus) Victorian State Home Loans            1.30.41
57 Damian Forster (Aus) Uno Clothing                       1.33.55
58 Joel Pearson (Aus) Provincial Victoria                  1.36.50
59 Tony Mann (Aus) Argon 18 Bikes - Caravello              1.44.12
60 Trent Wilson (Aus) Subaru                               1.46.25
61 Matthew Rex (Aus) CGU Insurance                         1.48.24
62 Paul Healion (Irl) Sungold Milk - Warrnambool           1.49.26
63 Philip Finnegan (Irl) Sungold Milk - Warrnambool        1.50.37
64 Daniel Newnham (Aus) Mitchell Building Supplies         1.51.20
65 David Harrigan (Aus) Latrobe City                       1.51.54
66 Artur Krzeszowiec (Pol) Europcar - Pelaco               2.05.58
67 Trent Stevenson (Aus) Provincial Victoria               2.21.58
 
Sprints classification
 
1 David McKenzie (Aus) Bicycle Superstore                       48 pts
2 Kieran Page (GBr) Bendigo                                     47
3 Karl Menzies (Aus) Bicycle Superstore                         46
4 Simon Gerrans (Aus) Jayco                                     38
5 Glen Mitchell (NZl) Active For Life                           34
6 Ben Brooks (Aus) McGee - NSW Institute Of Sport               33
7 Tony Mann (Aus) Argon 18 Bikes - Caravello                    27
8 Dean Downing (GBr) Bendigo                                    27
9 Scott Guyton (NZl) Bicycle Superstore                         26
10 Jonas Ljungbald (Swe) Europcar - Pelaco                      26
11 Corey Sweet (Aus) Latrobe City                               24
12 Phillip Thuaux (Aus) Jayco                                   23
13 Jeremy Hunt (GBr) Latrobe City                               19
14 Luke Roberts (Aus) Latrobe City                              19
15 Eric Wohlberg (Can) Active For Life                          15
16 Robert McLachlan (Aus) Argon 18 Bikes - Caravello            15
17 Mark Roland (Aus) Victorian State Home Loans                 10
18 Rob Sharman (GBr) Sungold Milk - Warrnambool                 10
19 Matthew Goold (Aus) Active For Life                           9
20 Trent Wilson (Aus) Subaru                                     9
21 Chrisophe Le Mevel (Fra) Provincial Victoria                  8
22 Dominique Perras (Can) Active For Life                        8
23 Matthew Rex (Aus) CGU Insurance                               8
24 Rhys Pollock (Aus) Uno Clothing                               7
25 Mateusz Mroz (Pol) Europcar - Pelaco                          7
26 Chris Sutton (Aus) McGee - NSW Institute Of Sport             7
27 Bart Heirewegh (Bel) Half Mile Creek                          6
28 David Tanner (Aus) McGee - NSW Institute Of Sport             6
29 Nathan Jones (Aus) CGU Insurance                              5
30 Tomas Buchacek (Cze) Latrobe City                             5
31 Ben Johnson (Aus) Malaysia Airlines                           5
32 Peter Milostic (Aus) Argon 18 Bikes - Caravello               4
33 Kristian House (GBr) Bendigo                                  4
34 Dermot Nally (Irl) Sungold Milk - Warrnambool                 4
35 William Walker (Aus) Jayco                                    4
36 Jonathan Cantwell (Aus) Half Mile Creek                       4
37 Timo Scholz (Ger) Malaysia Airlines                           3
38 Hans De Clercq (Bel) Bicycle Superstore                       3
39 David Harrigan (Aus) Latrobe City                             3
40 Matthew Lloyd (Aus) Mitchell Building Supplies                3
41 Anthony Challinor (Aus) Argon 18 Bikes - Caravello            3
42 Russell Van Hout (Aus) Subaru                                 3
43 George Vallins (Aus) Uno Clothing                             3
44 Daniel Newnham (Aus) Mitchell Building Supplies               2
45 Thomas Gronqvist (Swe) Europcar - Pelaco                      2
46 Andrew Graham (Aus) Uno Clothing                              2
47 Jorge Libonatti (Uru) Active For Life                         1
48 Steven De Decker (Bel) Half Mile Creek                        1
49 Richard Moffatt (Aus) McGee - NSW Institute Of Sport          1
50 Benoit Poilvet (Fra) Provincial Victoria                      1
 
Mountains classification
 
1 Phillip Thuaux (Aus) Jayco                                    71 pts
2 Luke Roberts (Aus) Latrobe City                               35
3 Jonas Ljungbald (Swe) Europcar - Pelaco                       34
4 Dominique Perras (Can) Active For Life                        24
5 Trent Wilson (Aus) Subaru                                     17
6 Benoit Poilvet (Fra) Provincial Victoria                      14
7 Matthew Lloyd (Aus) Mitchell Building Supplies                12
8 Chrisophe Le Mevel (Fra) Provincial Victoria                  12
9 William Walker (Aus) Jayco                                     8
10 Eric Wohlberg (Can) Active For Life                           8
11 Tomas Buchacek (Cze) Latrobe City                             8
12 Tony Mann (Aus) Argon 18 Bikes - Caravello                    7
13 Simon Gerrans (Aus) Jayco                                     7
14 Thomas Liese (Ger) Malaysia Airlines                          6
15 David McKenzie (Aus) Bicycle Superstore                       5
16 Ruber Marin (Col) Subaru                                      5
17 Glen Mitchell (NZl) Active For Life                           5
18 Scott Guyton (NZl) Bicycle Superstore                         5
19 Kieran Page (GBr) Bendigo                                     5
20 Ben Brooks (Aus) McGee - NSW Institute Of Sport               5
21 Karl Menzies (Aus) Bicycle Superstore                         3
22 Kristian House (GBr) Bendigo                                  3
23 Craig McCartney (Aus) Provincial Victoria                     3
24 David Tanner (Aus) McGee - NSW Institute Of Sport             3
25 Jeremy Hunt (GBr) Latrobe City                                3
26 Bart Heirewegh (Bel) Half Mile Creek                          3
27 Robert McLachlan (Aus) Argon 18 Bikes - Caravello             2
28 Nick Kiraly (Aus) Victorian State Home Loans                  2
29 Nathan Jones (Aus) CGU Insurance                              2
 
Criterium Championship
 
1 Dean Downing (GBr) Bendigo                                    30 pts
2 David McKenzie (Aus) Bicycle Superstore                       29
3 Matthew Rex (Aus) CGU Insurance                               18
4 Jonas Ljungbald (Swe) Europcar - Pelaco                       16
5 Robert McLachlan (Aus) Argon 18 Bikes - Caravello             16
6 Glen Mitchell (NZl) Active For Life                           15
7 Luke Roberts (Aus) Latrobe City                               14
8 Karl Menzies (Aus) Bicycle Superstore                         14
9 Mark Roland (Aus) Victorian State Home Loans                  11
10 Ben Brooks (Aus) McGee - NSW Institute Of Sport              10
11 Jonathan Cantwell (Aus) Half Mile Creek                      10
12 David Tanner (Aus) McGee - NSW Institute Of Sport             8
13 Simon Gerrans (Aus) Jayco                                     8
14 Artur Krzeszowiec (Pol) Europcar - Pelaco                     7
15 Damian Forster (Aus) Uno Clothing                             6
16 Kieran Page (GBr) Bendigo                                     6
17 Kristian House (GBr) Bendigo                                  3
18 Eric Wohlberg (Can) Active For Life                           2
19 Andrew Graham (Aus) Uno Clothing                              1
 
Best Australian rider classification
 
1 David McKenzie (Aus) Bicycle Superstore                         
2 Matthew Lloyd (Aus) Mitchell Building Supplies                  
3 David Tanner (Aus) McGee - NSW Institute Of Sport               
4 William Walker (Aus) Jayco                                      
5 Domenic Gatto (Aus) Victorian State Home Loans                  
6 Chris Bradford (Aus) CGU Insurance                              
 
Best Under 23 rider classification
 
1 Matthew Lloyd (Aus) Mitchell Building Supplies                  
2 David Tanner (Aus) McGee - NSW Institute Of Sport               
3 Kieran Page (GBr) Bendigo                                       
 
Most aggressive rider
 
1 Phillip Thuaux (Aus) Jayco                                     8 pts
2 Tony Mann (Aus) Argon 18 Bikes - Caravello                     5
3 Ben Brooks (Aus) McGee - NSW Institute Of Sport                5
4 Robert McLachlan (Aus) Argon 18 Bikes - Caravello              4
5 Corey Sweet (Aus) Latrobe City                                 2
6 Eric Wohlberg (Can) Active For Life                            2
7 Glen Mitchell (NZl) Active For Life                            2
8 David McKenzie (Aus) Bicycle Superstore                        2
9 Thomas Liese (Ger) Malaysia Airlines                           2
10 Karl Menzies (Aus) Bicycle Superstore                         1
11 Dean Downing (GBr) Bendigo                                    1
 
Teams classification
 
1 Bicycle Superstore                                      76.23.33
2 Active For Life                                             4.46
3 Jayco                                                       7.40
4 Victorian State Home Loans                                  7.55
5 Europcar - Pelaco                                           9.06
6 Latrobe City                                               11.49
7 Mcgee - Nsw Institute Of Sport                             16.33
8 Provincial Victoria                                        31.11
9 Argon 18 Bikes - Caravello                                 47.56
10 Bendigo                                                   54.04
11 Malaysia Airlines                                       1.00.39
12 Mitchell Building Supplies                              1.14.24
13 Cgu Insurance                                           1.35.31
14 Uno Clothing                                            1.47.23
15 Sungold Milk - Warrnambool                              1.55.12
16 Half Mile Creek                                         2.02.49
17 Subaru                                                  2.38.59