Recently on Cyclingnews.com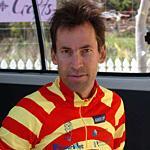 John Lieswyn
Photo: © Barry Harcourt
The John Lieswyn Diary
Cyclingnews diarist John Lieswyn is a regular at the Tour of Southland, winning the event in 2002. Usually a rider for the US Health Net presented by Maxxis team, John is riding Southland as part of the powerful Southland Times squad, alongside New Zealanders Scott Guyton, Greg Henderson, Glen Mitchell and Tim Gudsell. Their aim, of course, is another victory for the team.
Tour of Southland, New Zealand, November 1-6, 2004
A real grunt
Stage 4 - November 2: Tuatapere - Winton, 88.3km
John (M) in yellow
Photo ©: Barry Harcourt

I remembered this stage is a real grunt. It adds up to the longest day of the tour, about 200km, and it always features nasty gutter action in the crosswinds during the last hour. This year wasn't much different.
One of our main competitors, New Zealand road champion Heath Blackgrove (Zookeepers), has the unfortunate luck of breaking his chain as the race is winding up and splitting apart. He makes a valiant effort to catch back on, and succeeds, but finds that the peloton has blown up and the group he catches does not include the GC contenders. We're all up the road chasing Heath's teammate, Gordon McCauley. Gordo is on a mission to reclaim the green sprint jersey, and he's steadily dropping breakaway companions on his quest. The break developed much of it's gap while we waited for Tim Gudsell to return from a puncture. While he was chasing back on and topping out at 80 kph on a descent, roadworks caused the caravan to suddenly veer into his lane of travel. Tim had nowhere to go and for the second time today he dumps it into the ditch, but this time at a much greater velocity. We still wait for him, but it ends up taking about 10 minutes of putzing around slowly until we get the chase going again. Going into the last 20 km's it's a nail-biter, as Glen and Scott throw their watts into the chase. Winton's Middle Pub put a couple guys up there to chase, hoping for a field sprint into their namesake town. It's all too little too late, even a massive last kilometer attack by Glen comes up just short, and Gordo pulls off a tremendous entire stage ride for the Zookeeper's second stage win of the day.
Email John at jlieswyn@cyclingnews.com