Tour of Southland - 2.5
New Zealand, November 1-6, 2004
Main Page Results Previous Stage Next Stage
Stage 4 - November 2: Tuatapere - Winton, 88.3km
Heartbreak and triumph on day two
By Alan Messenger
Gordon McCauley (Zookeepers Cafe) wins stage 4
Photo ©: Barry Harcourt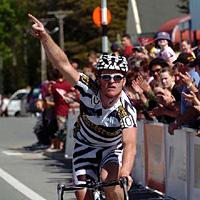 Today was a day of drama, with heartbreak and triumph in the PowerNet Tour of Southland.
The morning Stage saw Glen Mitchell miss the vital break but the yellow jersey went to his Southland Times Teammate and good friend John Lieswyn. The American rode away from a twelve strong breakaway group twenty kilometres from the finish with Cofidis professional Hayden Roulston (Zookeepers Café).The pair finished well clear of the other ten and two minutes ahead of the main peloton and Mitchell.
Though Roulston took the stage win he was still 1 min 09 secs down on Leiswyn. Mitchell dropped to third place at 1 minute 36 secs, with New Zealand road champion Heath Blackgrove next at 1 minute 51 secs.
The afternoon stage, a 88km ride from Tuatapere to Winton saw the ever present Gordon McCauley initiate a break only a kilometer from the start and hang on to win the stage by only seconds from the chasing bunch. The 1996 Tour of Southland winner and former double New Zealand road champion only came into the field when another member of his Zookeeepers team withdrew through injury. The Aucklander has only done local races since missing out on Olympic selection earlier this year but he was not one to let a chance go by.
American John Lieswyn (The Southland Times)
Photo ©: Barry Harcourt

McCauley had won the same stage twice before and has lived in the area so he knew the course and wind directions well. "In the closing kilometres I was thinking 'I've just got to get there.' I knew that the last two kilometres were into a head wind and I needed thirty or forty seconds," he said.
McCauley said that his only intention had been to regain the sprint jersey that he held yesterday but things changed on the road. "There were five of us in the break but the others just kept dropping off. I went on the Fairfax hill and I knew there was 35km to go so I thought that I would give it a nudge and see what happens," McCauley said.
The big loser on the Stage was Blackgrove who lost his fourth place on GC after striking mechanical problems half way into the stage. He was eventually given a replacement bike but after a long, hard solo chase he just failed to regain the bunch and faded back to finish some six minutes down.
Tomorrow the riders face another hard day with a 132k ride from Lumsden and finishing on the summit of the scenic Crown Range near Queenstown.
Steve Harcourt of Perth (Sycamore Print)
Photo ©: Barry Harcourt

Photography
Images by Barry Harcourt/The Southland Times
Results
1 Gordon McCauley (NZl) Zookeepers Cafe         2.10.01
2 Colby Pearce (USA) S.I.T. Zero Fees              0.06
3 Ross Simmonds (NZl) Rabobank                         
4 Peter Latham (NZl) Rabobank                          
5 Curtis Gunn (USA) Share The Road                     
6 Eddy Hilger (USA) Meadow Fresh                       
7 Glen Mitchell (NZl) The Southland Times              
8 Jason Rigg (Aus) Sycamore Print                      
9 Bill Stolte (USA) Hilo Decorating                    
10 Karl Murray (NZl) Calder Stewart                    
11 Scott Guyton (NZl) The Southland Times              
11 John Lieswyn (USA) The Southland Times              
11 Hayden Roulston (NZl) Zookeepers Cafe               
11 Aaron Strong (NZl) Hot Cycles                       
11 Geoffrey Burndred (NZl) Rabobank                    
11 Hayden Godfrey (NZl) Winton's Middle Pub            
11 Fraser McMaster (NZl) Meadow Fresh                  
11 Robin Reid (NZl) Meadow Fresh                       
11 Matt Dubberley (USA) S.I.T. Zero Fees               
11 Hilton McMurdo (Aus) Sycamore Print                 
11 Jeremy Vennell (NZl) Calder Stewart                 
11 Sheldon Denny (USA) Share The Road                  
11 Scott Lyttle (NZl) Jackson::Wills                   
24 Ryan Russell (NZl) Rabobank                     1.12
24 Ross Machejefski (NZl) Winton's Middle Pub          
24 Steven Harcourt (Aus) Sycamore Print                
27 Greg Henderson (NZl) The Southland Times        1.23
27 James Elverey (NZl) S.I.T. Zero Fees                
27 Anthony Chapman (NZl) Creation Signs                
30 Paul Millar (Aus) Sycamore Print                2.44
30 Darreell Kircher (NZl) Philips/Smith City           
32 Tim Gudsell (NZl) The Southland Times           2.53
32 Richard Bowker (NZl) Hot Cycles                     
32 Justin Kerr (NZl) Hot Cycles                        
32 Stephen Blair (Aus) Hot Cycles                      
32 Karl Moore (NZl) Rabobank                           
32 Charles Coyle (USA) Winton's Middle Pub             
32 Matthew Haydock (NZl) Winton's Middle Pub           
32 Pascal Hungerbuhler (Swi) Meadow Fresh              
32 Ben Robson (NZl) Meadow Fresh                       
32 Mark Petterson (Aus) Sycamore Print                 
32 Jeremiah Wiscovitch (USA) Share The Road            
32 Joseph Chapman (NZl) Creation Signs                 
32 Ryan Kiesonowski (NZl) Creation Signs               
32 Olivier Fesque (Fra) Team Ultimo                    
32 Andrew Thomas (NZl) Ascot Park Hotel                
32 Michael Crowther (NZl) Riverside Rentals            
32 Joseph Cooper (NZl) Jackson::Wills                  
32 Graham Stone (NZl) Jackson::Wills                   
50 Brendon McGrath (NZl) Hot Cycles                3.05
51 Jamie Thynne (NZl) Jackson::Wills               6.27
52 Garry Smith (NZl) South-West Helicopters        7.02
53 Cameron Holt (NZl) Cycling Southland            7.06
54 Steve Tilford (USA) Hilo Decorating             8.33
54 Scott Allen (NZl) Creation Signs                    
54 Josh Akarsu (Aus) Team Ultimo                       
57 Danny Hillary (NZl) S.I.T. Zero Fees           10.18
57 Andrew Small (NZl) Calder Stewart                   
57 Matt Randall (NZl) Ascot Park Hotel                 
57 Paul Billing (NZl) Ascot Park Hotel                 
57 Aaron Tuckerman (NZl) Cycling Southland             
62 Ryan Yee (USA) Hilo Decorating                 12.27
62 Paul Richard (Aus) Calder Stewart                   
62 Blake Caldwell (USA) Share The Road                 
62 Fabian Mathes (Ger) Team Ultimo                     
62 Hans Fischer (Ger) Team Ultimo                      
62 Stuart Lowe (NZl) Philips/Smith City                
62 Steve Scott (NZl) Philips/Smith City                
62 David Beadle (NZl) South-West Helicopters           
62 Jason Allen (NZl) Ascot Park Hotel                  
62 Ben Oleson (NZl) Riverside Rentals                  
62 Hayden Lawrence (NZl) Cycling Southland             
73 Heath Blackgrove (NZl) Zookeepers Cafe         13.45
73 Marc Ryan (NZl) Zookeepers Cafe                     
73 Craig Thomson (NZl) Zookeepers Cafe                 
73 Matt King (NZl) Winton's Middle Pub                 
73 Robert Coble (USA) Hilo Decorating                  
73 Jeffrey Theis (USA) Hilo Decorating                 
73 Eddie Monnier (USA) Share The Road                  
73 Christian Brockhoff (Ger) Team Ultimo               
73 Corey Winder (NZl) Philips/Smith City               
73 Travis Kane (NZl) South-West Helicopters            
73 Daryl Cleghorn (NZl) South-West Helicopters         
73 Heath Turnbull (NZl) Riverside Rentals              
73 Steven Hands (NZl) Riverside Rentals                
73 Andrew Ellis (NZl) Riverside Rentals                
73 Blair Taylor (NZl) Jackson::Wills                   
73 Chris Carson (Aus) Cycling Southland                
89 John Alabaster (NZl) Ascot Park Hotel          16.06
90 Jerard Stock (NZl) South-West Helicopters      24.26
90 Donald Oakly (NZl) Cycling Southland                
DNF Michael McGee (Aus) Creation Signs                 
DNS Peter Milostic (Aus) Calder Stewart                
 
General classification after stage 4
 
1 John Lieswyn (USA) The Southland Times        6.58.16
2 Hayden Roulston (NZl) Zookeepers Cafe            1.09
3 Glen Mitchell (NZl) The Southland Times          1.36
4 Fraser McMaster (NZl) Meadow Fresh               2.01
5 Scott Guyton (NZl) The Southland Times           2.04
6 Eddy Hilger (USA) Meadow Fresh                   2.18
7 Jeremy Vennell (NZl) Calder Stewart              2.23
8 Aaron Strong (NZl) Hot Cycles                    2.38
9 Ryan Russell (NZl) Rabobank                      3.04
10 Ross Simmonds (NZl) Rabobank                    3.12
11 Geoffrey Burndred (NZl) Rabobank                3.19
12 Peter Latham (NZl) Rabobank                     3.21
13 Matt Dubberley (USA) S.I.T. Zero Fees           3.24
14 Robin Reid (NZl) Meadow Fresh                   3.25
15 Curtis Gunn (USA) Share The Road                3.26
16 Jason Rigg (Aus) Sycamore Print                 3.34
17 Bill Stolte (USA) Hilo Decorating               3.51
18 Hilton McMurdo (Aus) Sycamore Print             4.01
19 Scott Lyttle (NZl) Jackson::Wills               4.09
20 Sheldon Denny (USA) Share The Road              4.25
21 Anthony Chapman (NZl) Creation Signs            4.43
22 James Elverey (NZl) S.I.T. Zero Fees            4.50
23 Steven Harcourt (Aus) Sycamore Print            4.52
24 Colby Pearce (USA) S.I.T. Zero Fees             5.33
25 Ross Machejefski (NZl) Winton's Middle Pub      5.36
26 Karl Moore (NZl) Rabobank                       5.41
27 Gordon McCauley (NZl) Zookeepers Cafe           5.57
28 Hayden Godfrey (NZl) Winton's Middle Pub        5.58
29 Tim Gudsell (NZl) The Southland Times           6.10
29 Joseph Chapman (NZl) Creation Signs                 
31 Ben Robson (NZl) Meadow Fresh                   6.19
32 Paul Millar (Aus) Sycamore Print                6.21
33 Karl Murray (NZl) Calder Stewart                6.31
34 Graham Stone (NZl) Jackson::Wills               6.47
35 Ryan Kiesonowski (NZl) Creation Signs           6.48
36 Justin Kerr (NZl) Hot Cycles                    7.10
37 Greg Henderson (NZl) The Southland Times        7.50
38 Charles Coyle (USA) Winton's Middle Pub         8.04
39 Andrew Thomas (NZl) Ascot Park Hotel            8.10
40 Matthew Haydock (NZl) Winton's Middle Pub       8.11
41 Stephen Blair (Aus) Hot Cycles                  8.12
42 Richard Bowker (NZl) Hot Cycles                 8.21
43 Joseph Cooper (NZl) Jackson::Wills              9.02
44 Pascal Hungerbuhler (Swi) Meadow Fresh          9.28
45 Brendon McGrath (NZl) Hot Cycles                9.44
46 Mark Petterson (Aus) Sycamore Print            10.24
46 Michael Crowther (NZl) Riverside Rentals            
48 Darreell Kircher (NZl) Philips/Smith City      10.59
49 Steve Tilford (USA) Hilo Decorating            11.08
50 Olivier Fesque (Fra) Team Ultimo               11.33
51 Cameron Holt (NZl) Cycling Southland           12.06
52 Scott Allen (NZl) Creation Signs               13.47
53 Andrew Small (NZl) Calder Stewart              14.10
54 Jamie Thynne (NZl) Jackson::Wills              15.30
54 Matt Randall (NZl) Ascot Park Hotel                 
54 Heath Blackgrove (NZl) Zookeepers Cafe              
57 Garry Smith (NZl) South-West Helicopters       16.10
58 Aaron Tuckerman (NZl) Cycling Southland        16.29
59 Josh Akarsu (Aus) Team Ultimo                  16.50
60 Ben Oleson (NZl) Riverside Rentals             17.30
61 Jeremiah Wiscovitch (USA) Share The Road       17.36
62 Blake Caldwell (USA) Share The Road            17.40
63 Ryan Yee (USA) Hilo Decorating                 18.22
64 Paul Richard (Aus) Calder Stewart              18.24
65 Jason Allen (NZl) Ascot Park Hotel             18.37
66 Paul Billing (NZl) Ascot Park Hotel            18.43
67 Hayden Lawrence (NZl) Cycling Southland        19.16
68 Stuart Lowe (NZl) Philips/Smith City           19.34
69 Hans Fischer (Ger) Team Ultimo                 19.36
70 Christian Brockhoff (Ger) Team Ultimo          20.08
71 Marc Ryan (NZl) Zookeepers Cafe                20.53
72 Heath Turnbull (NZl) Riverside Rentals         21.34
73 Chris Carson (Aus) Cycling Southland           21.42
74 Danny Hillary (NZl) S.I.T. Zero Fees           21.52
75 Fabian Mathes (Ger) Team Ultimo                22.02
76 Steve Scott (NZl) Philips/Smith City           22.23
77 Corey Winder (NZl) Philips/Smith City          23.27
78 Travis Kane (NZl) South-West Helicopters       23.48
79 Andrew Ellis (NZl) Riverside Rentals           24.40
80 David Beadle (NZl) South-West Helicopters      25.55
81 Steven Hands (NZl) Riverside Rentals           27.36
82 Blair Taylor (NZl) Jackson::Wills              30.52
83 Matt King (NZl) Winton's Middle Pub            31.21
84 John Alabaster (NZl) Ascot Park Hotel          32.25
85 Robert Coble (USA) Hilo Decorating             39.48
86 Craig Thomson (NZl) Zookeepers Cafe            40.25
87 Daryl Cleghorn (NZl) South-West Helicopters    40.42
88 Eddie Monnier (USA) Share The Road             41.40
89 Jerard Stock (NZl) South-West Helicopters      47.15
90 Donald Oakly (NZl) Cycling Southland           50.26
91 Jeffrey Theis (USA) Hilo Decorating          1.04.03
 
Team classification
 
1 The Southland Times                          20.58.38
2 Meadow Fresh                                     3.28
3 Rabobank                                         4.20
4 Sycamore Print                                   8.22
5 S.I.T. Zero Fees                                10.03
6 Share The Road                                  12.09
7 Winton's Middle Pub                             13.19
8 Hot Cycles                                      13.40
9 Creation Signs                                  13.51
10 Jackson::Wills                                 16.08
11 Calder Stewart                                 17.09
12 Zookeepers Cafe                                18.49
13 Hilo Decorating                                29.34
14 Ascot Park Hotel                               34.13
15 Team Ultimo                                    40.03
16 Cycling Southland                              44.01
17 Riverside Rentals                              44.57
18 Philips/Smith City                             45.57
19 South-West Helicopters                       1.00.40
 
Sprint Classification
 
1 Gordon McCauley (NZl) Zookeepers Cafe              47 pts
2 Curtis Gunn (USA) Share The Road                   41
3 Hayden Godfrey (NZl) Winton's Middle Pub           21
4 Steve Tilford (USA) Hilo Decorating                17
5 Ross Simmonds (NZl) Rabobank                       13
6 John Lieswyn (USA) The Southland Times              9
6 Karl Murray (NZl) Calder Stewart                    9
6 Bill Stolte (USA) Hilo Decorating                   9
9 Paul Millar (Aus) Sycamore Print                    7
9 Ryan Russell (NZl) Rabobank                         7
11 Aaron Strong (NZl) Hot Cycles                      4
11 Matt Randall (NZl) Ascot Park Hotel                4
11 Paul Richard (Aus) Calder Stewart                  4
11 Richard Bowker (NZl) Hot Cycles                    4
11 Ross Machejefski (NZl) Winton's Middle Pub         4
11 Andrew Small (NZl) Calder Stewart                  4
11 Aaron Tuckerman (NZl) Cycling Southland            4
18 Matthew Haydock (NZl) Winton's Middle Pub          3
18 Stuart Lowe (NZl) Philips/Smith City               3
18 David Beadle (NZl) South-West Helicopters          3
18 Stephen Blair (Aus) Hot Cycles                     3
18 Fraser McMaster (NZl) Meadow Fresh                 3
23 Hayden Roulston (NZl) Zookeepers Cafe              2
23 Matt Dubberley (USA) S.I.T. Zero Fees              2
23 Heath Blackgrove (NZl) Zookeepers Cafe             2
23 Blake Caldwell (USA) Share The Road                2
23 Fabian Mathes (Ger) Team Ultimo                    2
23 Corey Winder (NZl) Philips/Smith City              2
23 Jason Allen (NZl) Ascot Park Hotel                 2
30 Glen Mitchell (NZl) The Southland Times            1
30 Darreell Kircher (NZl) Philips/Smith City          1
30 Charles Coyle (USA) Winton's Middle Pub            1
30 Josh Akarsu (Aus) Team Ultimo                      1
30 Eddy Hilger (USA) Meadow Fresh                     1
30 Karl Moore (NZl) Rabobank                          1
30 Ryan Yee (USA) Hilo Decorating                     1
30 Colby Pearce (USA) S.I.T. Zero Fees                1
30 Jeffrey Theis (USA) Hilo Decorating                1
 
Mountains classification
 
1 Gordon McCauley (NZl) Zookeepers Cafe              34 pts
2 Paul Millar (Aus) Sycamore Print                   16
3 Eddy Hilger (USA) Meadow Fresh                     10
4 Bill Stolte (USA) Hilo Decorating                   8
5 John Lieswyn (USA) The Southland Times              6
5 Glen Mitchell (NZl) The Southland Times             6
5 Ross Simmonds (NZl) Rabobank                        6
8 Aaron Strong (NZl) Hot Cycles                       4
8 Matt Randall (NZl) Ascot Park Hotel                 4
8 Fraser McMaster (NZl) Meadow Fresh                  4
8 Heath Blackgrove (NZl) Zookeepers Cafe              4
12 Darreell Kircher (NZl) Philips/Smith City          2
12 Karl Moore (NZl) Rabobank                          2
12 Jeremy Vennell (NZl) Calder Stewart                2