2004 Jayco Bay Cycling Classic
Victoria, Australia, January 7-11, 2004
Home Course Map Women's Results Next Race
Race 1 - Wednesday, January 7: Hastings
Cooke wins first stage...with a little help from his friends
By Karen Forman in Geelong
Hilton Clarke
Photo ©: Shane Goss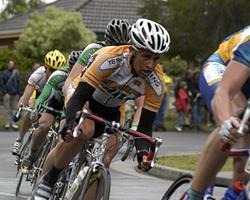 The first stage of the 2004 Jayco Bay Classic was more about staying upright and out of trouble than racing as hard and fast as possible at Hastings on Victoria's Mornington Peninsula today. Driving rain combined with an oily surface to create treacherous conditions on the shortened 800 metre circuit, and riders slipped and crashed all over the place in both the main event and the women's and A grade support races.
The rider who got it all right - with a lot of help from his Skilled team - was Victorian FdJeux.com professional and Tour de France green jersey winner Baden Cooke, who broke away after winning the third sprint just past the halfway mark and maintained a strong lead of up to 26 seconds until he crossed the line in first place.
Teammate Matt Wilson, who worked hard for Cooke on the front of the chasing bunch with FdJ.com-NSWIS development squad member Chris Sutton of NSW, was second and Team MGZT-Bianchi rider Mikkeli Godfree of Victoria was third.
Many riders came down
Photo ©: Shane Goss

While the result was a victory for Skilled (which comprised an FdJeux.com team having its first start in the Jayco event) and an excellent display of teamsmanship, it's not an easy story to tell. The weather conditions played havoc with the course, with the racing and the riders and did not discriminate. Almost all of the top riders were involved in one of the crashes that occurred on a tight final corner on each and every lap. Some withdrew from the race. One went to hospital. One stopped halfway through to let some air out of his tyres in a bid to find better traction. Only half the field was there at the finish. It was, like someone in the crowd suggested: "A demolition derby".
Five times winner Robbie McEwen (MAB/Mirvac/Len Leads/Vic Urban) looked promising as he set off in the lead and stretched the field of 14 teams (each comprising five riders) well out, setting a hot pace from the start. Diving off the front, McEwen quickly set up a 180 metre lead lasting eight laps, when he allowed himself to be reeled back in by a bunch of riders who showed no signs of wanting to bridge the gap and help him out.
It was about the same time that Skilled Rider Bradley McGee sat up and made the decision to withdraw from the competition. He told Cyclingnews later that having started in the second row, on the slippery roads he had not been able to get into the top 10, which he considered would be "safest" and, knowing his riders (Wilson, Sutton and Cooke) were doing well at the front, it was better to retire and have a chance the following day rather than risk crashing "for no reason".
"I didn't stop because I was afraid of crashing as such, but more because of the position I was in. It was a practical decision. After four crashes in front of me I thought, I don't want to be the fifth. It's a team event and I had a couple of guys up the front.
"There was a lot of invisible oil on the corner and bike riders were just dropping all over the place. It was very scary and full credit goes to these guys who are still there. They got into the right place early and got their rhythm straight away."
McGee said he was still a little store after his crash in the Surfers Paradise criterium in early December.
Geelong stage winner for 2003, William Walker (Giant-CBD Cycles) made his intentions clear early in the race, sharing the lead with Team MGZT-Bianchi rider Joel Pearson, David McKenzie (Bicycle Superstores) and McEwen. Favourite with McEwen, Graeme Brown (SBR) was well placed in the middle of the group, while Cooke was never far from the top 10. TAC/Victoria Police rider Andrew Naylor was also well placed in the early stages.
Rory Sutherland of the ACT enters the slide zone
Photo ©: Shane Goss
Five riders including McEwen, in third wheel, Cooke and Nathan Russell (Giant) hit the turf on the 10th lap, and when the whistle for the first sprint came it was Brown who lead out to cross the line first amid cries of "too dangerous" from some of the riders crossing the line, then trying valiantly to slow in time to make a short left hand turn without crashing.
Brown withdrew from the race shortly after, suffering some asthma, leaving teammate Hilton Clarke out there to wave the SBR flag. But not for long. Rain and more crashes saw more riders, including Clarke, withdraw from the event. A bloody faced Clarke, who climbed back on his bike and rode another lap after coming down on the treacherous third corner, was pulled over by commissaires who wanted to check that he was well enough to ride. Although he protested that he was feeling OK, he had three deep contusions to his face, another to his ankle and seemed to be dazed. Team manager Mark Heinz decided to withdraw him and seek medical aid. He ended up spending most of the evening in the emergency department of Geelong hospital but emerged in the clear to be fit to race tomorrow.
By the 15th lap Matt Wilson was out in front, controlling the bunch with young Will Walker on his wheel, Cooke just behind and the NSW rider Russell keeping his head in.
Cooke won the second sprint, inciting a cry of "see, they're going alright, I rest my case," from McGee, watching on the sideline. Cooke got away, chased by McEwen with a few seconds back to past Bay Classic winner Brett Aitken (Drapac), still with a trace of the sore knee which resulted in him withdrawing from the Tour South China Sea last week. The main pack had now been reduced to about 25 riders, controlled by Wilson and Sutton.
Cooke was in perfect position when the third and final sprint came, beating McEwen and Mark Renshaw (Skilled). It was obvious by this time that the Skilled team had taken complete control of the race. A very comfortable looking Cooke had a 20 second lead on a chasing bunch headed by Wilson. With 10 laps to go he had opened the gap to 37 seconds, appearing to disregard the wet road, with Renshaw and Sutton controlling the chasing bunch. McEwen was moving to the back of the main group.
Cooke's lead was at 40 seconds the bell sounded for the final lap. There wasn't going to be another winner. Wilson sprinted for second, beating out Godfree. In the kerfuffle there was another fall at the back of the bunch, involving Aitken, Graham and Simon Gerrans (Team Carnegie Caulfield).
Cooke paid due credit to his team-mates at the finish. "I have raced a lot of wet criteriums before and have found that if you get a gap, then it is safer for the corners," he said. "If you have your team members back there, blocking, like Matt was blocking."
Handshakes all round
Photo ©: Shane Goss

Cooke said he had gone into the race not expecting too much but hoping to stay upright. After getting caught behind a crash in early laps, he said he had stopped to let some air out of his tyres, which had helped traction. "It was very dangerous. There were crashes on every lap. When I attacked with half an hour to go, I told Matt to block for me. By coincidence it was the lap before the sprint so I opened up a 15 second gap straight away. My legs were burning as I am not in great condition."
McEwen was philosophical about the day. "It was really greasy," he said, "Ironic that the guys who chased me down pulled out on the next lap...but when two guys went down in front of me, there's isn't much you can do. I just sat up and finished the race for fitness.
He said he hadn't intended to withdraw, despite the conditions and risks of injury at the start of a new season leading to an Olympic year. "I came to race, it's my job," he said. "I hope it fines up tomorrow."
He said he had been aware he had been well marked, especially by the Skilled guys
Photos
Images by Shane Goss/www.licoricegallery.com
Images by Karen Forman/Cyclingnews
Results
Elite men                            points

1 Baden Cooke                        12 
2 Matt Wilson                        10 
3 Mikkeli Godfree                     8 
4 Joel Pearson                        7 
5 Chris Sutton                        6 
6 Craig Gordon                        5 
7 Nathan Russell                      4 
8 Mark Renshaw                        3 
9 William Walker                      2 
10 Dean Downing                       1 

Sprint (15 minutes)

1 Graeme Brown
2 Andrew Naylor
3 David Harrigan

Sprint (30 minutes)

1 Baden Cooke
2, Robbie McEwen
3 Nick Kiraly

Sprint (45 minutes)

1 Baden Cooke
2 Robbie McEwen
3 Mark Renshaw

Sprint aggregate

1 Baden Cooke                         6 
2 Robbie McEwen                       4 
3 Graeme Brown                        3 
4 Andrew Naylor                       2 
5 David Harrigan                      1 
6 Mark Renshaw                        1 
7 Nick Kiraly                         1 

Teams classification

Skilled                              28 
Team MGZT-Bianchi                    15 
Giant-CBD Bicycles                    6 
Jayco-VIS                             5 
700C Business Objects                 1 

A grade support race

1 Mathew Rex                         12 
2 Paul Richards                      10 
3 Matthew Goss                        8 
4 Dean Windsor                        7 
5 Simon Clarke                        6 
6 Bradley Payne                       5
7 Adam Rully                          4 
8 Samuel Rix                          3 
9 Alistair Farley                     2 
10 Keith Evans                        1 

Sprint (15 minutes)

1 Matthew Rex
2 Paul  Richards
3 Simon Clarke

Sprint (30 minutes)

1 Paul Richards
2 Dean Windsor
3 Mathew Rex