9th Telekom Malaysia Le Tour de Langkawi - 2.2
Malaysia, February 6-15, 2004
Stage 1 - February 6: Bayan Baru, Pulau Pinang - Taiping, 112 km
Sprintless finale to first day
By Anthony Tan in Taiping
"No go" says Graeme Brown
Photo ©: Mark Gunter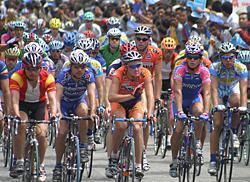 What promised to be the first sprint royale of the Le Tour de Langkawi soon turned to mayhem after police officials in the finish town of Taiping mistakenly allowed vehicles onto the course with less than eight kilometres remaining.
With the finishing circuit looking more like a normal day in a big city than a closed-off parcours in a small town, riders abandoned all thoughts of a sprint finish and in doing so, unofficially neutralised the day's stage. "They were supposed to go for two [laps], but someone on the circuit opened up the gates. They didn't read their handbook and they screwed the race up for everybody," said the disappointed race director Alan Rushton immediately following the race.
"The riders offered to do another lap very sportingly, but we couldn't do that because the road was already open, so all we could do was neutralise the stage and give the jerseys to the guys in front who deserved them for their efforts today."
To keep some semblance of normality, jerseys were awarded based on placings in the three intermediate sprints, which saw a rider from Philippines' first trade team, Merculio Ramos (Pagcor-Casino Filipino), being awarded the Tour's first yellow jersey (Ramos won two out of the three sprint primes). Ramos' breakaway companion, Yongbiao Zhu (China), wears the blue jersey for best sprinter, with the best Asian rider tunic going to another early escapist and Ramos' team-mate, Lloyd Lucien Reynante.
Well, at least someone's happy
Photo ©: Mark Gunter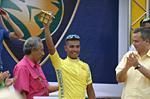 "The [peloton's] reaction is nobody crashed and that's the most important thing," said Chocolade Jacques-Wincor sprinter Jan Koerts pragmatically. "It could have been worse. My first thought was they must have made a mistake here; first we went the wrong way because I thought we should turn left, but there were cars there and straight ahead was clear so I went straight. It's a shame it had to go like this but there were cars all over the road, so the most important thing was to help each other out and stand together as a bunch and be safe."
Ceramiche Panaria-Margres's Graeme Brown agreed: "The decision was made three or four kilometres out when it was impossible, absolutely impossible to race; there would have been crashes and it was extremely dangerous," he said. "It's just one of those things. It was a shame what happened, but even the organisers didn't know what happened. Someone opened the roads up and it was a bit of a mutual decision between the riders to call it off. It was too dangerous and we couldn't possibly have raced. It was like racing through the city.
"Doubt it will happen tomorrow, as it finishes up a hill," remarked Brown wryly.
How it unfolded
Riders cross the Penang Bridge
Photo ©: Mark Gunter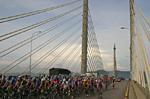 After a slowish start to the stage, Yongbiao Zhu (China) attacked the peloton at around the 10 kilometre mark and was soon joined by Merculio Ramos (Pagcor-Casino Filipino) less than a kilometre later. The Asian pairing worked well together, building a lead of 40 seconds to three chasers, Lloyd Lucien Reynante (Pagcor-Casino Filipino), Hamad Mohd Mahazir and Musa Musairi (Malaysia), and 1'20 to the peloton by km 20.
At km 67, the duo's lead grew to a maximum lead of 5'18 before the chase by the sprinters' teams began in earnest, and when they did so, the advantage to the two groups out in front all but vanished; six kilometres later, Reynante, Mohd Mahazir and Musairi were caught, and with 10 kilometres remaining, Zhu and Ramos were swallowed up.
The early break
Photo ©: Mark Gunter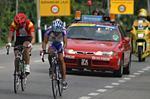 As the peloton roared into Taiping to complete the first of two finishing circuits before a much-anticipated bunch gallop, a group of police officials believed the race to be over, and pandemonium soon followed as more and more cars unknowingly entered onto the "live" parcours.
Race Controller Alan Rushton not surprisingly appeared frustrated and embarrassed, with riders sportingly suggesting the peloton complete another lap to appease the mass of bemused onlookers. In the end, however, it was decided by the college of commissaires and the race organisation that the opening stage of the race be neutralised, and for all points and bonuses collected during the intermediate sprints be withdrawn.
"Hey, don't blame me!"
Photo ©: Mark Gunter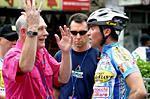 Despite taking the leader's jersey in usual circumstances, Pagcor-Casino Filipino team manager Ric Rodriguez was delighted: "For us, we are a new trade team, and this is clearly a bonus for us in the Philippines," he said. "Already we are wearing the yellow and the best Asian rider jerseys, and, of course, this is a welcome development for us. This is the first professional cycling team in the Philippines, and I'm very excited for this to happen."
Asked about their chances over the next few stages, Rodriguez understood it would be near impossible to keep the yellow jersey for much longer, instead deciding to focus their efforts on the Asian rider classification.
"Before we came to Langkawi, our target was the Asian [rider] classification. We put this trade team together so cycling comes back to the Philippines and to try and get the gap between us [and the European teams] closer. When things happen like this, it is obviously unexpected and unplanned, so tonight we're going to talk about it and change our strategy a little, but our focus will still be on the Asian category."
Photography
Images by Mark Gunter/Cyclingnews/www.pbase.com/gunterphotograph
Images by Shane Stokes/www.irishcycling.com
Results

Due to the traffic conditions in the final lap, the college of Commissaires and
the Race Organisation have decided that stage 1 is neutralised. Points and bonuses
for stage 1 are withdrawn.
 
1 Luciano Pagliarini (Bra) Lampre                       2.35.09
1 Wladimir Belli (Ita) Lampre                                  
1 Matteo Carrara (Ita) Lampre                                  
1 Marco Pinotti (Ita) Lampre                                   
1 Alessandro Cortinovis (Ita) Lampre                           
1 Sergio Barbero (Ita) Lampre                                  
1 Michele Scotto D'abusco (Ita) Lampre                         
1 Jans Koerts (Ned) Chocolade Jacques-Wincor                   
1 Dave Bruylandts (Bel) Chocolade Jacques-Wincor               
1 Mauricio Ardila (Col) Chocolade Jacques-Wincor               
1 Andoni Aranaga (Spa) Chocolade Jacques-Wincor                
1 Zbigniew Piatek (Pol) Chocolade Jacques-Wincor               
1 Jan Van Velzen (Ned) Chocolade Jacques-Wincor                
1 Jurgen Van De Walle (Bel) Chocolade Jacques-Wincor           
1 Freddy Gonzalez (Col) Colombia Selle-Italia                  
1 Ruber Marin (Col) Colombia Selle-Italia                      
1 Huberlino Mesa Estapa (Col) Colombia Selle-Italia            
1 Marlon Perez (Col) Colombia Selle-Italia                     
1 Russel Van Hout (Aus) Colombia Selle-Italia                  
1 Trent Wilson (Aus) Colombia Selle-Italia                     
1 Graziano Gasparre (Ita) De Nardi                             
1 Michele Gobbi (Ita) De Nardi                                 
1 Enrico Grigoli (Ita) De Nardi                                
1 Devis Miorin (Ita) De Nardi                                  
1 Rafael Nuritdinov (Uzb) De Nardi                             
1 Antonio Rizzi (Ita) De Nardi                                 
1 Charles Wegelius (GBr) De Nardi                              
1 Jeremy Hunt (GBr) Mr Bookmaker-Palmans-Collstrop             
1 Kurt Van De Wouwer (Bel) Mr Bookmaker-Palmans-Collstrop      
1 Frederic Gabriel (Fra) Mr Bookmaker-Palmans-Collstrop        
1 Peter Wuyts (Bel) Mr Bookmaker-Palmans-Collstrop             
1 Michel Van Haecke (Bel) Mr Bookmaker-Palmans-Collstrop       
1 Gert Vanderaerden (Bel) Mr Bookmaker-Palmans-Collstrop       
1 Ben Day (Aus) Mr Bookmaker-Palmans-Collstrop                 
1 Fortunato Baliani (Ita) Ceramiche Panaria-Margres            
1 Graeme Brown (Aus) Ceramiche Panaria-Margres                 
1 Alejandro Alberto Borrajo (Arg) Ceramiche Panaria-Margres    
1 Sergiy Matveiev (Ukr) Ceramiche Panaria-Margres              
1 Fabio Gilioli (Ita) Ceramiche Panaria-Margres                
1 Ruben Guillermo Bongiorno (Arg) Ceramiche Panaria-Margres    
1 Brett Lancaster (Aus) Ceramiche Panaria-Margres              
1 Ivan Quaranta (Ita) Formaggi Pinzolo Fiave                   
1 Mario Manzoni (Ita) Formaggi Pinzolo Fiave                   
1 Corrado Serina (Ita) Formaggi Pinzolo Fiave                  
1 Giulini Sulpizi (Ita) Formaggi Pinzolo Fiave                 
1 Domenico Gualdi (Ita) Formaggi Pinzolo Fiave                 
1 Matteo Cappe (Ita) Formaggi Pinzolo Fiave                    
1 Luis F. Laverde Jimenez (Col) Formaggi Pinzolo Fiave         
1 Javier Florencio Cabre (Spa) Relax Bodysol                   
1 Santiago Blanco Gil (Spa) Relax Bodysol                      
1 Moises Duenas Nevado (Spa) Relax Bodysol                     
1 Johan Van Summeren (Bel) Relax Bodysol                       
1 Hector Guerra Garcia (Spa) Relax Bodysol                     
1 Nacor Burgos Rojo (Spa) Relax Bodysol                        
1 Garcia Oscar Laguna (Spa) Relax Bodysol                      
1 David George (RSA) Team Barloworld                           
1 Enrico Degano (Ita) Team Barloworld                          
1 Sean Sullivan (Aus) Team Barloworld                          
1 Ryan Cox (RSA) Team Barloworld                               
1 Jock Green (RSA) Team Barloworld                             
1 James Perry (RSA) Team Barloworld                            
1 Tiaan Kannemeyer (RSA) Team Barloworld                       
1 Gordon Fraser (Can) Health Net presented by Maxxis           
1 Gregory Henderson (NZl) Health Net presented by Maxxis       
1 Brice Jones (USA) Health Net presented by Maxxis             
1 Danny Pate (USA) Health Net presented by Maxxis              
1 John Lieswyn (USA) Health Net presented by Maxxis            
1 Scott Moninger (USA) Health Net presented by Maxxis          
1 Michael Sayers (USA) Health Net presented by Maxxis          
1 Germ Van Der Burg (Ned) Bert Story-Piels                     
1 Dennis Van Uden (Ned) Bert Story-Piels                       
1 Coen Loos (Ned) Bert Story-Piels                             
1 Jasper Lenferink (Ned) Bert Story-Piels                      
1 Jarko Van Der Stelt (Ned) Bert Story-Piels                   
1 Arne Kornegoor (Ned) Bert Story-Piels                        
1 Susanto Tonton (Ina) Wismilak                                
1 Sama'i Sama'i (Ina) Wismilak                                 
1 Wawan Setyobudi (Ina) Wismilak                               
1 Matnur Matnur (Ina) Wismilak                                 
1 Ano Pedersen (Ned) Wismilak                                  
1 Scott Guyton (NZl) Wismilak                                  
1 Christopher Bradford (Aus) Wismilak                          
1 Yoshiyuki Abe (Jpn) Japan                                    
1 Kazuyuki Manabe (Jpn) Japan                                  
1 Shinichi Fukushima (Jpn) Japan                               
1 Kazuya Okazaki (Jpn) Japan                                   
1 Makoto Iijima (Jpn) Japan                                    
1 Tomoya Kano (Jpn) Japan                                      
1 Yasutaka Tashiro (Jpn) Japan                                 
1 Roland Green (Can) Canada                                    
1 Eric Wohlberg (Can) Canada                                   
1 Dominique Perras (Can) Canada                                
1 Charles Dionne (Can) Canada                                  
1 Cory Lange (Can) Canada                                      
1 Peter Wedge (Can) Canada                                     
1 Alexandre Lavallee (Can) Canada                              
1 Hassan Maleki (Irn) Iran                                     
1 Ahad Kazemi (Irn) Iran                                       
1 Ghader Mizbani (Irn) Iran                                    
1 Tanha Abbas Saeidi (Irn) Iran                                
1 Mohammad Rajabloo (Irn) Iran                                 
1 Amir Zargari (Irn) Iran                                      
1 Saeid Chehrzad (Irn) Iran                                    
1 Guozhang Wang (Chn) China                                    
1 Jianshi Luo (Chn) China                                      
1 Xiaohai Zheng (Chn) China                                    
1 Fuyu Li (Chn) China                                          
1 Yongbiao Zhu (Chn) China                                     
1 Xiaojun Shao (Chn) China                                     
1 Xueli Jiang (Chn) China                                      
1 Razali Shahrulneeza (Mas) Malaysia                           
1 Hamad Mohd Mahazir (Mas) Malaysia                            
1 Musa Musairi (Mas) Malaysia                                  
1 Abd Ghani Mohd. Najmee (Mas) Malaysia                        
1 Ismail Mohd Sazlee (Mas) Malaysia                            
1 Rosli Nor Affendy (Mas) Malaysia                             
1 Mohd Zahit Mohd Sayuti (Mas) Malaysia                        
1 Jaco Odenaal (RSA) South Africa                              
1 Ian Mcleod (RSA) South Africa                                
1 Daryl Impey (RSA) South Africa                               
1 Reinhardt Duplessis (RSA) South Africa                       
1 Nicholas White (RSA) South Africa                            
1 Jeremy Maartens (RSA) South Africa                           
1 Neil Mcdonald (RSA) South Africa                             
1 David McCann (Irl) Ireland                                   
1 David O'Loughlin (Irl) Ireland                               
1 Philip Deignan (Irl) Ireland                                 
1 Denis Lynch (Irl) Ireland                                    
1 Paul Griffin (Irl) Ireland                                   
1 Eugene Moriarty (Irl) Ireland                                
1 Tim Barry (Irl) Ireland                                      
1 Victor Espiritu (Phi) Pagcor-Casino Filipino                 
1 Rhyan Tanguilig (Phi) Pagcor-Casino Filipino                 
1 Lloyd Lucien Reynante (Phi) Pagcor-Casino Filipino           
1 Merculio Ramos (Phi) Pagcor-Casino Filipino                  
1 Alfie Catalan (Phi) Pagcor-Casino Filipino                   
1 Albert Primero (Phi) Pagcor-Casino Filipino                  
1 Ronald Gorantes (Phi) Pagcor-Casino Filipino                 
 
Sprints
 
Simpang Ampat
 
1 Yongbiao Zhu (Chn) China                                     
2 Merculio Ramos (Phi) Pagcor-Casino Filipino                  
3 Lloyd Lucien Reynante (Phi) Pagcor-Casino Filipino           
4 Hamad Mohd Mahazir (Mas) Malaysia                            
 
Bagan Serai
 
1 Merculio Ramos (Phi) Pagcor-Casino Filipino                  
2 Yongbiao Zhu (Chn) China                                     
3 Lloyd Lucien Reynante (Phi) Pagcor-Casino Filipino           
4 Musa Musairi (Mas) Malaysia                                  
 
Kamunting
 
1 Merculio Ramos (Phi) Pagcor-Casino Filipino                  
2 Yongbiao Zhu (Chn) China                                     
3 Marco Pinotti (Ita) Lampre                                   
4 Alessandro Cortinovis (Ita) Lampre                           
 
Teams
 
1 Bert Story-Piels                                      7.45.27
1 Canada                                                       
1 Ceramiche Panaria-Margres                                    
1 China                                                        
1 Chocolade Jacques-Wincor Nixdorf-Passage                     
1 Colombia Selle-Italia                                        
1 De-Nardi                                                     
1 Formaggi Pinzolo Fiave                                       
1 Health Net                                                   
1 Iran                                                         
1 Ireland                                                      
1 Japan                                                        
1 Lampre                                                       
1 Malaysia                                                     
1 Pagcor-Casino                                                
1 Palmans-Collstrop                                            
1 Relax Bodysol                                                
1 South Africa                                                 
1 Team Barloworld                                              
1 Wismilak                                                     
 
Asian Rider
 
1 Susanto Tonton (Ina) Wismilak                         2.35.09
1 Sama'i Sama'i (Ina) Wismilak                                 
1 Wawan Setyobudi (Ina) Wismilak                               
1 Matnur Matnur (Ina) Wismilak                                 
1 Yoshiyuki Abe (Jpn) Japan                                    
1 Kazuyuki Manabe (Jpn) Japan                                  
1 Shinichi Fukushima (Jpn) Japan                               
1 Kazuya Okazaki (Jpn) Japan                                   
1 Makoto Iijima (Jpn) Japan                                    
1 Tomoya Kano (Jpn) Japan                                      
1 Yasutaka Tashiro (Jpn) Japan                                 
1 Hassan Maleki (Irn) Iran                                     
1 Ahad Kazemi (Irn) Iran                                       
1 Ghader Mizbani (Irn) Iran                                    
1 Tanha Abbas Saeidi (Irn) Iran                                
1 Mohammad Rajabloo (Irn) Iran                                 
1 Amir Zargari (Irn) Iran                                      
1 Saeid Chehrzad (Irn) Iran                                    
1 Guozhang Wang (Chn) China                                    
1 Jianshi Luo (Chn) China                                      
1 Xiaohai Zheng (Chn) China                                    
1 Fuyu Li (Chn) China                                          
1 Yongbiao Zhu (Chn) China                                     
1 Xiaojun Shao (Chn) China                                     
1 Xueli Jiang (Chn) China                                      
1 Razali Shahrulneeza (Mas) Malaysia                           
1 Hamad Mohd Mahazir (Mas) Malaysia                            
1 Musa Musairi (Mas) Malaysia                                  
1 Abd Ghani Mohd. Najmee (Mas) Malaysia                        
1 Ismail Mohd Sazlee (Mas) Malaysia                            
1 Rosli Nor Affendy (Mas) Malaysia                             
1 Mohd Zahit Mohd Sayuti (Mas) Malaysia                        
1 Victor Espiritu (Phi) Pagcor-Casino Filipino                 
1 Rhyan Tanguilig (Phi) Pagcor-Casino Filipino                 
1 Lloyd Lucien Reynante (Phi) Pagcor-Casino Filipino           
1 Merculio Ramos (Phi) Pagcor-Casino Filipino                  
1 Alfie Catalan (Phi) Pagcor-Casino Filipino                   
1 Albert Primero (Phi) Pagcor-Casino Filipino                  
1 Ronald Gorantes (Phi) Pagcor-Casino Filipino                 
 
Asian Team
 
1 China                                                 7.45.27
1 Iran                                                         
1 Japan                                                        
1 Malaysia                                                     
1 Pagcor-Casino                                                
1 Wismilak                                                     
 
General classification after stage 1
 
1 Luciano Pagliarini (Bra) Lampre                       2.35.09
1 Wladimir Belli (Ita) Lampre                                  
1 Matteo Carrara (Ita) Lampre                                  
1 Marco Pinotti (Ita) Lampre                                   
1 Alessandro Cortinovis (Ita) Lampre                           
1 Sergio Barbero (Ita) Lampre                                  
1 Michele Scotto D'abusco (Ita) Lampre                         
1 Jans Koerts (Ned) Chocolade Jacques-Wincor                   
1 Dave Bruylandts (Bel) Chocolade Jacques-Wincor               
1 Mauricio Ardila (Col) Chocolade Jacques-Wincor               
1 Andoni Aranaga (Spa) Chocolade Jacques-Wincor                
1 Zbigniew Piatek (Pol) Chocolade Jacques-Wincor               
1 Jan Van Velzen (Ned) Chocolade Jacques-Wincor                
1 Jurgen Van De Walle (Bel) Chocolade Jacques-Wincor           
1 Freddy Gonzalez (Col) Colombia Selle-Italia                  
1 Ruber Marin (Col) Colombia Selle-Italia                      
1 Huberlino Mesa Estapa (Col) Colombia Selle-Italia            
1 Marlon Perez (Col) Colombia Selle-Italia                     
1 Russel Van Hout (Aus) Colombia Selle-Italia                  
1 Trent Wilson (Aus) Colombia Selle-Italia                     
1 Graziano Gasparre (Ita) De Nardi                             
1 Michele Gobbi (Ita) De Nardi                                 
1 Enrico Grigoli (Ita) De Nardi                                
1 Devis Miorin (Ita) De Nardi                                  
1 Rafael Nuritdinov (Uzb) De Nardi                             
1 Antonio Rizzi (Ita) De Nardi                                 
1 Charles Wegelius (GBr) De Nardi                              
1 Jeremy Hunt (GBr) Mr Bookmaker-Palmans-Collstrop             
1 Kurt Van De Wouwer (Bel) Mr Bookmaker-Palmans-Collstrop      
1 Frederic Gabriel (Fra) Mr Bookmaker-Palmans-Collstrop        
1 Peter Wuyts (Bel) Mr Bookmaker-Palmans-Collstrop             
1 Michel Van Haecke (Bel) Mr Bookmaker-Palmans-Collstrop       
1 Gert Vanderaerden (Bel) Mr Bookmaker-Palmans-Collstrop       
1 Ben Day (Aus) Mr Bookmaker-Palmans-Collstrop                 
1 Fortunato Baliani (Ita) Ceramiche Panaria-Margres            
1 Graeme Brown (Aus) Ceramiche Panaria-Margres                 
1 Alejandro Alberto Borrajo (Arg) Ceramiche Panaria-Margres    
1 Sergiy Matveiev (Ukr) Ceramiche Panaria-Margres              
1 Fabio Gilioli (Ita) Ceramiche Panaria-Margres                
1 Ruben Guillermo Bongiorno (Arg) Ceramiche Panaria-Margres    
1 Brett Lancaster (Aus) Ceramiche Panaria-Margres              
1 Ivan Quaranta (Ita) Formaggi Pinzolo Fiave                   
1 Mario Manzoni (Ita) Formaggi Pinzolo Fiave                   
1 Corrado Serina (Ita) Formaggi Pinzolo Fiave                  
1 Giulini Sulpizi (Ita) Formaggi Pinzolo Fiave                 
1 Domenico Gualdi (Ita) Formaggi Pinzolo Fiave                 
1 Matteo Cappe (Ita) Formaggi Pinzolo Fiave                    
1 Luis F. Laverde Jimenez (Col) Formaggi Pinzolo Fiave         
1 Javier Florencio Cabre (Spa) Relax Bodysol                   
1 Santiago Blanco Gil (Spa) Relax Bodysol                      
1 Moises Duenas Nevado (Spa) Relax Bodysol                     
1 Johan Van Summeren (Bel) Relax Bodysol                       
1 Hector Guerra Garcia (Spa) Relax Bodysol                     
1 Nacor Burgos Rojo (Spa) Relax Bodysol                        
1 Garcia Oscar Laguna (Spa) Relax Bodysol                      
1 David George (RSA) Team Barloworld                           
1 Enrico Degano (Ita) Team Barloworld                          
1 Sean Sullivan (Aus) Team Barloworld                          
1 Ryan Cox (RSA) Team Barloworld                               
1 Jock Green (RSA) Team Barloworld                             
1 James Perry (RSA) Team Barloworld                            
1 Tiaan Kannemeyer (RSA) Team Barloworld                       
1 Gordon Fraser (Can) Health Net presented by Maxxis           
1 Gregory Henderson (NZl) Health Net presented by Maxxis       
1 Brice Jones (USA) Health Net presented by Maxxis             
1 Danny Pate (USA) Health Net presented by Maxxis              
1 John Lieswyn (USA) Health Net presented by Maxxis            
1 Scott Moninger (USA) Health Net presented by Maxxis          
1 Michael Sayers (USA) Health Net presented by Maxxis          
1 Germ Van Der Burg (Ned) Bert Story-Piels                     
1 Dennis Van Uden (Ned) Bert Story-Piels                       
1 Coen Loos (Ned) Bert Story-Piels                             
1 Jasper Lenferink (Ned) Bert Story-Piels                      
1 Jarko Van Der Stelt (Ned) Bert Story-Piels                   
1 Arne Kornegoor (Ned) Bert Story-Piels                        
1 Susanto Tonton (Ina) Wismilak                                
1 Sama'i Sama'i (Ina) Wismilak                                 
1 Wawan Setyobudi (Ina) Wismilak                               
1 Matnur Matnur (Ina) Wismilak                                 
1 Ano Pedersen (Ned) Wismilak                                  
1 Scott Guyton (NZl) Wismilak                                  
1 Christopher Bradford (Aus) Wismilak                          
1 Yoshiyuki Abe (Jpn) Japan                                    
1 Kazuyuki Manabe (Jpn) Japan                                  
1 Shinichi Fukushima (Jpn) Japan                               
1 Kazuya Okazaki (Jpn) Japan                                   
1 Makoto Iijima (Jpn) Japan                                    
1 Tomoya Kano (Jpn) Japan                                      
1 Yasutaka Tashiro (Jpn) Japan                                 
1 Roland Green (Can) Canada                                    
1 Eric Wohlberg (Can) Canada                                   
1 Dominique Perras (Can) Canada                                
1 Charles Dionne (Can) Canada                                  
1 Cory Lange (Can) Canada                                      
1 Peter Wedge (Can) Canada                                     
1 Alexandre Lavallee (Can) Canada                              
1 Hassan Maleki (Irn) Iran                                     
1 Ahad Kazemi (Irn) Iran                                       
1 Ghader Mizbani (Irn) Iran                                    
1 Tanha Abbas Saeidi (Irn) Iran                                
1 Mohammad Rajabloo (Irn) Iran                                 
1 Amir Zargari (Irn) Iran                                      
1 Saeid Chehrzad (Irn) Iran                                    
1 Guozhang Wang (Chn) China                                    
1 Jianshi Luo (Chn) China                                      
1 Xiaohai Zheng (Chn) China                                    
1 Fuyu Li (Chn) China                                          
1 Yongbiao Zhu (Chn) China                                     
1 Xiaojun Shao (Chn) China                                     
1 Xueli Jiang (Chn) China                                      
1 Razali Shahrulneeza (Mas) Malaysia                           
1 Hamad Mohd Mahazir (Mas) Malaysia                            
1 Musa Musairi (Mas) Malaysia                                  
1 Abd Ghani Mohd. Najmee (Mas) Malaysia                        
1 Ismail Mohd Sazlee (Mas) Malaysia                            
1 Rosli Nor Affendy (Mas) Malaysia                             
1 Mohd Zahit Mohd Sayuti (Mas) Malaysia                        
1 Jaco Odenaal (RSA) South Africa                              
1 Ian Mcleod (RSA) South Africa                                
1 Daryl Impey (RSA) South Africa                               
1 Reinhardt Duplessis (RSA) South Africa                       
1 Nicholas White (RSA) South Africa                            
1 Jeremy Maartens (RSA) South Africa                           
1 Neil Mcdonald (RSA) South Africa                             
1 David McCann (Irl) Ireland                                   
1 David O'Loughlin (Irl) Ireland                               
1 Philip Deignan (Irl) Ireland                                 
1 Denis Lynch (Irl) Ireland                                    
1 Paul Griffin (Irl) Ireland                                   
1 Eugene Moriarty (Irl) Ireland                                
1 Tim Barry (Irl) Ireland                                      
1 Victor Espiritu (Phi) Pagcor-Casino Filipino                 
1 Rhyan Tanguilig (Phi) Pagcor-Casino Filipino                 
1 Lloyd Lucien Reynante (Phi) Pagcor-Casino Filipino           
1 Merculio Ramos (Phi) Pagcor-Casino Filipino                  
1 Alfie Catalan (Phi) Pagcor-Casino Filipino                   
1 Albert Primero (Phi) Pagcor-Casino Filipino                  
1 Ronald Gorantes (Phi) Pagcor-Casino Filipino                 
 
Teams classification
 
1 Bert Story-Piels                                      7.45.27
1 Canada                                                       
1 Ceramiche Panaria-Margres                                    
1 China                                                        
1 Chocolade Jacques-Wincor Nixdorf-Passage                     
1 Colombia Selle-Italia                                        
1 De-Nardi                                                     
1 Formaggi Pinzolo Fiave                                       
1 Health Net                                                   
1 Iran                                                         
1 Ireland                                                      
1 Japan                                                        
1 Lampre                                                       
1 Malaysia                                                     
1 Pagcor-Casino                                                
1 Palmans-Collstrop                                            
1 Relax Bodysol                                                
1 South Africa                                                 
1 Team Barloworld                                              
1 Wismilak                                                     
 
Asian Rider classification
 
1 Susanto Tonton (Ina) Wismilak                         2.35.09
1 Sama'i Sama'i (Ina) Wismilak                                 
1 Wawan Setyobudi (Ina) Wismilak                               
1 Matnur Matnur (Ina) Wismilak                                 
1 Yoshiyuki Abe (Jpn) Japan                                    
1 Kazuyuki Manabe (Jpn) Japan                                  
1 Shinichi Fukushima (Jpn) Japan                               
1 Kazuya Okazaki (Jpn) Japan                                   
1 Makoto Iijima (Jpn) Japan                                    
1 Tomoya Kano (Jpn) Japan                                      
1 Yasutaka Tashiro (Jpn) Japan                                 
1 Hassan Maleki (Irn) Iran                                     
1 Ahad Kazemi (Irn) Iran                                       
1 Ghader Mizbani (Irn) Iran                                    
1 Tanha Abbas Saeidi (Irn) Iran                                
1 Mohammad Rajabloo (Irn) Iran                                 
1 Amir Zargari (Irn) Iran                                      
1 Saeid Chehrzad (Irn) Iran                                    
1 Guozhang Wang (Chn) China                                    
1 Jianshi Luo (Chn) China                                      
1 Xiaohai Zheng (Chn) China                                    
1 Fuyu Li (Chn) China                                          
1 Yongbiao Zhu (Chn) China                                     
1 Xiaojun Shao (Chn) China                                     
1 Xueli Jiang (Chn) China                                      
1 Razali Shahrulneeza (Mas) Malaysia                           
1 Hamad Mohd Mahazir (Mas) Malaysia                            
1 Musa Musairi (Mas) Malaysia                                  
1 Abd Ghani Mohd. Najmee (Mas) Malaysia                        
1 Ismail Mohd Sazlee (Mas) Malaysia                            
1 Rosli Nor Affendy (Mas) Malaysia                             
1 Mohd Zahit Mohd Sayuti (Mas) Malaysia                        
1 Victor Espiritu (Phi) Pagcor-Casino Filipino                 
1 Rhyan Tanguilig (Phi) Pagcor-Casino Filipino                 
1 Lloyd Lucien Reynante (Phi) Pagcor-Casino Filipino           
1 Merculio Ramos (Phi) Pagcor-Casino Filipino                  
1 Alfie Catalan (Phi) Pagcor-Casino Filipino                   
1 Albert Primero (Phi) Pagcor-Casino Filipino                  
1 Ronald Gorantes (Phi) Pagcor-Casino Filipino                 
 
Asian Team classification
 
1 China                                                 7.45.27
1 Iran                                                         
1 Japan                                                        
1 Malaysia                                                     
1 Pagcor-Casino                                                
1 Wismilak