Recently on Cyclingnews.com
Tour of Georgia - 2.3
Georgia, USA, April 20-25, 2004
Main Page Results Live report Previous stage
Stage 7 : April 25 - Dawsonville - Alpharetta, 142.3 km
All Fraser for the finale
Armstrong posts solid overall win
By Kristy Scrymgeour
Gord Fraser (Health Net/Maxxis) takes his second win
Photo ©: Jon Devich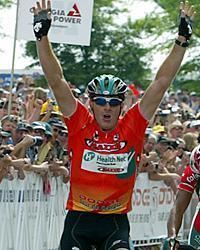 After winning both intermediate sprints on the way to Alpharetta today, Gord Fraser (Health Net) also took the sprint to win final stage of Tour de Georgia, coming around the legendary Mario Cipollini (Domina Vacanze) in the final meters of the uphill battle. In front of huge crowds on the finishing circuit, Fraser proved his sprinting prowess once again. He now goes home with the Sprint jersey and two stages to his name from the second annual Dodge Tour de Georgia, the race that seems to have re-introduced bike racing to the big time in the US.
The final sprint,
Photo ©: Jon Devich

Starting in Dawsonville, Georgia today, the stage was flat and fairly uneventful and the tired peloton was content to piano along the road to Alpharetta. The action picked up at the intermediate sprints, with Fraser determined to hold onto the sprint jersey that he had worked so hard to obtain in yesterday's stage. In the final four finishing circuits the pace picked up again for the last battle of the team lead-outs between Domina Vacanze and Health Net. Fraser took the sprint from Colavita rider Juan Jose Haedo who was closely followed by Cipollini and Ivan Dominguez (Colavita).
Lance Armstrong (US Postal Service presented by Berry Floor) finished safely in the bunch to win the tour overall, with Jens Voigt (CSC) taking second and Chris Horner (Webcor) third in the General Classification.
Armstrong validates US stage racing with triumphant win
By Tim Maloney, European editor
Lance Armstrong & Mario Cipollini
Photo ©: Jon Devich

Although he under-promised by saying he wasn't likely to win the race before the sophomore edition of the Dodge Tour de Georgia, in the end Lance Armstrong over-delivered with a solid demonstration of fitness and focus by winning back to back stage wins and the overall general classification in the Georgia tour. Much has changed for Armstrong since he won the 1996 Tour DuPont, his last major UCI race win in America, almost a decade ago. Since then, Armstrong has survived cancer and dominated the Tour de France since 1999. So it's a rare event when Lance Armstrong returns to his native shores to race and the folks of Georgia turned out this week to cheer on Armstrong and the rest of the Tour de Georgia peloton. Armstrong told Cyclingnews after the final stage of the Georgia tour that "I was surprised how many people there were all week and culminating with Saturday's climb and today... there were really tens thousands of people there, which is fantastic. I didn't expect that and I don't think the other riders expected that. It was great and I hope it's an indication of what we can do in the future with cycling and cycling events in America."
Looking forward towards his attempt at a sixth straight Tour de France, Armstrong was pleased with the evolution of his form. "I don't think we can say anything is wrong and maybe things are a little hot right now. In fact, [my form] might be running a little hot right now. So we might need to cool off a little and certainly take some time off after this race to recover, because it was hard. I'll have a forced break in a few weeks when I fly back to Europe in a few weeks. The time trial was a good test, which was a nice surprise and I felt good on the climbs. April is not a great month for me when it comes to climbing longer climbs so there were no real problems and I'll kind of keep plugging away. My training had been going well before [the Georgia tour] but I didn't think I would feel this good in the race. So I was a bit surprised on day three to get a couple of wins and get a time gap on the other guys."
Lance Armstrong (USPS/Berry Floor)
Photo ©: Jon Devich

Armstrong validated the evolution of American pro road racing with his comments on the peloton in the Tour de Georgia, saying "Americans as a whole are very strong and can ride very fast. That comes as a surprise to the Europeans are here. The style of racing is different, but the depth and strength of the field is and was a surprise. I think it's great and I wish we had more events like this that could bring over top level cyclists like Cipollini and the bigger teams and I wish they were in place so we could use them to prepare for races like the Tour. But unfortunately right now, there's not many options... but there's some good bike riders here." With two stage wins and the overall GC, Armstrong did a good job for his current title sponsor, the United States Postal Service, who officially announced during the Georgia tour that they would not continue after nine years of sponsorship.
Chris Horner (Webcor Builders) started the Tour de Georgia wearing dossard number one as defending champion from the 2003 edition. Horner rode strongly all week but didn't have the long, hard European races in his legs to beat Armstrong and Georgia tour runner-up Jens Voigt (CSC). Horner was happy to share the podium with Armstrong and Voigt, but felt he could have ridden better. "With this level of field, my performance is pretty good. I had a shot at the win, but I just didn't quite have the legs to get the job done. Lance was riding superbly and he didn't falter on the big climb on Saturday. Third place is pretty satisfying."
Horner was disappointed that when he attacked on Friday's steep climb of Wolfpen Gap, CSC didn't make a move to try an isolate Armstrong. "I thought we had an opportunity to attack [Armstrong] but the guys in the group weren't willing to put it on the line and start attacking," he said. Horner showed why he is America's top domestic rider in Georgia with aggressive racing all week, but faced with two powerful Division One teams like USPS-Berry Floor and CSC, he and his Division Three Webcore squad where just outgunned. Armstrong and Ekimov were both in the top five, while CSC's Voigt and Julich were second and fourth. Jittery Joe's climber Cesar Grajales won the difficult stage six to Brasstown Bald, which moved him up to 6th on GC. Rounding out the top ten was a mix of old and new, with old hands Scott Moninger (Health Net) and Eric Wohlberg (Sierra Nevada) and neo-pros Sergio Mariangeli (Domina Vacanze) and Brian Vandborg (CSC) rounding out the top ten.
Other category winners at the Tour de Georgia were Health Net's Gord Fraser, who had a sensational race in Georgia with two stage wins and the sprinter's jersey. His Health Net teammate Patrick McCartney benefited from his solo break in Friday's Stage Five to Dahlonega to capture the KOM jersey, while best young rider classification was taken by USA Cycling's Kevin Bouchard-Hall who finished in 29th on GC, 10:59 down on Armstrong.
Photography
Images by Jon Devich/Cyclingnews.com/www.epicimages.us
Images by Mark Zalewski/Cyclingnews.com/
Images by Trish Albert/Southeasterncycling.com
Results
1 Gordon Fraser (Can) Health Net Presented by Maxxis                     3.20.15
2 Juan Jose Haedo (Arg) Colavita Olive Oil, presented by Bolla Wines            
3 Mario Cipollini (Ita) Domina Vacanze                                          
4 Enrico Degano (Ita) Barloworld-Androni Giocattoli                             
5 Ivan Dominguez (Cub) Colavita Olive Oil, presented by Bolla Wines             
6 Yuri Metlushenko (Ukr) Landbouwkrediet – Colnago                              
7 Chris Horner (USA) Webcor Builders                                            
8 Kirk Albers (USA) Jelly Belly/Aramark                                         
9 Benjamin Brooks (Aus) Jelly Belly/Aramark                                     
10 Russell Hamby (USA) Sierra Nevada Cycling                                    
11 Alex Candelario (USA) Jelly Belly/Aramark                                    
12 Jackson Stewart (USA) Ofoto/Lombardi Sports                                  
13 Nicola Gavazzi (Ita) Saeco-Saunier Duval                                     
14 Chad Hartley (USA) Jittery Joe's Coffee                                      
15 Doug Ollerenshaw (USA) Jelly Belly/Aramark                                   
16 Vassili Davidenko (Rus) Navigators Insurance                                 
17 Gustavo Artacho (Arg) Colavita Olive Oil, presented by Bolla Wines           
18 Mikhail Timochine (Rus) Landbouwkrediet – Colnago                            
19 Scott Zwizanski (USA) Ofoto/Lombardi Sports                                  
20 George Hincapie (USA) US Postal Service presented by Berry Floor             
21 Salvatore Commesso (Ita) Saeco-Saunier Duval                                 
22 Maximilian Sciandri (GBr) Team CSC                                           
23 Blake Caldwell (USA) USA National                                            
24 Thomas Bruun Eriksen (Den) Team CSC                                          
25 Ben Jacques-Maynes (USA) Sierra Nevada Cycling                               
26 Jimmi Madsen (Den) Team CSC                                                  
27 Jens Voigt (Ger) Team CSC                                                    
28 Sergey Lagutin (Uzb) Landbouwkrediet – Colnago                               
29 Imanol Ayestaran Odriozola (Spa) Webcor Builders                             
30 Charles Dionne (Can) Webcor Builders                                         
31 Giovanni Lombardi (Ita) Domina Vacanze                                       
32 Ivan Ravaioli (Ita) Barloworld-Androni Giocattoli                            
33 Jason Bausch (USA) Ofoto/Lombardi Sports                                     
34 Francesco Bellotti (Ita) Barloworld-Androni Giocattoli                       
35 Daniel Bowman (USA) USA National                                             
36 Sergio Marinangeli (Ita) Domina Vacanze                                      
37 Henk Vogels (Aus) Navigators Insurance                                       
38 Caleb Manion (Aus) Jelly Belly/Aramark                                       
39 Ernesto Lechuga (Mex) Jelly Belly/Aramark                                    
40 Christopher Baldwin (USA) Navigators Insurance                               
41 Timothy Duggan (USA) USA National                                            
42 Damon Kluck (USA) US Postal Service presented by Berry Floor                 
43 Jason Klikna (USA) Sierra Nevada Cycling                                     
44 William Frischkorn (USA) Colavita Olive Oil, presented by Bolla Wines        
45 Bobby Julich (USA) Team CSC                                                  
46 James Mattis (USA) Webcor Builders                                           
47 Paul Ellis (USA) Jelly Belly/Aramark                                         
48 Jeff Louder (USA) Navigators Insurance                                       
49 Mark Walters (Can) Navigators Insurance                                      
50 Cesar Grajales Calle (Col) Jittery Joe's Coffee                              
51 Jesse Lawler (USA) Jittery Joe's Coffee                                      
52 Eric Wohlberg (Can) Sierra Nevada Cycling                                    
53 Tim Larkin (USA) Ofoto/Lombardi Sports                                       
54 Scott Moninger (USA) Health Net Presented by Maxxis                          
55 Chris Wherry (USA) Health Net Presented by Maxxis                            
56 Benjamin Haldeman (USA) Webcor Builders                                      
57 Tim Johnson (USA) Saeco-Saunier Duval                                        
58 Phil Zajicek (USA) Navigators Insurance                                      
59 Dominique Perras (Can) Ofoto/Lombardi Sports                                 
60 David George (RSA) Barloworld-Androni Giocattoli                             
61 Justin England (USA) Webcor Builders                                         
62 Pavel Padrnos (Cze) US Postal Service presented by Berry Floor               
63 Ludovic Capelle (Bel) Landbouwkrediet – Colnago                              
64 Stefan Adamsson (Swe) Barloworld-Androni Giocattoli                          
65 Antonio Cruz (USA) US Postal Service presented by Berry Floor                
66 Lance Armstrong (USA) US Postal Service presented by Berry Floor             
67 Viatcheslav Ekimov (Rus) US Postal Service presented by Berry Floor          
68 Tyler Wren (USA) Colavita Olive Oil, presented by Bolla Wines                
69 Adam Bergman (USA) Jelly Belly/Aramark                                       
70 Danny Pate (USA) Health Net Presented by Maxxis                              
71 Brian Vandborg (Den) Team CSC                                                
72 Jakob Piil (Den) Team CSC                                                    
73 Thad Dulin (USA) Colavita Olive Oil, presented by Bolla Wines                
74 Kevin Bouchard-Hall (USA) USA National                                       
75 Todd Herriott (USA) Colavita Olive Oil, presented by Bolla Wines             
76 John Lieswyn (USA) Health Net Presented by Maxxis                            
77 Stuart Gillespie (USA) USA National                                      0.12
78 Daniel Rincon (Col) US Postal Service presented by Berry Floor               
79 Erik Saunders (USA) Ofoto/Lombardi Sports                                    
80 Jacky Durand (Fra) Landbouwkrediet – Colnago                                 
81 Francesco Secchiari (Ita) Domina Vacanze                                     
82 Michael Creed (USA) US Postal Service presented by Berry Floor           0.19
83 Mario Scirea (Ita) Domina Vacanze                                            
84 Alessio Galletti (Ita) Domina Vacanze                                        
85 Sean Sullivan (Aus) Barloworld-Androni Giocattoli                            
86 Massimiliano Mori (Ita) Domina Vacanze                                       
87 Gregory Henderson (NZl) Health Net Presented by Maxxis                       
88 Jason McCartney (USA) Health Net Presented by Maxxis                     0.39
89 Ciaran Power (Irl) Navigators Insurance                                      
90 David Clinger (USA) Domina Vacanze                                       0.51
91 Mike Sayers (USA) Health Net Presented by Maxxis                         1.05
92 Aaron Olson (USA) Colavita Olive Oil, presented by Bolla Wines           4.33
93 James Schneider (USA) Jittery Joe's Coffee                                   
 
Teams
 
1 Team CSC                                                              77.05.17
2 US Postal Service Presented By Berry Floor                                1.39
3 Health Net Pro Cycling Team Presented By Maxxis                           5.42
4 Webcor Cycling Team                                                       9.27
5 Jelly Belly-Aramark                                                      12.08
6 Navigators Insurance Cycling Team                                        22.16
7 Ofoto Cycling Team                                                       26.40
8 Sierra Nevada Cycling                                                    27.35
9 Domina Vacanze                                                           28.07
10 Team Barloworld - Androni Giocattoli                                    29.57
11 Saeco-Saunier Duval-Prodir/Mixed Team                                   34.26
12 Usa National                                                            38.03
13 Colavita Olive Oil Pro Cycling Team Presented By Bolla Wines            40.07
14 Landbouwkrediet - Colnago                                             1.06.42
15 The Jittery Joe's Cycling Team                                        1.08.35
 
Final general classification
 
1 Lance Armstrong (USA) US Postal Service presented by Berry Floor      25.39.20
2 Jens Voigt (Ger) Team CSC                                                 0.24
3 Chris Horner (USA) Webcor Builders                                        1.01
4 Bobby Julich (USA) Team CSC                                               1.57
5 Viatcheslav Ekimov (Rus) US Postal Service presented by Berry Floor       2.59
6 Cesar Grajales Calle (Col) Jittery Joe's Coffee                           3.07
7 Scott Moninger (USA) Health Net Presented by Maxxis                       3.44
8 Sergio Marinangeli (Ita) Domina Vacanze                                   4.06
9 Brian Vandborg (Den) Team CSC                                             4.52
10 Eric Wohlberg (Can) Sierra Nevada Cycling                                5.25
11 Adam Bergman (USA) Jelly Belly/Aramark                                   5.27
12 John Lieswyn (USA) Health Net Presented by Maxxis                        5.38
13 Phil Zajicek (USA) Navigators Insurance                                  5.54
14 Christopher Baldwin (USA) Navigators Insurance                           6.13
15 Benjamin Brooks (Aus) Jelly Belly/Aramark                                6.17
16 Danny Pate (USA) Health Net Presented by Maxxis                              
17 Dominique Perras (Can) Ofoto/Lombardi Sports                             6.26
18 Francesco Bellotti (Ita) Barloworld-Androni Giocattoli                   7.07
19 Justin England (USA) Webcor Builders                                     7.13
20 Ernesto Lechuga (Mex) Jelly Belly/Aramark                                7.39
21 Ben Jacques-Maynes (USA) Sierra Nevada Cycling                           8.07
22 William Frischkorn (USA) Colavita Olive Oil, presented by Bolla Wines    8.16
23 Daniel Rincon (Col) US Postal Service presented by Berry Floor           8.53
24 Salvatore Commesso (Ita) Saeco-Saunier Duval                             9.38
25 Charles Dionne (Can) Webcor Builders                                     9.53
26 George Hincapie (USA) US Postal Service presented by Berry Floor             
27 Alessio Galletti (Ita) Domina Vacanze                                   10.13
28 Jimmi Madsen (Den) Team CSC                                             10.34
29 Kevin Bouchard-Hall (USA) USA National                                  10.49
30 Tim Larkin (USA) Ofoto/Lombardi Sports                                  11.56
31 Doug Ollerenshaw (USA) Jelly Belly/Aramark                              12.30
32 Imanol Ayestaran Odriozola (Spa) Webcor Builders                        13.02
33 Caleb Manion (Aus) Jelly Belly/Aramark                                  13.06
34 Stefan Adamsson (Swe) Barloworld-Androni Giocattoli                     13.31
35 Jason McCartney (USA) Health Net Presented by Maxxis                    14.27
36 Chris Wherry (USA) Health Net Presented by Maxxis                       15.03
37 Timothy Duggan (USA) USA National                                       17.28
38 Todd Herriott (USA) Colavita Olive Oil, presented by Bolla Wines        18.52
39 Maximilian Sciandri (GBr) Team CSC                                      18.58
40 David George (RSA) Barloworld-Androni Giocattoli                        19.23
41 Daniel Bowman (USA) USA National                                        19.25
42 Pavel Padrnos (Cze) US Postal Service presented by Berry Floor          20.14
43 Mikhail Timochine (Rus) Landbouwkrediet – Colnago                       21.40
44 Mario Scirea (Ita) Domina Vacanze                                       22.45
45 Massimiliano Mori (Ita) Domina Vacanze                                  23.23
46 Ivan Ravaioli (Ita) Barloworld-Androni Giocattoli                       23.47
47 Russell Hamby (USA) Sierra Nevada Cycling                               23.49
48 Tim Johnson (USA) Saeco-Saunier Duval                                   25.23
49 Sergey Lagutin (Uzb) Landbouwkrediet – Colnago                          25.46
50 Thad Dulin (USA) Colavita Olive Oil, presented by Bolla Wines           25.56
51 Henk Vogels (Aus) Navigators Insurance                                  26.35
52 James Mattis (USA) Webcor Builders                                      28.04
53 Mark Walters (Can) Navigators Insurance                                 28.18
54 Jeff Louder (USA) Navigators Insurance                                  28.49
55 Mike Sayers (USA) Health Net Presented by Maxxis                        28.59
56 Jakob Piil (Den) Team CSC                                               29.01
57 Thomas Bruun Eriksen (Den) Team CSC                                     29.16
58 Gordon Fraser (Can) Health Net Presented by Maxxis                      29.52
59 Ciaran Power (Irl) Navigators Insurance                                 30.16
60 Scott Zwizanski (USA) Ofoto/Lombardi Sports                             30.24
61 Antonio Cruz (USA) US Postal Service presented by Berry Floor           31.15
62 Benjamin Haldeman (USA) Webcor Builders                                 31.53
63 Paul Ellis (USA) Jelly Belly/Aramark                                    32.08
64 Jacky Durand (Fra) Landbouwkrediet – Colnago                            32.28
65 Sean Sullivan (Aus) Barloworld-Androni Giocattoli                       33.53
66 Alex Candelario (USA) Jelly Belly/Aramark                               34.07
67 Jason Bausch (USA) Ofoto/Lombardi Sports                                35.35
68 Gregory Henderson (NZl) Health Net Presented by Maxxis                  36.13
69 Jackson Stewart (USA) Ofoto/Lombardi Sports                             36.33
70 Mario Cipollini (Ita) Domina Vacanze                                    37.23
71 Tyler Wren (USA) Colavita Olive Oil, presented by Bolla Wines           37.26
72 Aaron Olson (USA) Colavita Olive Oil, presented by Bolla Wines          37.33
73 Damon Kluck (USA) US Postal Service presented by Berry Floor            37.34
74 Vassili Davidenko (Rus) Navigators Insurance                            37.35
75 Yuri Metlushenko (Ukr) Landbouwkrediet – Colnago                        37.43
76 Chad Hartley (USA) Jittery Joe's Coffee                                 38.07
77 Michael Creed (USA) US Postal Service presented by Berry Floor          38.18
78 Giovanni Lombardi (Ita) Domina Vacanze                                  38.29
79 David Clinger (USA) Domina Vacanze                                      38.35
80 Juan Jose Haedo (Arg) Colavita Olive Oil, presented by Bolla Wines      39.18
81 Jason Klikna (USA) Sierra Nevada Cycling                                39.24
82 Erik Saunders (USA) Ofoto/Lombardi Sports                               39.38
83 Stuart Gillespie (USA) USA National                                     41.02
84 Gustavo Artacho (Arg) Colavita Olive Oil, presented by Bolla Wines      41.59
85 Kirk Albers (USA) Jelly Belly/Aramark                                   42.06
86 Blake Caldwell (USA) USA National                                       42.09
87 Francesco Secchiari (Ita) Domina Vacanze                                42.32
88 Enrico Degano (Ita) Barloworld-Androni Giocattoli                       42.49
89 Ludovic Capelle (Bel) Landbouwkrediet – Colnago                         43.34
90 James Schneider (USA) Jittery Joe's Coffee                              43.43
91 Nicola Gavazzi (Ita) Saeco-Saunier Duval                                44.00
92 Jesse Lawler (USA) Jittery Joe's Coffee                                 46.07
93 Ivan Dominguez (Cub) Colavita Olive Oil, presented by Bolla Wines       50.59