87th Ronde van Vlaanderen/Tour des Flandres - CDM
Belgium, April 6, 2003
Course Description Map Profile Time Table
Shorter but tougher Tour of Flanders
By Jeff Jones
The parcours for the 87th Ronde Van Vlaanderen (Tour of Flanders) has been announced by the organisers. The World Cup classic will take place on April 6 this year, two weeks after Milan-San Remo. At 255 km, the Ronde will be 10 km shorter than last year, but the addition of three climbs for a record total of 19, combined with 22 km of cobble sections should more than make up for that.
As has been the case for the last few years, the race will begin in Brugge's Grote Markt and finish in Meerbeke, Ninove. The first part of the parcours this year is markedly different than the last two years however. Instead of heading west to Oostende and the west coast of Flanders, the race will travel east via Maldegem, Eeklo and Waarschoot, before turning south towards the hills. The difference in terrain in this first part will be negligible, as Flanders is pan flat whether you go west or east. The wind will of course be coming from the opposite direction.
Once the Ronde reaches Kanegem (55 km), it follows a similar route as last year through Dentergem, Waregem, Kruishoutem, Zwalm and Zottegem. The first hill (Nokereberg, km 89) comes on this section, but it's not until after Zottegem that the hill action becomes more intense. The steep, roughly cobbled Molenberg (127 km) will start to draw out the peloton, followed by the Wolvenberg 10 km later.
There is a 24 km respite before the next climb of Kluisberg (km 161), and then the Ronde follows its traditional zig-zag course over the narrow back roads of this area. The remaining hills are the Knokteberg (km 170), Oude-Kwaremont (km 177), Paterberg (km 180), Koppenberg (km 187), Steenbeekdries (km 192), Taaienberg (km 195), Ladeuze (km 199), Boigneberg (km 204), Foreest (km 211), Steenberg (km 213), Leberg (km 220), Berendries (km 223), Tenbosse (km 229), Muur-Kapelmuur (239) and Bosberg (km 242).
The main changes from the previous editions come after the Taaienberg (climb 10), as the Eikenberg/Kapelleberg climbs have been replaced by Ladeuze, Boigneberg, Foreest and Steenberg climbs, meaning that the peloton will have less chance to regroup in this important stage of the race. Foreest and Ladeuze are brand new climbs, while the Boigneberg has only been used once previously.
The final five climbs remain intact, and the crowds on the Muur and the Bosberg will be able to see their heroes charging by in pursuit of victory.
The parcours of the Ronde Van Vlaanderen looks to be one of the most selective yet, and we will no doubt see a worthy winner in Ninove-Meerbeke.
Course Map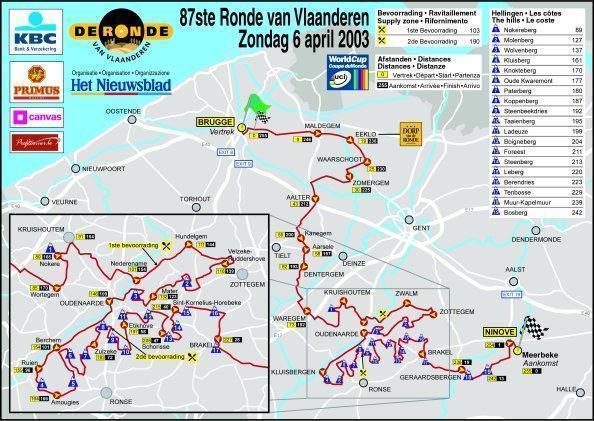 © 1997-2003 Tom & Eddy Van Laere (RVV.Tom-Eddy@pandora.be)
Course Profile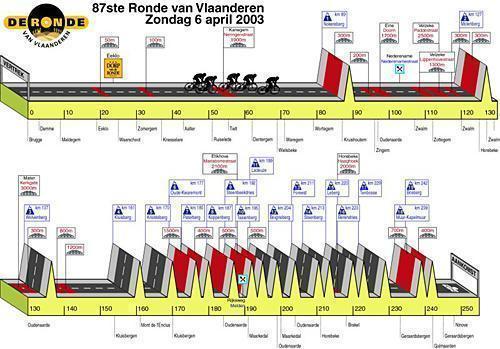 © 1997-2003 Tom & Eddy Van Laere (RVV.Tom-Eddy@pandora.be)
Time Table



                                     Km    39 km/h    41 km/h    43 km/h
West-Vlaanderen
Brugge                                 0      09.50      09.50      09.50
Sint-Kruis
Sint-Kruis                             0      10.00      10.00      10.00
Damme
Sijsele                                3      10.05      10.04      10.04
Oost-Vlaanderen
Maldegem                               9      10.14      10.13      10.13
Adegem                                16      10.25      10.23      10.22
Eeklo                                 19      10.29      10.28      10.27
Waarschoot                            25      10.38      10.37      10.35
Zomergem                              30      10.46      10.44      10.42
Knesselare
Ursel                                 37      10.57      10.54      10.52
Aalter                                43      11.06      11.03      11.00
West-Vlaanderen
Ruiselede                             51      11.18      11.15      11.11
Tielt
Kanegem                               55      11.25      11.20      11.17
Aarsele                               58      11.29      11.25      11.21
Dentergem                             62      11.35      11.31      11.27
Markegem                              65      11.40      11.35      11.31
Wakken                                67      11.43      11.38      11.33
eke
Sint-Baafs-Vijve                      69      11.46      11.41      11.36
Wielsbeke                             71      11.49      11.44      11.39
Waregem
Desselgem                             72      11.51      11.45      11.40
Waregem                               73      11.52      11.47      11.42
Oost-Vlaanderen
Wortegem                              79      12.02      11.56      11.50
Kruishoutem
Nokere                                87      12.14      12.07      12.01
Hill 1. Nokereberg                    89      12.17      12.10      12.04
Kruishoutem                           91      12.20      12.13      12.07
Wannegem                              93      12.23      12.16      12.10
Lede                                  96      12.28      12.20      12.14
Zingem
Huise                                 96      12.28      12.20      12.14
Oudenaarde
Eine                                  97      12.29      12.22      12.15
Nederename                           101      12.35      12.28      12.21
Welden                               105      12.42      12.34      12.27
Zwalm
Nederzwalm                           107      12.45      12.37      12.29
Sint-Maria-Latem                     108      12.46      12.38      12.31
Munkzwalm                            110      12.49      12.41      12.33
Hundelgem                            111      12.51      12.42      12.35
Zottegem
Velzeke-Rudderhove                   112      12.52      12.44      12.36
Zwalm
Roborst                              120      13.05      12.56      12.47
Sint-Blasius-Boekel                  123      13.09      13.00      12.52
Horebeke
Sint-Maria-Horebeke                  125      13.12      13.03      12.54
Zwalm
Sint-Denijs-Boekel                   127      13.15      13.06      12.57
Hill 2. Molenberg                    127      13.15      13.06      12.57
Oudenaarde
Mater                                129      13.18      13.09      13.00
Volkegem                             135      13.28      13.18      13.08
Hill 3. Wolvenberg                   137      13.31      13.20      13.11
Mater                                136      13.29      13.19      13.10
Ename                                142      13.38      13.28      13.18
Edelare                              143      13.40      13.29      13.20
Leupegem                             146      13.45      13.34      13.24
Oudenaarde                           146      13.45      13.34      13.24
Leupegem                             149      13.49      13.38      13.28
Melden                               150      13.51      13.40      13.29
Kluisbergen
Berchem                              154      13.57      13.45      13.35
Ruien                                159      14.05      13.53      13.42
Henegouwen
Mont de l'Enclus
Hill 4. Kluisberg                    161      14.08      13.56      13.45
Orroir                               161      14.08      13.56      13.45
Amougies                             164      14.12      14.00      13.49
Russeignies                          166      14.15      14.03      13.52
Oost-Vlaanderen
Kluisbergen
Kluisbergen                          170      14.22      14.09      13.57
Hill 5. Knokteberg                   170      14.22      14.09      13.57
Berchem                              172      14.25      14.12      14.00
Kwaremont                            174      14.28      14.15      14.03
Hill 6. Oude Kwaremont               177      14.32      14.19      14.07
Hill 7. Paterberg                    180      14.37      14.23      14.11
Zulzeke                              183      14.42      14.28      14.15
Oudenaarde
Melden                               184      14.43      14.29      14.17
Hill 8. Koppenberg                   187      14.48      14.34      14.21
Maarkedal
Etikhove                             191      14.54      14.40      14.27
Hill 9. Steenbeekdries               192      14.55      14.41      14.28
Nukerke                              193      14.57      14.42      14.29
Hill 10. Taaienberg                  195      15.00      14.45      14.32
Etikhove                             197      15.03      14.48      14.35
Oudenaarde
Leupegem                             199      15.06      14.51      14.38
Hill 11. Ladeuze                     199      15.06      14.51      14.38
Maarkedal
Maarke-Kerkem                        200      15.08      14.53      14.39
Hill 12. Boigneberg                  204      15.14      14.59      14.45
Oudenaarde
Mater                                204      15.14      14.59      14.45
Horebeke
Sint-Kornelis-Horebeke               206      15.17      15.01      14.47
Maarkedal
Schorisse                            208      15.20      15.04      14.50
Horebeke
Sint-Maria-Horebeke                  209      15.22      15.06      14.52
Hill 13. Foreest                     211      15.25      15.09      14.54
Maarkedal
Schorisse                            211      15.25      15.09      14.54
Horebeke
Horebeke                             213      15.28      15.12      14.57
Hill 14. Steenberg                   213      15.28      15.12      14.57
Sint-Kornelis-Horebeke               215      15.31      15.15      15.00
Brakel
Zegelsem                             218      15.35      15.19      15.04
Hill 15. Leberg                      220      15.38      15.22      15.07
Elst                                 220      15.38      15.22      15.07
Michelbeke                           221      15.40      15.23      15.08
t-Maria-Oudenhove                    223      15.43      15.26      15.11
Hill 16. Berendries                  223      15.43      15.26      15.11
Nederbrakel                          225      15.46      15.29      15.14
Brakel                               227      15.49      15.32      15.17
Hill 17. Tenbosse                    229      15.52      15.35      15.20
Parike                               230      15.54      15.37      15.21
Geraardsbergen
Zarlardinge                          233      15.58      15.41      15.25
Goeferdinge                          235      16.02      15.44      15.28
Geraardsbergen                       236      16.03      15.45      15.29
Hill 18. Muur - Kapelmuur            239      16.08      15.50      15.33
Moerbeke                             242      16.12      15.54      15.38
Vlaams-Brabant
Galmaarden
Hill 19. Bosberg                     242      16.12      15.54      15.38
Oost-Vlaanderen
Geraardsbergen
Waarbeke                             245      16.17      15.59      15.42
Nieuwenhove                          246      16.18      16.00      15.43
Ninove
Denderwindeke                        248      16.22      16.03      15.46
Meerbeke                             252      16.28      16.09      15.52
Ninove                               254      16.31      16.12      15.54
Meerbeke                             254      16.31      16.12      15.54