5th Primavera Rosa - CDM
Italy, March 22, 2003
2002 Results Preview Results Live report Start List Past winners
Strong women's field to do battle in La Primavera Rosa
By Jeff Jones
2002 winner Mirjam Melchers
Photo: © Sirotti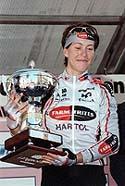 La Primavera Rosa, the second round of the Women's World Cup, will take place this Saturday between Varazze and San Remo. The 118 kilometre race is held over the last part of the men's Milan-San Remo parcours, finishing some two hours before the men's race on San Remo's Via Roma. Although missing the Turchino Pass, the parcours takes in the various small climbs along the coast, including Capo Berta (km 79), the Cipressa (km 96) and of course the Poggio (km 112).
It's still a sprinters' race, but a strong rider such as Susanne Ljungskog (winner in 2001) has a good chance of escaping on the Poggio, to ride into the finish either alone or with the small breakaway. This year, Ljungskog is one of the top favourites again, having won the Trofeo Citta Rosignano last Sunday against a strong field. The current World Champion and top ranked UCI rider is sure to try everything she can to win La Primavera Rosa.
Last year's winner Mirjam Melchers (Farm Frites-Hartol) will be present in Varazze with a slightly weaker team than in 2002, mainly due to the absence of Leontien Zijlaard-Van Moorsel, who played an important role last year in keeping the peloton together until the end. Van Moorsel is concentrating on different objectives this year, leaving Melchers to rely on the support of Arenda Grimberg, Suzanne de Goede, Esther van der Helm, Elsbeth Vink and Miho Oki to defend her title.
One of her biggest challengers will be Petra Rossner, riding for the German Equipe-Nürnberger Versicherung team. Rossner crashed out of the race with 1 km to go last year while wearing the World Cup leader's jersey, and hopes that she can be in there at the finish in 2003. Her team contains Judith Arndt, Hanka Kupfernagel, Margaret Hemsley, Madeleine Lindberg and Trixi Worrack, and should be a match for any of the competition.
Top Lithuanian squads Acca Due O and Ausra Gruodis-Safi are expected to feature prominently in La Primavera Rosa, with Diana Ziliute and Chantal Beltman (both Acca Due O) featuring on the podium last year. Ziliute has won this race three years ago, and can never be underestimated. The Ausra Gruodis-Safi team contains young stars Nicole Cooke and Rochelle Gilmore, both of whom are considered favourites for La Primavera.
After winning in Geelong last month, World Cup leader Sara Carrigan (Powerplate-Bik) is hoping to hang onto her jersey in San Remo. Carrigan is very strong, and although not one of the best sprinters, is definitely be a threat in a small group. Look for her on the Poggio when things get tough. Her former teammates in the Australian National Team should also be up there on Saturday, with Aussie champion Olivia Gollan and the up and coming Oenone Wood riders to watch.
For the Swiss, there are Priska Doppmann (Swiss National Team) and Nicole Braendli (Prato Marathon Bike), both proven World Cup performers in the past. Others to watch in a field stacked with strong candidates are Alison Wright and Zulfia Zabirova (Road Runner - Guerciotti), Fabiana Luperini (Team 2002 Aurora RSM) and Zinaida Stahurskaia and Regina Schleicher (US Chirio Forno d'Asolo).
Past winners
2002 Mirjam Melchers (Ned) Farm Frites-Hartol
2001 Susanne Ljungskog (Swe)
2000 Diana Ziliute (Ltu) 
1999 Sara Felloni (Ita)