97th Giro di Lombardia - CDM
Italy, October 18, 2003
2002 Results Preview Start List Live coverage Results Past Winners
Bettini and Astarloa rematch
By Jeff Jones
2002 winner Michele Bartoli
Photo: © AFP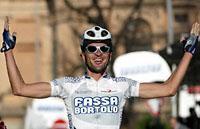 Although this year's World Cup has been decided in favour of Paolo Bettini, it will not take away anything from the 97th running Giro di Lombardia (Tour of Lombardy) on Saturday, October 18. The autumn classic is considered one of the five "monuments" of cycling, right up there with Milan-San Remo, the Ronde Van Vlaanderen, Paris-Roubaix and Liege-Bastogne-Liege. To win it is worth no small degree of prestige, and may great riders grace the past winners list.
This year's race will be run over a traditional parcours of 249 kilometres, starting in Como and finishing in Bergamo. Climbing is a key feature of the Giro di Lombardia, and the action starts to get serious with the famed Madonna del Ghisallo climb (754m, 64 km). After nearly 100 kilometres of up and down terrain, the next main climb comes after 159 km, the Colle del Gallo (763m), followed by the Selvino (962m, 185 km) and Berbenno (665m, 221 km). The final climb is the steep Colle Aperto (375m), which comes with just 4 km to go.
As with any of the big classics, the Giro di Lombardia is not a race you win without excellent form on the day. We can expect the selection to start being made on the Colle del Gallo with around 90 kilometres to go, and from then on the peloton will get smaller until the Colle Aperto, where the final desperate moves will be made.
World Champion Igor Astarloa (Saeco) will take part in Lombardia in his new rainbow jersey, and he will once again meet his Hamilton breakaway companions. Whether Astarloa has the motivation to win another big one day race after his celebrations earlier this week remains to be seen, as there are plenty of others hungry enough for this race.
Paolo Bettini (Quick.Step-Davitamon), very miffed at finishing outside the medals at the World's, would love to add the Giro di Lombardia to his impressive palmares this season, and it would go some way to ease the pain of last weekend's loss. However Lombardia is not normally a good race for Bettini, who has never finished on the podium in this autumn classic.
Mirko Celestino (Saeco) is one rider who has this race on his wins list (1999), and the Ligurian would love to do it again after being left off the Italian World's team. Celestino is in great form, having won Milan-Turin this week, and should be among the protagonists at the end.
Defending champion Michele Bartoli (Fassa Bortolo) is certainly a great chance for a repeat win in Bergamo this year, his last with Giancarlo Feretti's Fassa Bortolo squad. The Tuscan won the Giro del Lazio last month and is never a rider to be underestimated for this type of race.
Another rider who was left off the World's squad, Davide Rebellin (Gerolsteiner) believes he can win in Lombardy as well. Rebellin finished second to Bartoli last year and also second behind Celestino in Milan-Turin this week. He's a rider that nearly always makes the final selection so perhaps his turn has come to win the race of the falling leaves.
Swiss Oscar Camenzind (Phonak) made the break in Hamilton, but crashed on the final corner before getting the chance to contest the sprint. Camenzind won this race in 1998, a week after his World's victory, and could achieve something like that again if the cards fall his way. Also look out for Michael Boogerd (Rabobank), who finished fifth last weekend.
There are plenty of other riders in the peloton who have the capability to win, particularly the Spaniards who seem to be going very well of late. iBanesto's Juan Antonio Flecha, Jose Ivan Gutierrez and Pablo Lastras will be looking to go out on a high note for their team, while World's silver medalist Alejandro Valverde is another danger man.
Cyclingnews will be covering the Giro di Lombardia from approximately 15:00 CEST/9:00 EDT/6:00 PDT/23:00 AEST on October 18.
Past winners
2002
 1. Michele Bartoli (Ita) Fassa Bortolo    251 kms (40.98 km/h)
 2. Davide Rebellin (Ita) Gerolsteiner
 3. Oskar Camenzind (Swi) Phonak Hearing Systems

2001

 1. Danilo Di Luca (Ita) Cantina Tollo     256 kms (38.847 km/h)
 2. Giuliano Figueras (Ita) Ceramiche Panaria-Fiordo
 3. Michael Boogerd (Ned) Rabobank

2000

 1. Raimondas Rumsas (Ltu) Fassa Bortolo   258 kms (40.892 km/h)
 2. Francesco Casagrande (Ita) Vini Caldirola-Sidermec
 3. Niklas Axelsson (Swe) Ceramica Panaria-Gaerne

1999

 1. Mirko Celestino (Ita) Polti            262 kms (41.17 km/h)
 2. Danilo Di Luca (Ita) Cantina Tollo
 3. Eddy Mazzoleni (Ita) Saeco

1998

 1. Oscar Camenzind (Swi)                  253 kms (42.282 km/h)
 2. Michael Boogerd (Ned)
 3. Felice Puttini (Swi)

1997

 1. Laurent Jalabert (Fra)                 250 kms (43.013 km/h)
 2. Paolo Lanfranchi (Ita)
 3. Francesco Casagrande (Ita)

1996

 1. Andrea Tafi (Ita)                      250 kms (42.642 km/h)
 2. Fabian Jeker (Swi)
 3. Axel Merckx (Bel)

1995

 1. Gianni Faresin (Ita)                   252 kms (42.116 km/h)
 2. Daniele Nardello (Ita)
 3. Michele Bartoli (Ita)

1994

 1. Vladislav Bobrik (Rus)                 244 kms (34.378 km/h)
 2. Claudio Chiappucci (Ita)
 3. Pascal Richard (Swi)

1993

 1. Pascal Richard (Swi)                   242 kms (39.821 km/h)
 2. Giorgio Furlan (Ita)
 3. Max Sciandri (Ita)

1992

 1. Tony Rominger (Swi)                    241 kms (39.311 km/h)
 2. Claudio Chiappucci (Ita)
 3. David Cassani (Ita)

1991

 1. Sean Kelly (Ire)                       242 kms (39.176 km/h)
 2. Martial Gayant (Fra)
 3. Franco Ballerini (Ita)

1990

 1. Gilles Delion (Fra)                    246 kms (39.704 km/h)
 2. Pascal Richard (Swi)
 3. Charly Mottet (Fra)

1989

 1. Tony Rominger (Swi)                    260 kms (38.368 km/h)
 2. Gilles Delion (Fra)
 3. Luc Roosen (Bel)

1988

 1. Charly Mottet (Fra)                    260 kms (38.134 km/h)
 2. Gianni Bugno (Ita)
 3. Marino Lejaretta (Spa)

1987

 1. Moreno Argentin (Ita)                  265 kms (38.576 km/h)
 2. Eric Van Lancker (Bel)
 3. Marc Madiot (Fra)

1986

 1. G.B. Baronchelli (Ita)                 262 kms (37.329 km/h)
 2. Sean Kelly (Ire)
 3. Phil Anderson (Aus)

1985

 1. Sean Kelly (Ire)                       255 kms (41.208 km/h)
 2. Adri Van Der Poel (Ned)
 3. Charly Mottet (Fra)

1984

 1. Bernard Hinault (Fra)                  251 kms (40.831 km/h)
 2. Ludo Peeters (Bel)
 3. Tuen Van Vliet (Ned)

1983

 1. Sean Kelly (Ire)                       253 kms (39.164 km/h)
 2. Greg Lemond (USA)
 3. Adri Van Der Poel (Ned)

1982

 1. Giuseppe Saronni (Ita)                 248 kms (40.754 km/h)
 2. Pascal Jules (Fra)
 3. Francesco Moser (Ita)

1981

 1. Hennie Kuiper (Ned)                    259 kms (39.642 km/h)
 2. Moreno Argentin (Ita)
 3. Alfredo Chinetti (Ita)

1980

 1. Alfons de Wolf (Bel)                   255 kms (35.747 km/h)
 2. Alfredo Chinetti (Ita)
 3. Ludo Peeters (Bel)

1979 Bernard Hinault (Fra)
1978 Francesco Moser (Ita)
1977 G.B. Baronchelli (Ita)
1976 Roger De Vlaeminck (Bel)
1975 Francesco Moser (Ita)
1974 Roger De Vlaeminck (Bel)
1973 Felice Gimondi (Ita)
1972 Eddy Merckx (Bel)
1971 Eddy Merckx (Bel)
1970 Franco Bitossi (Ita)
1969 Jean-Pierre Monseré (Bel)
1968 Herman Van Springel (Bel)
1967 Franco Bitossi (Ita)
1966 Felice Gimondi (Ita)
1965 Tom Simpson (GB)
1964 Gianni Motta (Ita)
1963 Jo De Roo (Ned)
1962 Jo De Roo (Ned)
1961 Vito Taccone (Ita)
1960 Emile Daems (Bel)
1959 Rik Van Looy (Bel)
1958 Nino Defilippis (Ita)
1957 Diego Ronchini (Ita)
1956 André Darrigade (Fra)
1955 Cleto Maule (Ita)
1954 Fausto Coppi (Ita)
1953 Bruno Landi (Ita)
1952 Giuseppe Minardi (Ita)
1951 Louison Bobet (Fra)
1950 Renzo Soldani (Ita)
1949 Fausto Coppi (Ita)
1948 Fausto Coppi (Ita)
1947 Fausto Coppi (Ita)
1946 Fausto Coppi (Ita)
1945 Mario Ricci (Ita)
1942 Aldo Bini (Ita)
1941 Mario Ricci (Ita)
1940 Gino Bartali (Ita)
1939 Gino Bartali (Ita)
1938 Cino Cinelli (Ita)
1937 Aldo Bini (Ita)
1936 Gino Bartali (Ita)
1935 Enrico Mollo (Ita)
1934 Learco Guerra (Ita)
1933 Domenico Piemontesi (Ita)
1932 Antonio Negrini (Ita)
1931 Alfredo Binda (Ita)
1930 Michele Mara (Ita)
1929 Piero Fossati (Ita)
1928 Gaetano Belloni (Ita)
1927 Alfredo Binda (Ita)
1926 Alfredo Binda (Ita)
1925 Alfredo Binda (Ita)
1924 Giovanni Brunero (Ita)
1923 Giovanni Brunero (Ita)
1922 Costante Girardengo (Ita)
1921 Costante Girardengo (Ita)
1920 Henri Pelissier (Fra)
1919 Costante Girardengo (Ita)
1918 Gaetano Belloni (Ita)
1917 Philippe Thijs (Bel)
1916 Leopodo Torricelli (Ita)
1915 Gaetano Belloni (Ita)
1914 Lauro Bordin (Ita)
1913 Henri Pelissier (Fra)
1912 Carlo Oriani (Ita)
1911 Henri Pelissier (Fra)
1910 Giovanni Micheletto (Ita)
1909 Giovanni Cuniolo (Ita)
1908 Francois Faber (Lux)
1907 Gustave Garrigou (Fra)
1906 Giuseppe Brambilla (Ita)
1905 Giovanni Gerbi (Ita)

Past winners by Mario Stiehl, www.world-of-cycling.com