GP Plouay - CDM
France, August 23-24, 2003
Main Page Results World Cup Standings
Nicole Cooke's flashy comeback after a long break
By Jean-François Quénet in Plouay
Cooke too quick
Photo: © AFP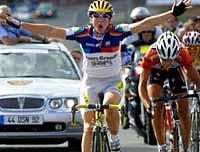 Nicole Cooke from Wales has won the 7th leg of the women's World Cup in Plouay, France, and increased her lead in the points classification. She now has an advantage of 118 points before the two last races: GP Suisse (Sept. 7th) and Rotterdam Tour (Sept. 14th). With 75 points allocated to the winner of each leg and 50 for the runner up, it's now highly likely that the 20 year old British cyclist will win her first overall World Cup title this year.
"It's a dream," she said after the finish. "I was so upset last year that I couldn't come and do this World Cup race in Plouay... but it was better to wait until I could do a fantastic race here. This is the place where I became the junior World Champion. This is where it all started for me. I have very amazing memories of the World's on this circuit."
It was unknown before the race whether Cooke would be competitive or not. "I had two crashes," she explained. "I first had seven stitches on my knee and again at the end of June I crashed and because of that crash, I had to have the whole month of July without riding my bike. In August I started very low. After 25 days of riding, I was able to win a World Cup, but I was very scared because last time I raced was on the 23rd of June which is a very long time ago. I tried to come back very gradually."
Still in the stripes
Photo: © AFP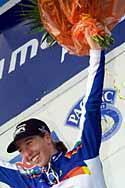 Nothing happened in the GP Plouay until the third of the eight laps when Jeannie Longo accelerated. She inspired former French champion Magali Le Floc'h who went away on her own and got one minute lead but got caught during lap 5. Again it was after an attack from Longo that the bunch split and another French rider took off. Juliette Vandekerckhove had a maximum lead of 55 seconds before she was rejoined by Judith Arndt, Mirjam Melchers, Arenda Grimberg, Joane Somarriba, Maribel Moreno, Nicole Cooke, Modesta Vzisnauskaite and Lyne Bessette, who later disappeared from the front group.
During the last lap, the breakaway split in two and Cooke was the fastest on the finishing line of the circuit Jean-Yves Perron.
Photography
Images by AFP Photo
Images by Jean-Francois Quenet
Images by Syd Hancock
Results
1 Nicole Cooke (GBr) Ausra Gruodis-Safi                  2.59.45
2 Judith Arndt (Ger) Nurnberger
3 Mirjam Melchers (Ned) Farm Frites-Hartol
4 Joane Somarriba (Spa) Spanish National Team
5 Juliette Vandekerckhove (Fra) French National Team        0.25
6 Arenda Grimberg (Ned) Farm Frites-Hartol
7 Modesta Vzesniauskaite (Lit) Ausra Gruodis-Safi
8 Maribel Moreno (Spa) Spanish National Team                0.30
9 Lyne Bessette (Can) Canadian National Team                1.02
10 Regina Schleicher (Ger) Chirio-Forno d'Absolo            1.21
11 Diana Ziliute (Lit) Acca Due O Pasta Zara
12 Olga Slioussareva (Rus) Russian National Team
13 Madeleine Lindberg (Swe) Nürnberger Versicherung
14 Chantal Beltman (Ned) Acca Due O Pasta Zara
15 Katia Longhin (Ita) Acca Due O Pasta Zara
16 Eneritz Iturriaga (Spa) Spanish National Team
17 Karen Bockel (Ger) Team Rona-Esker
18 Magali Le Floc'h (Fra) Team Rona-Esker
19 Sarah Ulmer (NZL) Team Composite 2
20 Sylvie Riedle (Fra) Bretagne
21 Nadia Triquet (Fra) French National Team
22 Miho Oki (Jap) Farm Frites-Hartol
23 Rosalind Reekkie May (NZL) Team Composite 2
24 Erinne Willock (Can) Team Rona-Esker
25 Isabella Wieser (Aut) Austrian National Team
26 Elisabeth Chevanne-Brunel (Fra) Bretagne
27 Suzanne de Goede (Ned) Farm Frites-Hartol
28 Bogumila Matusiak (Pol) Bonda-Lukowski
29 Marina Khotchenkova (Rus) Chirio-Forno d'Absolo
30 Frances Newstead (GBr) British National Team
31 Andrea Graus (Aut) Austrian National Team
32 Delphine Guillé (Fra) French National Team
33 Emma James (Aus) Team Composite 1
34 Sandrine Marcuz (Fra) French National Team
35 Rachel Heal (GBr) British National Team
36 Christine Soeder (Aut) Austrian National Team
37 Sara Carrigan (Aus) Bik Powerplate
38 Zita Urbonaite (Lit) Acca Due O Pasta Zara
39 Zlatica Bazola (Fra) Ile de France
40 Teodora Ruano (Spa) Spanish National Team
41 Edwige Pitel (Fra) French National Team
42 Jeannie Longo (Fra) Ile de France
43 Manon Jutras (Can) Canadian National Team
44 Sharon van Essen (Ned)
45 Heather Albert (USA) Team Composite 1
46 Susan Palmer (Can) Canadian National Team
47 Alexandra Le Henaff (Fra) Bretagne                       1.29
48 Giorgia Bronzini (Ita) Ausra Gruodis-Safi
49 Charlotte Goldsmith (GBr) British National Team
50 Andrea Hannos (Can)
51 Christina Redden (Can) Canadian National Team
52 Sarah Grab (Swi) Swiss National Team
53 Indre Januleviciute (Lit) Acca Due O Pasta Zara
54 Catherine Marsal (Fra) Team Rona-Esker
55 Margaret Hemsley (Aus) Nürnberger Versicherung
56 Trixi Worrack (Ger) Nürnberger Versicherung
57 Gaby Buchel (Swi) Swiss National Team                    1.49
58 Catherine Hare (GBr) British National Team               1.57

World cup standings after round 7


1 Nicole Cooke (GBr) Ausra Gruodis                 282 pts
2 Sara Carrigan (Aus) Powerplate Bik               164
3 Mirjam Melchers (Ned) Farm Frites-Hartol         159
4 Judith Arndt (Ger) Nurnberger                    157
5 Regina Schleicher (Ger)                          131
6 Anita Valen (Nor)                                97
7 Zoulfia Zabirova (Rus)                           94
8 Olivia Gollan (Aus)                              87
9 Katie Mactier (Aus)                              80
10 Edita Pucinskaite (Lit)                         76