Vuelta News for September 16, 2003
Edited by Chris Henry
Time out for the tired peloton
Vuelta rest day summary
By Hernán Alvarez Macías
ONCE in the lead, always in the lead
Photo: © AFP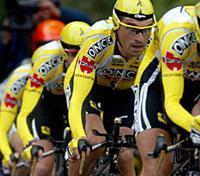 After 10 days, after mountains, flats and sprints, after 1,416.8 kilometres of racing, the racers' bodies ask for a break. Surely every man competing in this Vuelta España 2003 must be thankful for this rest day. Some are very tired, some are sick, some are injured; there's always a reason to enjoy this rest day without thinking of the time and the rivals. Although most of them will "rest" by riding their bikes, the rides will be short and easy.
There's no doubt that thus far, the Vuelta has seen the ONCE-Eroski team's greatest dream accomplished. The team of Manolo Saiz holds the top two places in the general classification with Isidro Nozal and Igor González de Galdeano, ONCE has won three stages (Stages 1, 6 and 8), and it currently leads the team classification. The men in yellow are devastating their opponents. That was something predictable in a way taking into account the ONCE's history in the Vuelta España, and Saiz's desire to see his team leave the professional peloton on the highest possible note.
What surprises much more is the excellent race ridden by Isidro Nozal so far. He arrived to Gijón as Igor's supporter and he became the team leader within the first week. Not only did he win the individual time trial in Zaragoza, but also he stoically resisted the attacks and tactics of the climbers in the three Pyrenean stages. In the mountains he was still supporting González de Galdeano and going back to the team car for bidons. Even helping and working for his teammate, he showed outstanding form. From this point on, he will have the chance to show he is capable of winning a three week long competition.
Unexpected leader
Photo: © Unipublic

In the beginning of the Vuelta in Gijón, ONCE demonstrated that it was once again the best team in the world against the clock. ONCE prevailed over its rivals with perfect coordination and team spirit. ONCE reclaimed its bragging rights, beating US Postal Service and avenging its defeat in the Tour de France team time trial in July.
In the third stage it was the turn of Alessandro Petacchi (Fassa Bortolo) as he achieved a victory on Spanish soil and equalled an old record of winning stages in the three grand tours in the same year. Petacchi proved that in his third grand tour of the year he is still the fastest sprinter of the moment, and declared his ambitions to finish the Vuelta in Madrid with the points jersey on his back.
In the Stage 6 individual time trial, everybody was expecting the triumph of David Millar, Jan Hruska or Igor González de Galdeano. In the end it was Nozal who proved he was there to stay and he destroyed other's times with an amazing tempo. Manuel Beltran (US Postal Service-Berry Floor) also had a very good time trial considering his talent in the mountains.
Dark horses
Photo: © AFP

The Vuelta offered no chance for recovery after the time trial because the next day was the first real mountain stage with difficult climbs like the Col d'Aubisque in France and an uphill finish in Cauterets. Roberto Heras (USPS) attacked trying to hurt ONCE's men, as did Beltran, but Nozal once again maintained his composure and didn't lose much time against his closest rivals.
The other two days in the Pyrenees were more of the same: "EL Guri" Nozal was protecting his designated leader González de Galdeano, while Heras, Aitor González (Fassa Bortolo), Félix Cardenas (Labarca 2-Café Baque), Aitor Osa (iBanesto.com) and Michael Rasmussen (Rabobank) continued attacking but never really got a good gap against the leaders.
In the midst of these big days of racing we have seen deserved victories of Luis Pérez (Cofidis), Rasmussen and Alejandro Valverde (Kelme-Costa Blanca). Pérez showed a huge improvement in this edition of the Vuelta, as well as "Chicken" Rasmussen. Valverde is a name to take into consideration; he has become Kelme's new team leader after Oscar Sevilla's crash and struggle just to stay in the race. Valverde is just 23 years old. Sevilla and Angel Casero (Team Bianchi), two animators in the last editions of the Vuelta, are very far from the leaders in the general classification due to injuries, and won't remember this Vuelta with much affection.
The Vuelta resumes on Wednesday with Stage 11, a rolling 162km transitional stage from Utiel to Cuenca.
An interview with Michael Rasmussen
Vuelta blond ambition
By Hernán Alvarez Macías
Built for going up
Photo: © Unipublic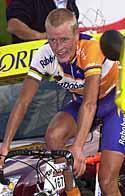 Nicknamed "chicken" because of his very thin legs, Danish rider Michael Rasmussen won the first Pyrenean stage of the Vuelta España last Friday. He didn't relax for the whole weekend and finished up as perhaps the best in the Pyrenees with his first place in Cauterets, ninth in Plá de Beret and tenth in Andorra. He seemed the most combative rider in the mountains although Félix Cárdenas has the mountain leader's jersey.
After his extraordinary career as a mountain biker where he was world champion in 1999, Rasmussen decided to move to road cycling with some very good results. This is his first grand tour as team leader (after making his grand tour debut last year in the Giro in support of Tyler Hamilton), and he has made a sensational start. Nevertheless, he is struggling for a better position than ninth on the general classification. He wants to be on the podium in Madrid.
Click here for the full interview.
Casero carries on
Despite losing nearly an hour and a half through the Vuelta a España's first weekend in the mountains, Team Bianchi leader Angel Casero is not planning on an early exit from the race. Suffering from an inflammation in his knee which has wiped away his hopes of winning a second Vuelta title, Casero remains determined to carry on.
"When it's not possible to do what you initially planned, it's important to try to recover and find the morale because there are many days left to race," Casero told Europa Press.
Casero is no doubt frustrated by the pain in his knee, having arrived at the Vuelta start in what he considered to be very good condition. "When it comes to an injury, all you can do is hold on and try to recover," he said.
At the Vuelta's first rest day, Casero sits in 89th place overall, 1 hour 29 minutes behind race leader Isidro Nozal of ONCE-Eroski.
Zülle's Vuelta swan song
After abandoning the Vuelta a España on Sunday's Stage 9, Phonak's Alex Zülle declared that he will no longer be seen in the grand tours. The Swiss veteran, twice a winner of the Vuelta, had indicated prior to the race start that this year's edition would be an important test to determine whether or not he would continue riding in 2004. Based on his comments it appears retirement is not yet the route he will take, but his focus will shift for the next season.
"I couldn't follow the rhythm," he explained on Spanish radio. "This was my last grand tour. I'm going to take another look at my schedule for next year, and I'll only race the smaller tours and the classics."
Zülle remains under contract with Phonak for the 2004 season.
(All rights reserved/Copyright Knapp Communications Pty Limited 2003)