58th Vuelta a España - Spain, September 6-28, 2003
An interview with Michael Rasmussen
Vuelta blond ambition
By Hernán Alvarez Macías
Built for going up
Photo: © Unipublic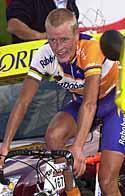 Nicknamed "chicken" because of his very thin legs, Danish rider Michael Rasmussen won the first Pyrenean stage of the Vuelta España last Friday. He didn't relax for the whole weekend and finished up as perhaps the best in the Pyrenees with his first place in Cauterets, ninth in Plá de Beret and tenth in Andorra. He seemed the most combative rider in the mountains although Félix Cárdenas has the mountain leader's jersey.
After his extraordinary career as a mountain biker where he was world champion in 1999, Rasmussen decided to move to road cycling with some very good results. This is his first grand tour as team leader (after making his grand tour debut last year in the Giro in support of Tyler Hamilton), and he has made a sensational start. Nevertheless, he is struggling for a better position than ninth on the general classification. He wants to be on the podium in Madrid.
Cyclingnews: I guess you are very happy with your performance in these last three days?
Michael Rasmussen: I was hoping for a little bit more today (Stage 9th finishing in Andorra), but I have to be satisfied for sure.
CN: Tell us about your outstanding stage win last Friday...
MR: I was feeling very strong all day long. Initially I was going to mark Roberto Heras because I guess he was the big favourite for that stage. He was riding very strongly until the bottom of Cauterets and I just felt strong and strong as the day went on. Of course I was very happy that I succeeded.
CN: How do you explain this excellent mountain form you have?
MR: Well, I've usually always raced well in August and September. I prepared very well for this Vuelta and I'm very motivated. And also I'm riding here as the team captain for the first time in a Grand Tour, so there's a lot of responsibility, but it's also very motivating for me.
CN: What are your expectations for the next stages of the Vuelta?
MR: We go into some transition stages where probably the breakaways will go, but it's very difficult because you have to be aware of the wind. But luckily I still have a full team here, and they all support me 100 percent. And usually they are very good in the crosswinds, the Dutch team. But then of course I'm looking forward to the Pandera.
CN: Tell us about your past performances, I know you had competed in mountain bike races and that you were world champion in this discipline. What is it like to change from that kind of competitions to road cycling?
MR: It's been pretty easy for me since I've always raced a lot on the road. I started as a road rider in mountain biking when I was junior, but I've always done well on the road. And I've been training with road professionals, so the step was not very big for me.
CN: And what are the major differences that you notice between both disciplines?
MR: I think that road cycling is the Formula 1 of cycling. I mean, it's the first division here and I'm very fortunate to be on a big team (Rabobank) so I can take part in all these big events. And it's a lot more professional than mountain biking because of the exposure and the amount of money that's available for everything.
CN: Why did you change?
In the stage 8 break
Photo: © AFP

MR: It was a matter of ambition and motivation. I've been doing mountain biking for ten years and it seemed like the mountain bike world was sort of on a slide. The races were always getting shorter and shorter, and we ended up only having six races in a year of any importance. On the road you have maybe 100 races in one year and if you just win one of them then you've done very well. In mountain biking you only have five or six races and if you don't win, you're nobody.
CN: Talking about the Grand Tours, do you have a special dream for the big three?
MR: Probably my dream is to end on the podium in Madrid. It's very difficult, it will be so very difficult for me, but you're allowed to have dreams. But in the long run, I have a dream of winning on Alpe d'Huez. I was hoping to at least be able to compete there this year, but it didn't happen. Hopefully I will have the chance in the future.
CN: What is the balance of your season so far?
MR: So far, it's been a very good year for me. I was looking for a victory and I got on Friday and it was a huge satisfaction for me.