Vuelta News forSeptember 7, 2003
Edited by Chris Henry
Gonzalez de Galdeano realistic
Igor cautiously optimistic
Photo: © AFP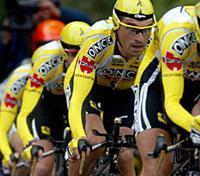 Despite looking disappointed with his ride as he led the ONCE-Eroski team across the line in Saturday's opening team time trial at the Vuelta a España, pre-race favourite Igor Gonzalez de Galdeano now finds himself in the first leader's jersey. ONCE beat closest rival US Postal Service by 10" and proved once again its prowess in the team time trial, particularly on home soil. Happy with the early success, Gonzalez de Galdeano also knows not to put too much stake in wearing the jersey early on.
"This has just begun, we've got to keep our feet on the ground," he commented after stage 1. "There's so much racing left and anything can happen. We've already won a battle, but the war has just started. I've got to be focused all the competition long."
"In 1999 I was the leader of the Vuelta in the first stage," he added. "I was a young rider and I didn't have much experience. Now I've ridden many more races and I guess I'm a better cyclist."
Igor was also keen to note the success his family has shared on the roads of Gijón. "It's a good place for us, as my brother Alvaro also won a stage here," he said. "I knew US Postal and Banesto were going to ride outstanding time trials, but I was surprised by the bad day Bianchi and Fassa Bortolo had,"
Lombardi shares Vuelta ambitions
Mario Cipollini may be back in the Vuelta, and by extension his Domina Vacanze team has reclaimed its place in the race after organisers threatened to oust the wildcard selection, but Cipollini's teammates have plenty of ambition of their own for the three week race. Leadout man and fast finisher Giovanni Lombardi is one such rider, who with or without Cipo is eager to prove himself on the roads of Spain. Already a winner of a stage in this year's Giro d'Italia, Lombardi hopes for more at the Vuelta.
"After the Giro d'Italia, I started thinking about the Vuelta and I have done specific training sessions for the race," Lombardi told Cyclingnews before the Vuelta's opening stage. "I hope I can do a good race... this is to say to win at least one stage. I also want to be selected for the world championships."
Besides the prestige of a good performance in a grand tour, Lombardi has additional personal motivation to ride well at the Vuelta. "I live in Madrid with my girlfriend and I feel very comfortable there," he explained, adding that his choice to live in Spain was due in no small part to the country's being the warmest in Europe. "I'm delighted with the city. I live in the downtown, in an area called Chueca and I also opened a gift shop."
The latest Cipollini saga, where the world champion's withdrawal from the Domina Vacanze Vuelta roster prompted organiser Unipublic to reject the entire team, did not sit well with Lombardi. "Personally, I actually didn't like it because I prepared a lot for this competition and not having the possibility to race for reasons beyond my control would have been very upsetting for me. It would have been very stressful."
Sastre ready to build on Tour success
Sastre's ready
Photo: © Sirotti

Carlos Sastre provided Team CSC with one of three Tour de France stage wins, as well as strong support of team leader Tyler Hamilton, and is now ready to dispute the Vuelta a España in his own leadership role. Sastre has already claimed the Vuelta's climber's jersey in 2001, but this year has his sights set on the general classification.
"I have prepared myself well for this Vuelta and I know what it takes to do well in the race," he said on the team's website. "I have been keeping a low profile and taken great care of myself in the days leading up to the race."
Sastre showed some of his best climbing form when he won the Tour's 13th stage from Toulouse to Plateau de Bonascre, winning alone by just over a minute ahead of Jan Ullrich and the main Tour protagonists.
"I feel that I have recovered from my Tour effort and I know that the team is ready to back me," he said. "The route suits my kind of rider and I know many of the climbs very well."
Millar looks to TTs
David Millar (Cofidis) is looking once more to make his mark in the time trials at this year's Vuelta a España. Winner of recent tests against the clock in both the Tour de France and the Vuelta a Burgos, the Scot is hoping for good legs and a quiet first week of racing.
"My preparation for the Vuelta hasn't been as intensive as last year," he said on his personal website. "I feel good so I'm hoping to do well in the race. There are three time trials so I'm aiming to win at least one. I also want a road stage."
Last year Millar quit the Vuelta in protest over what he felt were excessively dangerous conditions on the fearsome stage finishing atop the Angliru climb. Not feeling the pressure of a candidate for the general classification, Millar has specific targets throughout the three week race.
"There will be no pressure in the first week and I can use it to build on my form," he explained. "Without an opening prologue or time trial I won't really feature over the early stages anyway, so I'm hoping to be relaxed and ready for the first time trial."
Virenque's Vuelta test
Richard Virenque, king of the mountains and yellow jersey for a day in this year's Tour de France, remains undecided about his plans for the remainder of the season. In particular, Virenque has not committed to representing France at the world championships in Hamilton, Canada. Underway with Quick.Step-Davitamon in the Vuelta a España, Virenque plans to evaluate his options after the opening of his second grand tour of the season.
"I just want to see where I am at the end of the season," he told l'Equipe of his Vuelta plans. "I've set the Pyrénées as a target. If I feel good I'll keep going until the world championships or the Giro di Lombardia, and if not I'll go home right away. The Pyrénées will decide everything."
Virenque is inspired by the thought of racing the world's in Canada, but only if his condition- physical and mental- is suitable. "We all know the parcours is very difficult, and I don't want to go if I'm not capable of riding for the victory," he explained. "It's tough to travel so far with the difference in time zones... I need to go convinced that I can do very well, and only the beginning of the Vuelta can confirm that."
Virenque and his Quick.Step teammates offered a strong performance in the opening team time trial in Gijón, finishing 5th (at 48") behind specialists and pre-race favourites ONCE-Eroski.
Stage 1 medical report
During Sunday's stage 1 team time trial, the Colchon Relax-Fuenlabrada team suffered a crash. Santiago Blanco, number 51, was one of the most affected with a fracture of his left cheek bone, although his vision was not affected. He also suffered a contusion on his left shoulder. Nacor Burgos suffered contusions on his ankle, right knee, lower back, and José Maestre also received multiple contusions.
Franco announces retirement
The Director General of the Vuelta a España, Enrique Franco, announced his retirement during the traditional meeting held between the race organisation and the media before the race's first stage. Joining Franco in retirement will be the race's Technical Director Alberto Gadea.
Courtesy: lavuelta.com
(All rights reserved/Copyright Knapp Communications Pty Limited 2003)