Vuelta News forSeptember 6, 2003
Edited by Chris Henry & Jeff Jones
La Vuelta gets ready
By Hernán Alvarez Macías in Gijón
2002 winner Aitor Gonzalez
Photo: © AFP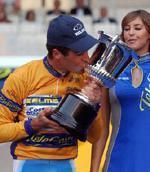 Everything is ready in Gijón for the start of the 58th edition of the Vuelta a España, with the team time trial which will take place today in the city's streets. There's enormous expectation in the city, in Spain, and anywhere where there are cycling fans. As was the case in the last few editions, Spanish riders such as Aitor Gonzalez, Oscar Sevilla or Roberto Heras seem to be the favourites for winning the overall classification.
Apart from this trio, a number of other top riders will take part in the Vuelta a España, including Erik Zabel, Mario Cipollini and Dario Frigo. They won't contest the general classification, but they will certainly add plenty of entertainment to the last of the Grand Tours of this year. "Super Mario" finally came after some problems with Unipublic, the company that organizes the Vuelta, and we will see if the Lion King can "resist" until the end of the Vuelta. It should also be added that Scot David Millar (Cofidis), French climber Richard Virenque (Quick.Step), American Levi Leipheimer (Rabobank) or top Italian sprinter Alessandro Petacchi (Fassa Bortolo) will all be on the start line.
Gijón smells like cycling. The locals observed all the preparations with awe and admiration. If you walked by the sea, in the Avenida del Molinón, you could see some teams training like Rabobank, Phonak or ONCE.
Lance Armstrong and Jan Ullrich, the two big "gladiators" in the last Tour de France, will be absent, both tired after a season concentrating on the Tour. Joseba Beloki won't take the start either. He will be another big absence in the Spanish race after his accident in the Tour.
The official presentation of the riders took place on Thursday and was broadcasted all over Spain. The official event of yesterday was the gala dinner, reserved only for authorities and VIP's involved in the race.
Stage 1 - September 6: Gijón Team Time Trial, 28 km
The Vuelta begins with a 28 km team time trial in the streets of Gijón. It will be a great opportunity for teams like ONCE-Eroski, US Postal Service and Kelme Costa Blanca to commence the competition with the top place in the teams classification. The start and finish line will be separated by just 500 meters in one of the central regions of the Spanish city. The riders will begin near "El Molinón" Stadium and will finish in the Avenida del Molinón after 28 km. The route is very flat and it only has the third category climb of "Alto de la Providencia" (just 105m) to be overcome.
A number of riders have the chance to take the golden leader's jersey, such as Spaniard José Luis Rubiera (US Postal) or his compatriot Igor Gonzalez de Galdeano (ONCE-Eroski). We can also count on Kelme's Oscar Sevilla or his team mate Alejandro Valverde to become the first leader in the 2003 edition of the Vuelta.
Kintana out of Vuelta
Labarca 2-Café Baque has lost Aitor Kintana from its Vuelta line up after the rider received a confirmation of a positive test for EPO. Kintana returned a positive result for EPO after a test at the Volta a Catalunya. Following a positive result in the requested counter-analysis, Kintana has been removed from Labarca's roster and will be replaced by Ivan Herrero. Labarca had already lost recent Colombian recruit Buenahora due to injury and will pin its hopes on another former Orbitel 05 rider, Felix Cardenas.
Saiz wants to leave on top
Facing an uphill struggle in his search for a new sponsor for 2004, ONCE-Eroski director Manolo Saiz is nonetheless looking forward to a successful Vuelta a España, a race his team has won four times since 1989. "As I have the feeling that this could be my last Tour of Spain- and ONCE's for sure- then we have to pull out all the stops," Manolo said, quoted in a Reuters report.
ONCE's Vuelta charge will be led by Igor Gonzalez de Galdeano, who finished second in 1999 and wore the leader's yellow jersey in last year's Tour de France. Gonzalez de Galdeano missed this year's Tour due to a suspension preventing him from riding on French soil, and was also injured in June. Saiz noted that he hopes to see ONCE ride the Vuelta "in a way which will do honour to the team's history in this race."
Team leader Joseba Beloki will be forced to watch the race from home, still recovering from his season-ending crash in stage 9 of this year's Tour de France. Beloki remains without a contract for 2004, taking his chances for the moment by waiting for Saiz to secure a replacement sponsor.
"I would prefer to stay with Manolo, because I believe in his project and things have gone very well in the past few years," Beloki told Marca. "The idea of going to a foreign team, at 30 years old, does not entice me, but I may have no other solution."
Beloki: "The route suited me"
Joseba Beloki (ONCE-Eroski) will suffer the frustration of missing his national tour due to injury, unable to take the start as team leader. Beloki's crash in the Tour de France put an end to his season, and the ONCE leader has not hidden his sadness at missing a Vuelta that he feels could have gone his way.
"Missing it makes me terribly envious," Beloki commented in Spanish daily Marca. "Whatever happens, the parcours suited my characteristics like no other: three mountain stages in the Pyrénées, an opening team time trial, the time trials in Zaragoza and Albacete, the Pandera, Sierra Nevada, and the hill climb time trial at Abantos are the specialties that have always favoured me. The route suited me."
Even with his name out of the running, Beloki too envisions a Spanish-dominated Vuelta, with the likely winner emerging from a group including teammate Igor Gonzalez de Galdeano, Roberto Heras (US Postal), Aitor Gonzalez (Fassa Bortolo), Oscar Sevilla (Kelme), and Angel Casero (Bianchi).
"I don't dare name a favourite," he said, adding naturally that he would prefer to see ONCE emerge victorious.
(All rights reserved/Copyright Knapp Communications Pty Limited 2003)