Vuelta News forAugust 20, 2003
Edited by Jeff Jones
Petacchi chases Baffi Senior's record at Vuelta
By Tim Maloney, European Editor
Alessandro Petacchi crossing the finish line just ahead of Erik Zabel
Photo ©: AFP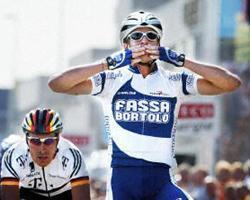 When Alessandro Petacchi took the sprint in the 185 kilometre first stage of the ENECO Ronde van Nederland between Middelburg and Rotterdam on August 19, it was his 18th win of the 2003 season for the Fassa Bortolo rider. Petacchi has had a breakthrough season in 2003 with multiple stage wins in the Giro and Tour and may now be headed to the Vuelta a Espaņa.
"After riding many criteriums in Holland and Belgium after the Tour, which was a great experience, I'll see at the Tour of Holland what my real condition is," declared Petacchi. "I have to decide if I'm going to do the Vuelta or not...if I'm feeling really good, I want to ride since I really like the Vuelta."
Should Petacchi win stages in the Giro d'Italia, Tour De France and Vuelta a Espaņa this year, he will be only the third rider in history to manage that exceptional feat.
45 years ago, riding for the Chlorodont team in 1958, Pierino Baffi, father of Adriano Baffi, won six stages in Grand Tours that year; Stage 12 of the Giro, Stage 10, 16 and 24 of the Tour as well as the 3rd and 14th stage of the Vuelta. Also Miguel Poblet won stages 4, 8, 14, and 16 of the 1956 Giro, Stage 8 of the Tour de France that year, and stages 3, 5, and 6 of the Vuelta. "It would be great to leave my mark on all three Grand Tours this year," said Petacchi.
Perhaps the Fassa Bortolo man will renew his match with Mario Cipollini at the Vuelta, as the World Champion will likely ride the Spanish race. "If Mario is (at the Vuelta), the sprints will be even more spectacular. That won't be my main reason for riding the Vuelta, but it will give me extra motivation if Mario is there."
(All rights reserved/Copyright Knapp Communications Pty Limited 2003)
Recently on Cyclingnews.com