Recently on Cyclingnews.com
43rd ENECO Ronde van Nederland - 2.1
Netherlands, August 19-23, 2003
Stage 1 - August 19: Middelburg - Rotterdam, 185 km
Petacchi still on form
Alessandro Petacchi crossing the finish line just ahead of Erik Zabel
Photo ©: AFP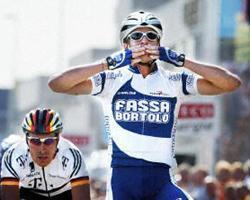 Alessandro Petacchi (Fassa Bortolo) demonstrated Tuesday that he hasn't lost the sprinting form that took him to a combined ten stage wins in this year's Giro d'Italia and Tour de France. Petacchi outsprinted Erik Zabel (Telekom) and Robbie McEwen (Lotto-Domo) to take the opening road stage of the ENECO Ronde van Nederland (Tour of Holland). Dutchman Bert Hiemstra of Bankgiroloterij slipped ahead of McEwen to take third place in the general classification thanks to his aggressive riding and the benefit of bonification sprints.
The first break of the Tour was launched by Gert Steegmans en René Andrle after just 7km, but the move was short-lived. An abundance of intermediate sprints kept the race active all day, and it was Hiemstra who escaped alone in a counter attack and later took the first of the bonification sprints in Serooskerke, picking up three seconds in addition to the three of the four daily sprints. Hiemstra was eventually joined in the lead once more by Andrle, Michael Sandstöd, and the indefatigable Ludo Dierckxsens.
By the 98km mark the lead group had a lead of six minutes, but the sprinters' teams quickly decided enough was enough. The quartet stayed clear to pick up the final intermediate sprint, but by the outskirts of Rotterdam the advantage had fallen to little over two minutes. Gerben Löwik tried his hand at a late stage attack, but there was no stopping the peloton now, and Petacchi timed his final surge to perfection, beating the German national champion Zabel and taking the first leader's jersey of the 2003 ENECO Tour.
Photos
Images by Frans Meijer
Results
1 Alessandro Petacchi (Ita) Fassa Bortolo                          4.09.41
2 Erik Zabel (Ger) Team Telekom
3 Robbie Mcewen (Aus) Lotto-Domo
4 Aart Vierhouten (Ned) Lotto-Domo
5 Andrus Aug (Est) De Nardi-Colpack
6 David Kopp (Ger) Team Telekom
7 Oscar Freire (Spa) Rabobank
8 Max Van Heeswijk (Ned) US Postal presented by Berry Floor
9 Tom Boonen (Bel) Quick.Step-Davitamon
10 Bradley Mcgee (Aus) FDJeux.com
11 Allan Davis (Aus) O.N.C.E.-Eroski
12 Fred Rodriguez (USA) Vini Caldirola-SO.DI
13 Allan Bo Andresen (Den) Team fakta
14 Yuri Mitlushenko (Ukr) Landbouwkrediet-Colnago
15 Francesco Chicchi (Ita) Fassa Bortolo
16 Rudi Kemna (Ned) Bankgiroloterij Cycling Team
17 Sven Teutenberg (Ger) Team Bianchi
18 Stefan Van Dijk (Ned) Lotto-Domo
19 Xavier Florencio (Spa) O.N.C.E.-Eroski
20 Angel Castresana (Spa) O.N.C.E.-Eroski
21 Andrej Hauptmann (Slo) Vini Caldirola-SO.DI
22 Aurélien Clerc (Swi) Quick.Step-Davitamon
23 Steffen Radochla (Ger) Team Bianchi
24 Rik Reinerink (Ned) Bankgiroloterij Cycling Team
25 Servais Knaven (Ned) Quick.Step-Davitamon
26 Frank Hoj (Den) Team fakta
27 Rafael Nuritdinov (Uzb) De Nardi-Colpack
28 Bart Voskamp (Ned) Bankgiroloterij Cycling Team
29 Stefan Adamsson (Swe) Team Bianchi
30 Fabrizio Guidi (Ita) Team Bianchi
31 Benoit Joachim (Lux) US Postal presented by Berry Floor
32 Marc Wauters (Bel) Rabobank
33 Guido Trenti (USA) Fassa Bortolo
34 Gerben Löwik (Ned) Bankgiroloterij Cycling Team
35 Tristan Hoffman (Ned) Team CSC
36 Michael Boogerd (Ned) Rabobank
37 Guennadi Mikhailov (Rus) US Postal presented by Berry Floor
38 Tyler Hamilton (USA) Team CSC
39 Bram Schmitz (Ned) Bankgiroloterij Cycling Team
40 Bert Hiemstra (Ned) Bankgiroloterij Cycling Team
41 Maarten Den Bakker (Ned) Rabobank
42 Simone Cadamuro (Ita) De Nardi-Colpack
43 Mikhail Timochine (Rus) Landbouwkrediet-Colnago
44 Werner Riebenbauer (Aut) Team fakta
45 Robert Bartko (Ger) Rabobank
46 Kevin Hulsmans (Bel) Quick.Step-Davitamon
47 Wilfried Cretskens (Bel) Quick.Step-Davitamon
48 Vjatceslav Ekimov (Rus) US Postal presented by Berry Floor
49 Gianluca Sironi (Ita) Vini Caldirola-SO.DI
50 Lars Bak (Den) Team fakta
51 Kim Kirchen (Lux) Fassa Bortolo
52 Sergei Gontchar (Ukr) De Nardi-Colpack
53 Fabian Cancellara (Swi) Fassa Bortolo
54 Victor-Hugo Pena (Col) US Postal presented by Berry Floor
55 Leon Van Bon (Ned) Lotto-Domo
56 Ludo Dierckxsens (Bel) Landbouwkrediet-Colnago
57 Bram Tankink (Ned) Quick.Step-Davitamon
58 Jeroen Blijlevens (Ned) Bankgiroloterij Cycling Team
59 Benoit Vaugrenard (Fra) FDJeux.com
60 Johan Verstrepen (Bel) Landbouwkrediet-Colnago
61 Mikel Zarrabeitia (Spa) O.N.C.E.-Eroski
62 Marco Velo (Ita) Fassa Bortolo
63 Leonardo Giordani (Ita) De Nardi-Colpack
64 Paul Van Hyfte (Bel) Team CSC
65 Stephan Schreck (Ger) Team Telekom
66 Jimmi Madsen (Den) Team CSC
67 Jacob Moe Rasmussen (Den) Team fakta
68 Geert Van Bondt (Bel) Team CSC
69 Rolf Aldag (Ger) Team Telekom
70 David Arroyo (Spa) O.N.C.E.-Eroski
71 Christophe Von Kleinsorgen (Ger) Team Bianchi
72 Lorenzo Bernucci (Ita) Landbouwkrediet-Colnago
73 Hans De Clercq (Bel) Lotto-Domo
74 Malte Urban (Ger) Team Bianchi
75 Johan Museeuw (Bel) Quick.Step-Davitamon
76 Daniel Becke (Ger) Team Bianchi
77 Antonio Cruz (USA) US Postal presented by Berry Floor              0.16
78 Laslo Bodrogi (Hun) Quick.Step-Davitamon
79 Bjarke Nielsen (Den) Team fakta
80 Mauro Radaelli (Ita) Vini Caldirola-SO.DI
81 Julian Winn (GBr) Team fakta
82 Michael Reihs (Den) Team fakta
83 Simone Masciarelli (Ita) Vini Caldirola-SO.DI
84 Marco Zanotti (Ita) Fassa Bortolo                                  0.45
85 Pavel Padrnos (Cze) US Postal presented by Berry Floor             0.56
86 Bradley Wiggins (GBr) FDJeux.com
87 René Andrle (Cze) O.N.C.E.-Eroski                                  0.58
88 Sergei Ivanov (Rus) Fassa Bortolo                                  1.32
89 Rafael Diaz Justo (Spa) O.N.C.E.-Eroski                            2.00
90 Angel Vicioso (Spa) O.N.C.E.-Eroski
91 Glenn D'hollander (Bel) Lotto-Domo
92 Cadel Evans (Aus) Team Telekom
93 Michael Sandstöd (Den) Team CSC
94 Kurt Van Landeghem (Bel) Landbouwkrediet-Colnago
95 Bram De Groot (Ned) Rabobank
96 Koos Moerenhout (Ned) Lotto-Domo
97 David Derepas (Fra) FDJeux.com
98 Wesley Van Speybroeck (Bel) Landbouwkrediet-Colnago
99 Ludovic Capelle (Bel) Landbouwkrediet-Colnago
100 Ondrej Fadrny (Cze) De Nardi-Colpack                              4.00
101 Massimo Apollonio (Ita) Vini Caldirola-SO.DI                      4.27
102 Gian Matteo Fagnini (Ita) Team Telekom
103 Andrea Rossi (Ita) De Nardi-Colpack
104 Jans Koerts (Ned) Bankgiroloterij Cycling Team
105 Steven De Jongh (Ned) Rabobank
106 Erik Dekker (Ned) Rabobank
107 Jimmy Casper (Fra) FDJeux.com                                     7.04
108 Jacky Durand (Fra) FDJeux.com
109 Baden Cooke (Aus) FDJeux.com
110 Nicolas Jalabert (Fra) Team CSC
111 Gert Steegmans (Bel) Lotto-Domo
112 Gabriele Balducci (Ita) Vini Caldirola-SO.DI
113 Steffen Kjaergaard (Nor) US Postal presented by Berry Floor       7.38
DNS Arvis Piziks (Lat) Team CSC
DNS Andreas Klier (Ger) Team Telekom
DNF Andreas Kloden (Ger) Team Telekom
DNF Matthew Wilson (Aus) FDJeux.com
 
Points
 
1 Alessandro Petacchi (Ita) Fassa Bortolo                               15 Pts
2 Erik Zabel (Ger) Team Telekom                                         12
3 Robbie Mcewen (Aus) Lotto-Domo                                        10
4 Aart Vierhouten (Ned) Lotto-Domo                                       8
5 Andrus Aug (Est) De Nardi-Colpack                                      6
6 David Kopp (Ger) Team Telekom                                          5
7 Oscar Freire (Spa) Rabobank                                            4
8 Max Van Heeswijk (Ned) US Postal presented by Berry Floor              3
9 Tom Boonen (Bel) Quick.Step-Davitamon                                  2
10 Bradley Mcgee (Aus) FDJeux.com                                        1
 
Bonification sprints
 
Serooskerke, km 39.2
 
1 Bert Hiemstra (Ned) Bankgiroloterij Cycling Team                       3 Seconds
2 Maarten Den Bakker (Ned) Rabobank                                      2
3 Benoit Joachim (Lux) US Postal presented by Berry Floor                1
 
Rhoon, km 157.5
 
1 Ludo Dierckxsens (Bel) Landbouwkrediet-Colnago                         3 Seconds
2 Bert Hiemstra (Ned) Bankgiroloterij Cycling Team                       2
3 René Andrle (Cze) O.N.C.E.-Eroski                                      1
 
Daily sprints
 
Vlissingen, km 9.4
 
1 Gerben Löwik (Ned) Bankgiroloterij Cycling Team                        3 Pts
2 Michael Sandstöd (Den) Team CSC                                        2
3 Rafael Nuritdinov (Uzb) De Nardi-Colpack                               1
 
Veere, km 53.1
 
1 Bert Hiemstra (Ned) Bankgiroloterij Cycling Team                       3 Pts
2 Michael Sandstöd (Den) Team CSC                                        2
3 Ludo Dierckxsens (Bel) Landbouwkrediet-Colnago                         1
 
Brouwersdam, km 89.8
 
1 Bert Hiemstra (Ned) Bankgiroloterij Cycling Team                       3 Pts
2 Michael Sandstöd (Den) Team CSC                                        2
3 Ludo Dierckxsens (Bel) Landbouwkrediet-Colnago                         1
 
Oostvoorne, km 130.3
 
1 Bert Hiemstra (Ned) Bankgiroloterij Cycling Team                       3 Pts
2 René Andrle (Cze) O.N.C.E.-Eroski                                      2
3 Michael Sandstöd (Den) Team CSC                                        1
 
Best young rider
 
1 David Kopp (Ger) Team Telekom                                    4.09.41
2 Tom Boonen (Bel) Quick.Step-Davitamon
3 Allan Davis (Aus) O.N.C.E.-Eroski
4 Francesco Chicchi (Ita) Fassa Bortolo
5 Xavier Florencio (Spa) O.N.C.E.-Eroski
6 Aurélien Clerc (Swi) Quick.Step-Davitamon
7 Steffen Radochla (Ger) Team Bianchi
8 Stefan Adamsson (Swe) Team Bianchi
9 Mikhail Timochine (Rus) Landbouwkrediet-Colnago
10 Kevin Hulsmans (Bel) Quick.Step-Davitamon
11 Lars Bak (Den) Team fakta
12 Kim Kirchen (Lux) Fassa Bortolo
13 Fabian Cancellara (Swi) Fassa Bortolo
14 Bram Tankink (Ned) Quick.Step-Davitamon
15 Benoit Vaugrenard (Fra) FDJeux.com
16 Stephan Schreck (Ger) Team Telekom
17 David Arroyo (Spa) O.N.C.E.-Eroski
18 Christophe Von Kleinsorgen (Ger) Team Bianchi
19 Lorenzo Bernucci (Ita) Landbouwkrediet-Colnago
20 Daniel Becke (Ger) Team Bianchi
21 Michael Reihs (Den) Team fakta                                     0.16
22 Simone Masciarelli (Ita) Vini Caldirola-SO.DI
23 Bradley Wiggins (GBr) FDJeux.com                                   0.56
24 David Derepas (Fra) FDJeux.com                                     2.00
25 Wesley Van Speybroeck (Bel) Landbouwkrediet-Colnago
26 Ondrej Fadrny (Cze) De Nardi-Colpack                               4.00
27 Andrea Rossi (Ita) De Nardi-Colpack                                4.27
28 Jimmy Casper (Fra) FDJeux.com                                      7.04
29 Baden Cooke (Aus) FDJeux.com
30 Gert Steegmans (Bel) Lotto-Domo
 
Teams
 
1 Lotto-Domo                                                      12.29.03
2 Fassa Bortolo
3 O.N.C.E.-Eroski
4 Quick.Step-Davitamon
5 Bankgiroloterij Cycling Team
6 Team Bianchi
7 Team Telekom
8 De Nardi-Colpack
9 Rabobank
10 US Postal presented by Berry Floor
11 Vini Caldirola-SO.DI.
12 Team fakta
13 Landbouwkrediet-Colnago
14 Team CSC
15 FDJeux.com                                                         0.56
 
General classification after stage 1
 
1 Alessandro Petacchi (Ita) Fassa Bortolo                          4.09.31
2 Erik Zabel (Ger) Team Telekom                                       0.04
3 Bert Hiemstra (Ned) Bankgiroloterij Cycling Team                    0.05
4 Robbie Mcewen (Aus) Lotto-Domo                                      0.06
5 Ludo Dierckxsens (Bel) Landbouwkrediet-Colnago                      0.07
6 Maarten Den Bakker (Ned) Rabobank                                   0.08
7 Benoit Joachim (Lux) US Postal presented by Berry Floor             0.09
8 Aart Vierhouten (Ned) Lotto-Domo                                    0.10
9 Andrus Aug (Est) De Nardi-Colpack
10 David Kopp (Ger) Team Telekom
11 Oscar Freire (Spa) Rabobank
12 Max Van Heeswijk (Ned) US Postal presented by Berry Floor
13 Tom Boonen (Bel) Quick.Step-Davitamon
14 Bradley Mcgee (Aus) FDJeux.com
15 Allan Davis (Aus) O.N.C.E.-Eroski
16 Fred Rodriguez (USA) Vini Caldirola-SO.DI
17 Allan Bo Andresen (Den) Team fakta
18 Yuri Mitlushenko (Ukr) Landbouwkrediet-Colnago
19 Francesco Chicchi (Ita) Fassa Bortolo
20 Rudi Kemna (Ned) Bankgiroloterij Cycling Team
21 Sven Teutenberg (Ger) Team Bianchi
22 Stefan Van Dijk (Ned) Lotto-Domo
23 Xavier Florencio (Spa) O.N.C.E.-Eroski
24 Angel Castresana (Spa) O.N.C.E.-Eroski
25 Andrej Hauptmann (Slo) Vini Caldirola-SO.DI
26 Aurélien Clerc (Swi) Quick.Step-Davitamon
27 Steffen Radochla (Ger) Team Bianchi
28 Rik Reinerink (Ned) Bankgiroloterij Cycling Team
29 Servais Knaven (Ned) Quick.Step-Davitamon
30 Frank Hoj (Den) Team fakta
31 Rafael Nuritdinov (Uzb) De Nardi-Colpack
32 Bart Voskamp (Ned) Bankgiroloterij Cycling Team
33 Stefan Adamsson (Swe) Team Bianchi
34 Fabrizio Guidi (Ita) Team Bianchi
35 Marc Wauters (Bel) Rabobank
36 Guido Trenti (USA) Fassa Bortolo
37 Gerben Löwik (Ned) Bankgiroloterij Cycling Team
38 Tristan Hoffman (Ned) Team CSC
39 Michael Boogerd (Ned) Rabobank
40 Guennadi Mikhailov (Rus) US Postal presented by Berry Floor
41 Tyler Hamilton (USA) Team CSC
42 Bram Schmitz (Ned) Bankgiroloterij Cycling Team
43 Simone Cadamuro (Ita) De Nardi-Colpack
44 Mikhail Timochine (Rus) Landbouwkrediet-Colnago
45 Werner Riebenbauer (Aut) Team fakta
46 Robert Bartko (Ger) Rabobank
47 Kevin Hulsmans (Bel) Quick.Step-Davitamon
48 Wilfried Cretskens (Bel) Quick.Step-Davitamon
49 Vjatceslav Ekimov (Rus) US Postal presented by Berry Floor
50 Gianluca Sironi (Ita) Vini Caldirola-SO.DI
51 Lars Bak (Den) Team fakta
52 Kim Kirchen (Lux) Fassa Bortolo
53 Sergei Gontchar (Ukr) De Nardi-Colpack
54 Fabian Cancellara (Swi) Fassa Bortolo
55 Victor-Hugo Pena (Col) US Postal presented by Berry Floor
56 Leon Van Bon (Ned) Lotto-Domo
57 Bram Tankink (Ned) Quick.Step-Davitamon
58 Jeroen Blijlevens (Ned) Bankgiroloterij Cycling Team
59 Benoit Vaugrenard (Fra) FDJeux.com
60 Johan Verstrepen (Bel) Landbouwkrediet-Colnago
61 Mikel Zarrabeitia (Spa) O.N.C.E.-Eroski
62 Marco Velo (Ita) Fassa Bortolo
63 Leonardo Giordani (Ita) De Nardi-Colpack
64 Paul Van Hyfte (Bel) Team CSC
65 Stephan Schreck (Ger) Team Telekom
66 Jimmi Madsen (Den) Team CSC
67 Jacob Moe Rasmussen (Den) Team fakta
68 Geert Van Bondt (Bel) Team CSC
69 Rolf Aldag (Ger) Team Telekom
70 David Arroyo (Spa) O.N.C.E.-Eroski
71 Christophe Von Kleinsorgen (Ger) Team Bianchi
72 Lorenzo Bernucci (Ita) Landbouwkrediet-Colnago
73 Hans De Clercq (Bel) Lotto-Domo
74 Malte Urban (Ger) Team Bianchi
75 Johan Museeuw (Bel) Quick.Step-Davitamon
76 Daniel Becke (Ger) Team Bianchi
77 Antonio Cruz (USA) US Postal presented by Berry Floor              0.26
78 Laslo Bodrogi (Hun) Quick.Step-Davitamon
79 Bjarke Nielsen (Den) Team fakta
80 Mauro Radaelli (Ita) Vini Caldirola-SO.DI
81 Julian Winn (GBr) Team fakta
82 Michael Reihs (Den) Team fakta
83 Simone Masciarelli (Ita) Vini Caldirola-SO.DI
84 Marco Zanotti (Ita) Fassa Bortolo                                  0.55
85 Pavel Padrnos (Cze) US Postal presented by Berry Floor             1.06
86 Bradley Wiggins (GBr) FDJeux.com
87 René Andrle (Cze) O.N.C.E.-Eroski                                  1.07
88 Sergei Ivanov (Rus) Fassa Bortolo                                  1.42
89 Rafael Diaz Justo (Spa) O.N.C.E.-Eroski                            2.10
90 Angel Vicioso (Spa) O.N.C.E.-Eroski
91 Glenn D'hollander (Bel) Lotto-Domo
92 Cadel Evans (Aus) Team Telekom
93 Michael Sandstöd (Den) Team CSC
94 Kurt Van Landeghem (Bel) Landbouwkrediet-Colnago
95 Bram De Groot (Ned) Rabobank
96 Koos Moerenhout (Ned) Lotto-Domo
97 David Derepas (Fra) FDJeux.com
98 Wesley Van Speybroeck (Bel) Landbouwkrediet-Colnago
99 Ludovic Capelle (Bel) Landbouwkrediet-Colnago
100 Ondrej Fadrny (Cze) De Nardi-Colpack                              4.10
101 Massimo Apollonio (Ita) Vini Caldirola-SO.DI                      4.37
102 Gian Matteo Fagnini (Ita) Team Telekom
103 Andrea Rossi (Ita) De Nardi-Colpack
104 Jans Koerts (Ned) Bankgiroloterij Cycling Team
105 Steven De Jongh (Ned) Rabobank
106 Erik Dekker (Ned) Rabobank
107 Jimmy Casper (Fra) FDJeux.com                                     7.14
108 Jacky Durand (Fra) FDJeux.com
109 Baden Cooke (Aus) FDJeux.com
110 Nicolas Jalabert (Fra) Team CSC
111 Gert Steegmans (Bel) Lotto-Domo
112 Gabriele Balducci (Ita) Vini Caldirola-SO.DI
113 Steffen Kjaergaard (Nor) US Postal presented by Berry Floor       7.48
 
Points classification
 
1 Alessandro Petacchi (Ita) Fassa Bortolo                               15 Pts
2 Erik Zabel (Ger) Team Telekom                                         12
3 Robbie Mcewen (Aus) Lotto-Domo                                        10
4 Aart Vierhouten (Ned) Lotto-Domo                                       8
5 Andrus Aug (Est) De Nardi-Colpack                                      6
6 David Kopp (Ger) Team Telekom                                          5
7 Oscar Freire (Spa) Rabobank                                            4
8 Max Van Heeswijk (Ned) US Postal presented by Berry Floor              3
9 Tom Boonen (Bel) Quick.Step-Davitamon                                  2
10 Bradley Mcgee (Aus) FDJeux.com                                        1
 
Daily sprints classification
 
1 Bert Hiemstra (Ned) Bankgiroloterij Cycling Team                       9 Pts
2 Michael Sandstöd (Den) Team CSC                                        7
3 Gerben Löwik (Ned) Bankgiroloterij Cycling Team                        3
4 René Andrle (Cze) O.N.C.E.-Eroski                                      2
5 Ludo Dierckxsens (Bel) Landbouwkrediet-Colnago                         2
6 Rafael Nuritdinov (Uzb) De Nardi-Colpack                               1
 
Sprints classification
 
1 Bert Hiemstra (Ned) Bankgiroloterij Cycling Team                       9 Pts
2 Michael Sandstöd (Den) Team CSC                                        7
3 Gerben Löwik (Ned) Bankgiroloterij Cycling Team                        3
4 René Andrle (Cze) O.N.C.E.-Eroski                                      2
5 Ludo Dierckxsens (Bel) Landbouwkrediet-Colnago                         2
6 Rafael Nuritdinov (Uzb) De Nardi-Colpack                               1
 
Young rider classification
 
1 David Kopp (Ger) Team Telekom                                    4.09.41
2 Tom Boonen (Bel) Quick.Step-Davitamon
3 Allan Davis (Aus) O.N.C.E.-Eroski
4 Francesco Chicchi (Ita) Fassa Bortolo
5 Xavier Florencio (Spa) O.N.C.E.-Eroski
6 Aurélien Clerc (Swi) Quick.Step-Davitamon
7 Steffen Radochla (Ger) Team Bianchi
8 Stefan Adamsson (Swe) Team Bianchi
9 Mikhail Timochine (Rus) Landbouwkrediet-Colnago
10 Kevin Hulsmans (Bel) Quick.Step-Davitamon
11 Lars Bak (Den) Team fakta
12 Kim Kirchen (Lux) Fassa Bortolo
13 Fabian Cancellara (Swi) Fassa Bortolo
14 Bram Tankink (Ned) Quick.Step-Davitamon
15 Benoit Vaugrenard (Fra) FDJeux.com
16 Stephan Schreck (Ger) Team Telekom
17 David Arroyo (Spa) O.N.C.E.-Eroski
18 Christophe Von Kleinsorgen (Ger) Team Bianchi
19 Lorenzo Bernucci (Ita) Landbouwkrediet-Colnago
20 Daniel Becke (Ger) Team Bianchi
21 Michael Reihs (Den) Team fakta                                     0.16
22 Simone Masciarelli (Ita) Vini Caldirola-SO.DI
23 Bradley Wiggins (GBr) FDJeux.com                                   0.56
24 David Derepas (Fra) FDJeux.com                                     2.00
25 Wesley Van Speybroeck (Bel) Landbouwkrediet-Colnago
26 Ondrej Fadrny (Cze) De Nardi-Colpack                               4.00
27 Andrea Rossi (Ita) De Nardi-Colpack                                4.27
28 Jimmy Casper (Fra) FDJeux.com                                      7.04
29 Baden Cooke (Aus) FDJeux.com
30 Gert Steegmans (Bel) Lotto-Domo
 
Teams classification
 
1 Lotto-Domo                                                      12.29.03
2 Fassa Bortolo
3 Team Telekom
4 Bankgiroloterij Cycling Team
5 Landbouwkrediet-Colnago
6 Rabobank
7 US Postal presented by Berry Floor
8 De Nardi-Colpack
9 Quick.Step-Davitamon
10 O.N.C.E.-Eroski
11 Vini Caldirola-SO.DI.
12 Team fakta
13 Team Bianchi
14 Team CSC
15 FDJeux.com                                                         0.56