Tour de France News for July 15, 2003
Edited by Jeff Jones & Chris Henry
Impressive win, but ambitions kept low
Alexandre Vinokourov moves closer to yellow
By Gabriella Ekström in Gap
Vino on the attack
Photo: © Olympia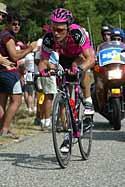 "This was a stage designed for Alexandre Vinokourov," Telekom rider Rolf Aldag told Cyclingnews after the stage finish in Gap. "The stage was a mixture of hard climbs and flats, and that is just the way he likes it!"
Two days ago in Lyon, I wanted to know what kind of ambitions Alexandre had for the alpine stages. Even after I raised my eyebrow in disbelief, he stuck with his story that a stage win was not on his mind. The same low profile escape was being used this morning. With a fourth placing in the G.C and only 1'17 down on Armstrong, Vinokourov had other things in mind. "This morning, I didn't consider the stage win at all," he told Cyclingnews. "Just before the stage, I had a discussion with [Telekom D.S.] Mario Kummer, and we agreed that if I felt good towards the end, I could try an attack in the last fifteen kilometres, and see if I could gain some time on Armstrong."
Click here for the full interview.
Armstrong not penalised for cutting course
Armstrong over the barriers
Photo: © AFP

Lance Armstrong's improvised cross country manoeuvre to avoid the fallen Joseba Beloki in today's stage 9 did not earn him a penalty from the race jury. Despite "not completing the entire course", Armstrong's cutting out of a section of road did not give him any advantage over his competitors.
"The regulations are clear," said jury president Martijn Swinkels. "If a competitor cheats, he is penalised. But in this case the reaction of Armstrong was completely unintentional. It is considered an exceptional circumstance."
See also: Beloki crashes out of Tour.
More post-stage quotes
Ivan Parra (Kelme, 18th at 1'06)
"I felt really good today, and I had good enough legs to win the stage," said Parra, who's in his first Tour. "I attacked several times at the end, but at the moment Vinokourov came past, unfortunately I couldn't follow."
Laurent Brochard (Ag2r, 21st at 1'47)
Photo: © C.Henry/CN

"The stage started very quickly, and I think a lot of guys were riding to make a selection early. It was a tough day for us because we had a few riders stuck behind the splits."
David Millar (Cofidis, 28th at 1'47)
"It was my own fault. On the parcours I thought it climbed again, I didn't realise there was so much flat. With a headwind as well there was no way. Tactical error by me... Oh well. I'm strong... I'm good."
Franco Pellizotti (Alessio, 46th at 5'45)
Photo: © C.Henry/CN

"This is my first Tour de France, and I'm just so very excited over everything I see here," Pellizotti told Cyclingnews. "Yesterday I saw some of the famous mountains I've only heard about before. That encouraged me even more, and I was determined to try something at today's stage. Because of the position Jaksche held (virtual yellow) our break was predestined to be caught, and at the end we totally lost the good rhythm we had earlier. I am convinced I will try to go in more breaks, because I didn't come here just to ride my bike across France."
More from stage 8 (yesterday)
Francisco Mancebo (iBanesto.com, 4th at 2'12)
"I'm a diesel, and even if we climbed the Galibier fairly slowly, I was surprised by the sprint on l'Alpe d'Huez. I was surprised at first, but I managed to come back, which was good because I was able to finish in the group with Armstrong and there are still mountain stages where I can show myself."
Ivan Basso (Fassa Bortolo, 8th at 2'12)
"I had a flat back tire right at the start of l'Alpe d'Huez. The Mavic motorcycle gave me a wheel because my team car was too far back. I lost forty seconds on Armstrong but I didn't panic. When I see the speed at which they were all riding, I'm very satisfied. However I was so tired, I was just trying not to lose the wheels of [the leading] group. Now our team is down to three riders (Basso, Bruseghin, Cioni). It won't be easy and I'll have to marshal my teammates."
Stefano Garzelli (Caldirola-SO.DI, 15th at 4'46)
"I crossed the Galibier first, which was my goal. I wanted to show myself in this centenary Tour, and that's a big mountain. To go over the summit first, passing the monument to Henri Desgrange, is an important thing for an Italian since we know the exploits achieved there by Coppi.
"Now the problem is that for three or four days I've had trouble breathing while riding hard. I felt it on l'Alpe d'Huez. I stayed with Ullrich for a while, but I had to let him go at the end. I'll continue the Tour like that... taking it day by day."
Christophe Moreau (Credit Agricole, 11th at 3'36)
"L'Alpe d'Huez is a hard enough climb without having a mechanical problem. I had a broken spoke, and I lost my morale. It handicapped me, but that's part of racing."
Bruyneel satisfied with Alpe d'Huez
Johan Bruyneel, directeur sportif of US Postal Service-Berry Floor, declared himself satisfied with the performance of Lance Armstrong and his teammates on l'Alpe d'Huez, even if the day was not a dominant performance by the USPS climbers. Despite some miscommunication with Manuel Beltran, who set an infernal pace at the base of l'Alpe d'Huez, Bruyneel was pleased to have his leader Armstrong back in yellow and with some time in hand on his principal rivals.
"It's true that Beltran went a bit too hard, but the point was to see how the strong guys were," Bruyneel commented in l'Equipe. "It still succeeded in putting Ullrich in the red, but be careful... He is still a serious rival and he always gets better over the course of a three week race."
Armstrong may not have had his best day in the Alps, but he was still able to contain his closest rivals and take the overall race lead. The team's objective is not to defend the lead at all costs, but time is yellow is always a good thing.
"If we can keep the jersey without spending too much energy, we will," Bruyneel explained. "If not, we'll let it go. The Tour has a long way to go, and we're only getting started."
French wins on Bastille Day
Since 1947, 13 French riders have won a stage of the Tour de France on the national holiday, Bastille Day (July 14). Those winners are:
Emile Idée in 1949 in Nîmes
Jean Robic in 1953 in Luchon
Jacques Vivier in 1954 in Vannes
Jean Bourles in 1957 in Ax-les-Thermes
Jacques Anquetil in 1961 in Périgueux and in a time trial in Paris in 1964
Roger Pingeon in 1968 in Albi
Raymond Delisle in 1969 in Luchon
Bernard Thévenet in 1970 in La Mongie and again in 1975 in Serre-Chevalier
Bernard Labourdette in 1971 in Gourette
Mariano Martinez in 1980 in Morzine
Vincent Barteau in 1989 in Marseille
Laurent Jalabert in 1995 in Mende and again in 2001 in Colmar.
Laurent Brochard in 1997 in Loudenvielle
Medical Communique
Joseba Beloki (ONCE): Fractured upper femur, a complex fracture of the right elbow, a simple fracture of the right finger and multiple contusions to the hip (see separate story).
Médéric Clain (Cofidis): Two fractures revealed in his right hand from crash in stage 8. Cuts on his right knee required stitches. Has not abandoned.
Previous News Next News
(All rights reserved/Copyright Knapp Communications Pty Limited 2003)