90th Tour de France - July 5-27, 2003
Impressive win, but ambitions kept low
Alexandre Vinokourov moves closer to yellow
By Gabriella Ekström in Gap
Vino on the attack
Photo: © Olympia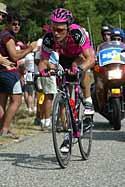 "This was a stage designed for Alexandre Vinokourov," Telekom rider Rolf Aldag told Cyclingnews after the stage finish in Gap. "The stage was a mixture of hard climbs and flats, and that is just the way he likes it!"
Two days ago in Lyon, I wanted to know what kind of ambitions Alexandre had for the alpine stages. Even after I raised my eyebrow in disbelief, he stuck with his story that a stage win was not on his mind. The same low profile escape was being used this morning. With a fourth placing in the G.C and only 1'17 down on Armstrong, Vinokourov had other things in mind. "This morning, I didn't consider the stage win at all," he told Cyclingnews. "Just before the stage, I had a discussion with [Telekom D.S.] Mario Kummer, and we agreed that if I felt good towards the end, I could try an attack in the last fifteen kilometres, and see if I could gain some time on Armstrong."
The 36 second advantage he had when crossing the line made him climb to second overall, and the Kazakh rider can now celebrate his runner-up position as well as his first Tour de France stage win. "It's not like I haven't thought about winning a stage at all. A stage win in the Tour has been on my mind for many years, and I have been second and third, and now I've finally won it. The fact that it is a stage in the Alps makes it even better. I have won many beautiful victories this year, and I rank this stage right up there with Paris-Nice, Amstel Gold Race and Tour de Suisse."
Vinokourov's palmares show that he is one of the most talented riders in the peloton, with a outstanding ability to perform well both on one day races and hors categorie tours, as well as on a stage like this. Although he has always had the talent, the extra drive he is now riding on started to grow within him after the tragic death of his long time friend Andrei Kivilev, and Vinokourov describes his best sporting season ever as the worst year in his life.
"Since Andrei Kivilev died, I have been riding with the strength of two men. Andrei is lending me his strength and force, and he is with me everyday and pushes me."
Andrei Kivilev
Photo: © Sirotti

When speaking about Kivilev, Vinokourov is clearly moved, and he talks about Andrei as if he was still among us. In his honour, Vinokourov has created a fund to support young cyclists from Kazakhstan, and the final arrangements concerning the fund were settled just days ago.
Although emotional on the inside, the expression on his face is neutral as always when he speaks with the press after the race. As he is now holding the position behind Lance Armstrong, only 21 seconds down on the list, everyone is anxious to know if Vinokourov can fill the place of Beloki who abandoned the race with a broken thigh and elbow today.
"It is easy to say, but different to do," Vinokourov jokes at first, but then admits that he is thinking of a podium place and even further. With Cadel Evans and Paolo Savoldelli out of the team before the tour because of injury and illness, the leadership was left upon Vinokourov and Santiago Botero. The latter hasn't been riding well so far, and has lost a lot of time on the G.C.
"I don't feel the weight of the world on my shoulders," Vinokourov says. "Santiago had a few off days, but I am positive he will get better as the race continues, and I'm counting on his support the coming days. This morning he was feeling very disappointed, and I tried to encourage him before the start. I believe he might be good enough to win a stage before he Tour is over."
"I am delighted over the position I'm holding in the race, because I have never before been in a podium position like I am now, but there are so many things that can happen before we get to Paris. I will try my best to repeat what I did in Paris-Nice and at Tour de Suisse. The race will be different now when Beloki is out, but I don't think his accident will change the outcome of it. There are still a lot of aggressive riders, and I am expecting a lot of action from the other teams in the coming days."
Other Talking Cycling Interviews
Cyclingnews' live coverage of the 90th Tour de France is powered by