Recently on Cyclingnews.com
90th Tour de France - July 5-27, 2003
The teams & the contenders
Full team rosters Part one Part two Part three
Part 4: US Postal-Berry Floor, Fassa Bortolo, Jean Delatour, Rabobank, Vini Caldirola-So.Di
This year's Tour will see one of the strongest fields ever assembled set out from Paris on July 5. With the start of the Tour just days away, here's the last installment of our four-part look at the teams and the stars that will animate the Centenary Tour.
US Postal-Berry Floor
Lance Armstrong
Photo: © Jeff Tse

The team of defending champion Lance Armstrong is almost a carbon copy of the one that helped him win his fourth Tour in 2002. The only change is the substitution of new signing Manuel Beltran for Benoît Joachim, which will give the team even more strength in the mountain stages. If all goes to plan, Beltran will be part of the chain that will take Armstrong to the final climb with as much in reserve as possible, with Cyclingnews diarist Floyd Landis, Victor Peña, Jose Rubiera and Roberto Heras also contributing.
On the flats, Armstrong will be supported mainly by Viatcheslav Ekimov, George Hincapie and Pavel Padrnos, all strong and experienced men, capable of riding at a high enough speed to discourage attackers for days on end. The team time trial therefore looks very solid, and if there are no mishaps then Armstrong will have the smoothest ride possible to yellow in Paris.
Another point to note as that - like previous years - the team's main interest is protecting Armstrong for as much as possible. Thus it is unlikely that we'll see any of the riders try to win stages unless the opportunity falls right into their laps.
Full roster: Lance Armstrong (USA), Manuel Beltran (Spa), Viatcheslav Ekimov (Rus), Roberto Heras (Spa), George Hincapie (USA), Floyd Landis (USA), Pavel Padrnos (Cze), Victor Hugo Peña (Col), Jose Luis Rubiera (Spa).
Fassa Bortolo
Aitor Gonzalez
Photo: © Sirotti

Giancarlo Feretti's Fassa Bortolo team is going to the Tour with the aim of bettering its Giro performance on the general classification. Two riders, Ivan Basso and Aitor Gonzalez, have the job of trying to finish somewhere near the podium - preferably on it. Gonzalez, the winner of the Vuelta last year, is certainly capable if he can limit his losses in the mountains, which remain his weak point. Basso is young, talented and improving every year, and a good GC in the Tour is achievable.
The team is also taking its star sprinter Alessandro Petacchi, who if he's in anything like his Giro form, should win a couple of stages at least, and have very real prospects for the Green Jersey. However, Petacchi doesn't have his leadout man Guido Trenti with him at the Tour, and that could weaken his chances in the bunch finishes.
Full roster: Ivan Basso (Ita), Marzio Bruseghin (Ita), Dario Cioni (Ita), Aitor Gonzalez (Spa), Volodimir Gustov (Ukr), Nicola Loda (Ita), Sven Montgomery (Swi), Alessandro Petacchi (Ita), Marco Velo (Ita)
Jean Delatour
Patrice Halgand
Photo: © Chris Henry

To many French and non-French eyes, the selection of Jean Delatour for the Tour was one of the most controversial, given that it arguably came at the 'expense' of World Champion Mario Cipollini's Domina Vacanze team. However, the organisers wanted to keep a healthy balance of French riders in the race, and didn't want a rider who on more than one occasion in the past made a point of pulling out on the first mountain stage of the Tour.
Up until its selection, Jean Delatour hadn't done a great deal in terms of scoring great results in the first part of the season. However since then, their riders have been more active and have won more. Certainly we can expect them to go on the attack in the Tour, as there are no real GC riders in the squad. They will also do their level best to finish with as many riders as possible.
Look for Patrice Halgand, winner of a stage last year, as well as Yuri Krivtsov, Laurent Lefèvre, Samuel Dumoulin and Jean-Patrick Nazon in the sprints.
Full roster: Pierre Bourquenoud (Swi), Samuel Dumoulin (Fra), Christophe Edaleine (Fra), Frédéric Finot (Fra), Stéphane Goubert (Fra), Patrice Halgand (Fra), Yuri Krivtsov (Ukr), Laurent Lefèvre (Fra), Jean-Patrick Nazon (Fra).
Rabobank
Michael Boogerd
Photo: © Bert Geerts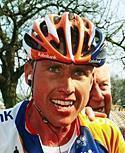 The strong Dutch squad always manages to pull off something during the Tour, such as Michael Boogerd's dramatic win on La Plagne last year. This year, they have the riders to do well in the stage classifications as well as the overall, with American Levi Leipheimer hoping to improve on his 8th on GC last year.
For the stage wins, Michael Boogerd is back of course, although he has his sights set on the World Cup in the second half of the season rather than the Tour. But if the opportunity arises to go for a stage win, then he'll surely not let it pass by. In the sprints, Spaniard Oscar Freire will be hoping to last a bit longer than last year, when he crashed out in the first week. Freire is very fast over the final metres of a bunch sprint, and has won a number of big races in this way.
Full roster: Michael Boogerd (Ned), Bram de Groot (Ned), Marc Lotz (Ned), Marc Wauters (Bel), Oscar Freire (Spa), Levi Leipheimer (USA), Grischa Niermann (Ger), Remmert Wielinga (Ned), Robert Hunter (RSA).
Vini Caldirola-So.Di
Stefano Garzelli
Photo: © Sirotti

Last but not least is the fluoro yellow and black outfitted Vini Caldirola-So.Di squad, captained by Stefano Garzelli, who finished second in the Giro d'Italia. Garzelli has never done well in the Tour, so it remains to be seen how much strength he expended in the Giro, where he battled with Gilberto Simoni throughout the race. Garzelli can climb well, can sprint well, but lacks a little in the time trial compared to someone like Armstrong (as do most riders). He hasn't raced much since the Giro, which can be beneficial provided he has trained well.
Supporting Garzelli, and possibly playing a co-role on GC, will be Italian Eddy Mazzoleni, who proved in the Giro that he was more than just a strong domestique. Mazzoleni is a good tempo man for the mountains, and is quite able to win a stage. There is also Swiss climber Steve Zampieri, who'll surely be there for Garzelli when the roads go up.
For the flatter stages, the team is well credentialed with sprinters Andrej Hauptman, Romans Vainsteins and Fred Rodriguez - the latter who will be writing a diary for Cyclingnews during Le Tour. Overall, the team looks to be very good, and if it has better luck than the Giro then Garzelli should have a good Tour.
Full roster: Stefano Garzelli (Ita), Dario Andriotto (Ita), Paolo Bossoni (Ita), Andrej Hauptman (Slo), Eddy Mazzoleni (Ita), Marco Milesi (Ita), Fred Rodriguez (USA), Romans Vainsteins (Lat) and Steve Zampieri (Swi).
Cyclingnews' live coverage of the 90th Tour de France is powered by