90th Tour de France - July 5-27, 2003
Italians at Le Tour
By Roberto Piorno
Three Italians, but with three different roles. Ivan Basso, best young rider in last year's Tour, will be fighting for a place in the the top 10 on overall classification. Pietro Cauchioli, one of Alessio's best domestiques, will be at the disposal of their GC man Laurent Dufaux. And Paolo Bettini, current world number one and Italian champion, is here to show off his maglia tricolore whenever possible - even if it means going home early.
Basso: Highest ambitions
Photo: © Alain Quenderf
Ivan Basso (Fassa Bortolo)
"For me the Tour is the Tour, regardless of whether it's the centenary one or not. Anyway, I think it would be nice to do something important this time. The fact of the centenary celebration obviously gives a further dimension if you are able to do something great, but I think the most important thing is to be going strong and do something noteworthy by the end.
"I will start with the highest ambitions. I don't want to say I'll do this or I'll do that because speaking is easy, but one thing's certain: I've got great ambition, determination and desire to do the best possible."
Pietro Caucchioli (Alessio)
"Taking part in the Centenary Tour is very important for me because it will be a Tour with more repercussions than usual. From my point of view, I hope to do a great Tour; the form is coming step-by-step after the Giro.
"For me is enough to be main protagonist on some stage; I'm not thinking about the general classification. There are a lot of difficult stages suitable for breakaways, so I hope to be very competitive when the time comes.
"Speaking about the general classification, we've got [Laurent] Dufaux who wants to do well in his last year as pro, so I think he will try to fight for a good GC rank. I will be entirely at his disposal and try to be near him when it matters; the main thing is to be there at the end with the best riders."
Bettini: "I want to fight"
Photo: © CN/Chris Henry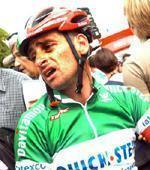 Paolo Bettini (Quick Step-Davitamon)
"This is a special Tour and taking part with the maglia tricolore is very important. I want to wear it in France to show it; I don't want it to be hidden in the back of the pack.
"I want to fight - even if it means coming home before the finish - but as long as I'm in the race I want to be one of the main characters. I don't want to be an anonymous rider for 21 days. There are a few stages suitable to my characteristics, and I am always very determined.
"My form has arrived; obviously I can't hide it anymore. The team is going strong and we are a compact group. We don't have any GC contender, so everyday it is nice to invent something; we have no nothing to lose, so; we want to make a fuss everyday - we love it!
"I've tested myself in the Tour of Switzerland. I tried to do the prologue to the best of my ability [Bettini finished 20th at 16 secs - Ed.], trying to lose the least possible time, and I will also try to go hard in the prologue of the Tour. [Bettini finished 55th at 21 secs - Ed.] I won't promise anything, but I will try to lose as little as possible; if I win a stage in the first week, who knows, I could be wearing the yellow jersey, as [Rubens] Bertogliati did last year.
"I also tested myself in the mountains of the Tour of Switzerland. I know the Tour is quite different, but if the stage victory doesn't arrive soon, I will take advantage of being down on GC in on some legendary climb to show my national champion's jersey before the real battle for the GC begins."
Cyclingnews' live coverage of the 90th Tour de France is powered by