Grafton to Inverell Classic
Grafton, NSW, September 21 2003
Results Live report Start List
183 riders for "The Grafton"
Lee Godfrey takes the final sprint
Photo: © Eastmon Camera House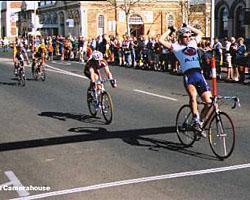 A record equalling field of 183 riders will line up for this Saturday's Eastmon Camera House Grafton to Inverell. The 43rd edition of Australia's toughest one day race will see four categories compete over the 228 km course. The Elite women's race will be staged over 140 km, starting after the 18 km Gibraltar Range climb [ed: that's the best bit!].
The C Grade and over 45's will be the first to leave Grafton at 7:30am with the B Grade field starting at 8:15am. The A Grade race, which is a category one race on the National Road Series, will start at 9:00am.
The Women's race will start around 10:30am at the Rangers Hut atop the Gibraltar Range. This is also a category one race in the Women's National Road Series. Former Olympic games gold medallist Kathy Watt is a late inclusion in the women's race.
Sydney Olympic gold medallist Brett Aitken is the early favourite for the men's A Grade. He is currently leading the National Road Series and will be looking to consolidate that lead on Saturday. A host of up and coming under 23 riders, including the AIS national under 23 squad, will make their presence felt with many of them in good form leading into the Grafton to Inverell.
Gale force winds have been prevalent over the past week and will be blowing straight into the face of the riders if they continue. Forecasts suggest the winds will ease by Saturday. A number of bushfires have been burning in the forests around the race route and smoky conditions could greet the riders.
Previous winners
Year  First                    Second               Third
2002  Lee Godfrey (AUS)        Paul Redenbach (AUS) Trent Wilson (AUS)  
2001  David McKenzie (AUS)     Peter Milostic (AUS) David Pell (AUS)
2000  Ben Day (AUS)            Henk Vaassen (AUS)   Dennis Mungoven (AUS)
1999  Jamie Drew (AUS)         Steve Williams (AUS) Simon Gerrans (AUS)
1998  Ben Brooks (AUS)         Steve Williams (AUS) Haydn Bradbury (AUS)
1997  Jamie Drew (AUS)         David McKenzie (AUS) Ben Litchfield (AUS)
1996  Damian Forster (AUS)     D. Smith (AUS)       Craig Saunders (NZL)
1995  Tim Christopher (AUS)    Wayne Kestle (AUS)   Craig Saunders (NZL)
1994  Craig Saunders (NZL)     Damian Forster (AUS) Paul Rugari (AUS)
1993  S. Drake (AUS)           David Perry (AUS)    T. Jordan (AUS)
1992  Billy-Joe Shearsby (AUS) Glen Wilson (AUS)    Mark Elliott (AUS)
1991  Steve Fairless (AUS)     Justin Grindal (AUS) Scott Stewart (AUS)
1990  Nigel Perry (AUS)        Glen Wilson (AUS)    David Perry (AUS)
1989  Nate Reiss (USA)         Ewe Winter (GER)     John Groom (AUS)
1988  Gianluca Pierobon (ITA)  B. St.George (AUS)   R. McCorkell (AUS)
1987  A. Peterson (NOR)        Thomas Dürst (GER)   T. Mancini (SUI) (AUS)
1986  A. Logan (AUS)           I. McKenzie (AUS)    Scott Sunderland (AUS)
1985  Peter Curran (GBR)       M. Ansermet (SUI)    L. Wahlkqvist (SWE)
1984  M. Lynch (AUS)           Eros Poli (ITA)      R. Crossley (AUS)
1983  R. McCorkell (AUS)       M. Lynch (AUS)       C. Walsh (AUS)
1982  S. Cox (NZL)             J. Swart (NZL)       B. STockwell (NZL)
1981  A. Gill (AUS)            G. Oliver (AUS)      G. Brooks (AUS)
1980  W. Hammond (AUS)         G. Hammond (AUS)     M. Blyth (AUS)
1979  G. McVilley (AUS)        V. Hanaray (NZL)     M. Nicholls (NZL)
1978  R. Piper (AUS)           H. Berkery (AUS)     M. McKinnell (NZL)
1977  R. Glindeman (AUS)       G. STone (AUS)       R. McCorkell (AUS)
1976  R. Sansonetti (AUS)      A. Spokes (AUS)      G. Parkes (AUS)
1975  R. Hines (AUS)           P. Parkes (AUS)      M. Glindeman (AUS)
1974  B. Ferris (AUS)          R. Bates (AUS)       K. Bartlett (AUS)
1973  V. Breen (AUS)           P. Brown (AUS)       L. Roe (AUS)
1972  K. Brindle (AUS)         M. Kautto (AUS)      K. Bartlett (AUS)
1971  R. Bush (NZL)            R. Davis (NZL)       M. Kautto (AUS)
1970  D. Strahley (AUS)        E. Wixson (AUS)      T. Moore (AUS)
1969  B. Ryalls (AUS)          P. Littlejohn (AUS)  D. Thompson (AUS)
1968  K. Morgan (AUS)          D. Browne (NZL)      T. Savimaki (AUS)
1967  D. Wilson (AUS)          K. Brindle (AUS)     D. Garrett (AUS)
1966  M. Redman (AUS)          B. Johnson (AUS)     P. Markham (AUS)
1965  L. Cook (AUS)            R. Barron (AUS)      T. Moore (AUS)
1964  J. Ferranda (AUS)        N. McDonough (AUS)   K. Long (AUS)
1963  N. Burnell (AUS)         H. Summers (AUS)     C. Kruf (AUS)
1962  P. Chapman (AUS)         G. Brown (AUS)       F. Fransen (AUS)
1961  A. Grindal (AUS)         G. Garden (AUS)      T. Tolley (AUS)

Previous winners thanks to Mario Stiehl - www.world-of-cycling.com