Vic Roads Herald Sun Tour 2003 - 2.3
Australia, October 16-26, 2003
Main Page Results Previous Stage Next Stage
Stage 5 - October 20: Camperdown To Warrnambool, 152.3 kms
Grand old man Wohlberg adds a road stage to his palmares
By Rod Morris in Warrnambool
Stage 5 podium
Photo: © Shane Goss/CN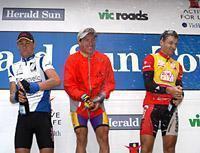 Tough-as-teak Canadian Eric Wohlberg claimed his fifth career stage win in the VicRoads Herald Sun Tour today - despite having his left wrist in a plaster cast. At age 38 Wohlberg is the oldest rider in this year's 1195 km tour, but it seems as though he is also the most cagey.
The fifth of 13 stages was arguably one of the toughest of the tour, a wind-swept 155 journey from Camperdown to Warrnambool, via Colac, Port Campbell and Peterborough. The consistent head and cross winds made things extremely difficult for riders, highlighted by the fact the leaders were 21 minutes behind the expected race time.
Wohlberg damaged his wrist when a car hit him back in June in his home country and the injury has taken longer than expected to heal. "I let it go for about a month, so it has put me behind schedule somewhat in recovery," Wohlberg said. "It's uncomfortable [the plaster cast] but it's made me concentrate more."
Wohlberg is not a serious challenger for general classification honours in this tour, but is happy to pick up a stage win. "The win is nice and it certainly won't hurt my overall time in GC [general classification], although realistically I'm not going to win overall," he added.
The prestigious yellow jersey for tour leader is still safely in the hands of Jamie Drew, who had the thrill of wearing it into his home town of Warrnambool. "I only live a couple of blocks from the stage finish and it was great to have so many of the local people that I know come out to cheer me on," Drew said.
Jamie Drew
Photo: © Shane Goss/CN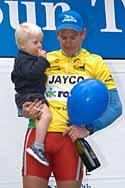 Drew was greeted on the podium by his wife Annabelle and 18-month sold Alexander, who seemed bemused with all the attention his father was receiving. "That was a tough day out, the winds made life difficult for everyone," he said. "Coming from the area, I knew what to expect, but that still didn't make it any easier."
The field of 84 riders was pressured just 3 km into the stage when Luke Roberts (Emu Spirit/Apsco) and former tour leader, Italian star Ivan Fanelli (Europcar - Pelaco) decided to go for some early points. Roberts said was surprised not more riders decided to get in on the early action. "By not having many in the break group, it made things tough out the front, in a way I was glad when some cover arrived," he said.
Roberts and Fanelli rode for almost 60 km without assistance before Belgium rider Danny In't Ven (Carlton Midstrength) and Chilean Jose Medina (City of Melbourne) joined them. This little "United Nations" group rode strongly for the next 40 km until three lone riders produced some superb grinding efforts to bridge the gap between the breakaways and the main peleton. Big Troy Glennon of New South Wales riding for the FRF Couriers team joined Roberts, Fanelli, In't Ven and Medina at the 92 km mark and just 7 km later, Wohlberg joined in proceedings.
The chase
Photo: © Shane Goss/CN

By now the race was getting to the serious stage with the peloton sensing danger over the closing 50 km. Queensland's Tony Mann (Caravello) was next to cross the chasm between leaders and the big chasing bunch and at the 127 km mark, was classed as a breakaway rider. The peloton closed the gap to 20 seconds with 10 km of the stage remaining and most tour stalwarts expected the leaders to be mowed down. Well, think again.
Wohlberg, Roberts and Mann put down the pedal and actually opened up a bigger gap, eventually having a 35 second advantage over the bunch after their sprint to the line. In't Ven claimed fourth place and Medina fifth in meritorious efforts in a tough day on the road.
For Wohlberg it was his fifth Herald Sun Tour stage victory, but his first in a road race stage. "I have won two time trials and two criteriums before, so its nice to add a road stage as well," Wohlberg said. The win also makes up for the disappointment of 2002 when Wohlberg was knocked over by a media motorbike on the tough Mt Baw Baw climb, which ruined any chance he might have had of claiming GC honours.
Eric Wohlberg
Photo: © Shane Goss/CN

Robert's gutsy ride yesterday was rewarded with the Most Aggressive performance of the day award. Of the 14 intermediate sprints and King of the Mountain bonuses on offer, Roberts finished in 13 of them and in doing so elevated himself from 27th (and 3.34 minutes) to a highly creditable 13th and just 1.59 minutes behind and realistically back in the bike race.
Drew retained his 36 second lead over Carlstrom as the top 10 in General Classification remained basically the same. The only real change was Carlton Midstrength rider Greg Henderson moving from 9th to 7th after leapfrogging Malaysian Airlines team captain Matt Wilson and Tasmanian Sean Sullivan, who is riding for Barloworld.
The Herald Sun Tour continues tomorrow with a dual stage, starting with a 30 km criterium in Port Fairy at 11 a.m. and then 99 km road stage from Port Fairy to Hamilton in Victoria's Western District. The tour will finish in Ballarat this Sunday after the field - which is now down to 82 riders - have completed 13 stages and 1195 km.
Today's race casualties were Jacyo rider Allan Iacuone, who tore a hamstring and VicRoads team member Kane Oakley, who was suffering from fatigue.
Photography
Images by Shane Goss/Cyclingnews.com/www.licoricegallery.com
Results

1 Eric Wohlberg (Can) Active For Life               4.06.12
2 Luke Roberts (Aus) Emu Spirit-Apsco                      
3 Tony Mann (Aus) Caravello                                
4 Danny In't Ven (Bel) Carlton Midstrength             0.01
5 Jose Medina (Chi) City Of Melbourne                  0.03
6 Alex Candelario (USA) Ballarat*Eureka!               0.35
7 Lubor Tesar (Cze) Team Warrnambool                       
8 Greg Henderson (NZl) Carlton Midstrength                 
9 Brett Aitken (Aus) Rio Coffee                            
10 Hilton Clarke (Aus) Barloworld                          
11 Kieran Page (GBr) Bendigo Building Industry         0.39
12 Jeremy Hunt (GBr) Malaysia Airlines                     
13 Andrew Graham (Aus) FRF Couriers                        
14 Michael Sayers (USA) Ballarat*Eureka!                   
15 Ivan Fanelli (Ita) Pelaco                               
16 Bart Heirewegh (Bel) Carlton Midstrength                
17 Michal Precechtel (Cze) Team Warrnambool                
18 Hector Morales (Uru) Active For Life                    
19 Jorge Libonatti (Uru) Active For Life                   
20 Jonas Ljungblad (Swe) City Of Melbourne                 
21 David McKenzie (Aus) Jayco                              
22 Jamie Drew (Aus) Jayco                                  
23 Kjell Carlstrom (Fin) Pelaco                            
24 Kristian House (GBr) Emu Spirit-Apsco                   
25 Cameron Jennings (Aus) Caravello                        
26 Simon Gerrans (Aus) Malaysia Airlines                   
27 Stephen Cummings (GBr) Bendigo Building Industry        
28 Jonathan Cantwell (Aus) Vicroads                        
29 Tim Johnson (USA) Active For Life                       
30 Robert McLachlan (Aus) Caravello                        
31 Matt Wilson (Aus) Malaysia Airlines                     
32 Chris Newton (GBr) Bendigo Building Industry            
33 Scott Guyton (NZl) Jayco                                
34 Phillip Thuaux (Aus) Ballarat*Eureka!                   
35 Gerado Castro (Uru) Echuca-Moama                        
36 Milton Wynants (Uru) Echuca-Moama                       
37 Tomas Buchacek (Cze) Emu Spirit-Apsco                   
38 Brian Steel (GBr) Bendigo Building Industry             
39 Mateusz Mroz (Pol) Pelaco                               
40 Joel Pearson (Aus) Subaru                               
41 Jaco de Witt (RSA) Barloworld                           
42 Chris Bradford (Aus) Subaru                             
43 Rhys Pollock (Aus) Vicroads                             
44 Scott Moninger (USA) Ballarat*Eureka!                   
45 Sean Sullivan (Aus) Barloworld                          
46 Garry Parsons (Aus) Malaysia Airlines                   
47 Tiaan Kannemeyer (RSA) Barloworld                       
48 Domenic Gatto (Aus) Subaru                              
49 Adrian Laidler (Aus) Rio Coffee                         
50 Luke Weir (Aus) City Of Melbourne                       
51 David Kupka (Cze) Team Warrnambool                      
52 George Vallins (Aus) Vicroads                           
53 Paul Manning (GBr) Bendigo Building Industry            
54 Dominique Perras (Can) Active For Life                  
55 Peter Milostic (Aus) FRF Couriers                       
56 Alejandro Acton (Arg) Echuca-Moama                      
57 Russell Van Hout (Aus) Emu Spirit-Apsco                 
58 Matthew Goold (Aus) Malaysia Airlines                   
59 Troy Glennan (Aus) FRF Couriers                         
60 Chris Wherry (USA) Ballarat*Eureka!                     
61 Paul Redenbach (Aus) City Of Melbourne                  
62 Shaun Higgerson (Aus) FRF Couriers                      
63 Jamie Burrow (GBr) Pelaco                          13.40
64 Marek Wesoly (Pol) Pelaco                               
65 Alvaro Tardaguila (Uru) Echuca-Moama                    
66 James Perry (RSA) Barloworld                            
67 Nigel Dunstone (Aus) Caravello                          
68 Luis Fernando Sepulveda (Chi) City Of Melbourne         
69 Stephen Wooldridge (Aus) Carlton Midstrength            
70 James Hannam (Aus) Rio Coffee                           
71 Ashley Baines (Aus) Subaru                              
72 Tim Decker (Aus) Subaru                                 
73 Trent Stevenson (Aus) Vicroads                          
74 Steve Cunningham (Aus) Rio Coffee                       
75 Trent Wilson (Aus) Jayco                                
76 Anthony Challinor (Aus) FRF Couriers                    
77 Ashley Hutchinson (Aus) Carlton Midstrength             
78 Glen Stojanow (Aus) Caravello                           
79 Graham Rootes (Aus) Rio Coffee                          
80 Jindrich Vana (Cze) Team Warrnambool                    
81 Pavel Zerzan (Cze) Team Warrnambool                     
82 Colin Thornton (Aus) Emu Spirit-Apsco              20.21
DNF Kane Oakley (Aus) Vicroads                             
DNF Allan Iacuone (Aus) Jayco                              
 
Sprints
 
Leura Hotel
 
1 Luke Roberts (Aus) Emu Spirit-Apsco                     3 pts
2 Ivan Fanelli (Ita) Pelaco                               2
3 Tim Johnson (USA) Active For Life                       1
 
McLaren Bakery
 
1 Brett Aitken (Aus) Rio Coffee                           3 pts
2 Matthew Goold (Aus) Malaysia Airlines                   2
3 Jonas Ljungblad (Swe) City Of Melbourne                 1
 
Scotts Creek General Store
 
1 Luke Roberts (Aus) Emu Spirit-Apsco                     3 pts
2 Ivan Fanelli (Ita) Pelaco                               2
3 Adrian Laidler (Aus) Rio Coffee                         1
 
Richies Supermarket
 
1 Ivan Fanelli (Ita) Pelaco                               3 pts
2 Luke Roberts (Aus) Emu Spirit-Apsco                     2
3 David Kupka (Cze) Team Warrnambool                      1
 
Portside Motel
 
1 Ivan Fanelli (Ita) Pelaco                               3 pts
2 Luke Roberts (Aus) Emu Spirit-Apsco                     2
3 Danny In't Ven (Bel) Carlton Midstrength                1
 
Peterborough General Store
 
1 Luke Roberts (Aus) Emu Spirit-Apsco                     3 pts
2 Danny In't Ven (Bel) Carlton Midstrength                2
3 Jose Medina (Chi) City Of Melbourne                     1
 
Nirranda & District Netball Association
 
1 Luke Roberts (Aus) Emu Spirit-Apsco                     3 pts
2 Troy Glennan (Aus) FRF Couriers                         2
3 Ivan Fanelli (Ita) Pelaco                               1
 
Childers Restaurant
 
1 Luke Roberts (Aus) Emu Spirit-Apsco                     3 pts
2 Ivan Fanelli (Ita) Pelaco                               2
3 Jose Medina (Chi) City Of Melbourne                     1
 
Warrnambool Cheese & Butter Factory
 
1 Luke Roberts (Aus) Emu Spirit-Apsco                     3 pts
2 Tony Mann (Aus) Caravello                               2
3 Ivan Fanelli (Ita) Pelaco                               1
 
Allansford Hotel
 
1 Luke Roberts (Aus) Emu Spirit-Apsco                     3 pts
2 Tony Mann (Aus) Caravello                               2
3 Danny In't Ven (Bel) Carlton Midstrength                1
 
Hill Climbs
 
3 Mocka No. 11
 
1 Ivan Fanelli (Ita) Pelaco                               5 pts
2 Luke Roberts (Aus) Emu Spirit-Apsco                     3
3 Tim Johnson (USA) Active For Life                       2
 
3 Mocka No. 34
 
1 Ivan Fanelli (Ita) Pelaco                               5 pts
2 Scott Guyton (NZl) Jayco                                3
3 Luke Roberts (Aus) Emu Spirit-Apsco                     2
 
4 Mocka No. 65
 
1 Ivan Fanelli (Ita) Pelaco                               3 pts
2 Luke Roberts (Aus) Emu Spirit-Apsco                     2
3 Brett Aitken (Aus) Rio Coffee                           1
 
4 Mocka No. 74
 
1 Ivan Fanelli (Ita) Pelaco                               3 pts
2 Luke Roberts (Aus) Emu Spirit-Apsco                     2
3 Tomas Buchacek (Cze) Emu Spirit-Apsco                   1
 
4 Mocka No. 86
 
1 Ivan Fanelli (Ita) Pelaco                               3 pts
2 Luke Roberts (Aus) Emu Spirit-Apsco                     2
3 Danny In't Ven (Bel) Carlton Midstrength                1
 
4 Mocka No. 106
 
1 Ivan Fanelli (Ita) Pelaco                               3 pts
2 Luke Roberts (Aus) Emu Spirit-Apsco                     2
3 Danny In't Ven (Bel) Carlton Midstrength                1
 
General classification after stage 5
 
1 Jamie Drew (Aus) Jayco                           11.48.15
2 Kjell Carlstrom (Fin) Pelaco                         0.36
3 Simon Gerrans (Aus) Malaysia Airlines                0.42
4 David McKenzie (Aus) Jayco                           0.45
5 Michael Sayers (USA) Ballarat*Eureka!                0.54
6 Jonas Ljungblad (Swe) City Of Melbourne              0.55
7 Greg Henderson (NZl) Carlton Midstrength             0.57
8 Matt Wilson (Aus) Malaysia Airlines                  1.03
9 Sean Sullivan (Aus) Barloworld                       1.04
10 Scott Guyton (NZl) Jayco                            1.16
11 Kristian House (GBr) Emu Spirit-Apsco               1.22
12 Ivan Fanelli (Ita) Pelaco                           1.44
13 Luke Roberts (Aus) Emu Spirit-Apsco                 1.59
14 Eric Wohlberg (Can) Active For Life                 2.00
15 Tony Mann (Aus) Caravello                           2.07
16 Hilton Clarke (Aus) Barloworld                      2.33
17 Hector Morales (Uru) Active For Life                2.59
18 Brett Aitken (Aus) Rio Coffee                       3.01
19 Robert McLachlan (Aus) Caravello                    3.18
20 Alex Candelario (USA) Ballarat*Eureka!              3.19
21 Jeremy Hunt (GBr) Malaysia Airlines                 3.21
22 Scott Moninger (USA) Ballarat*Eureka!               3.26
23 Phillip Thuaux (Aus) Ballarat*Eureka!               3.28
24 Jaco de Witt (RSA) Barloworld                       3.29
25 Joel Pearson (Aus) Subaru                               
26 Mateusz Mroz (Pol) Pelaco                           3.31
27 Tim Johnson (USA) Active For Life                       
28 Cameron Jennings (Aus) Caravello                    3.32
29 Adrian Laidler (Aus) Rio Coffee                     3.33
30 Chris Wherry (USA) Ballarat*Eureka!                 3.34
31 Stephen Cummings (GBr) Bendigo Building Industry        
32 Milton Wynants (Uru) Echuca-Moama                       
33 Tiaan Kannemeyer (RSA) Barloworld                       
34 Domenic Gatto (Aus) Subaru                              
35 Russell Van Hout (Aus) Emu Spirit-Apsco             3.53
36 Jorge Libonatti (Uru) Active For Life               5.38
37 Danny In't Ven (Bel) Carlton Midstrength            6.29
38 Matthew Goold (Aus) Malaysia Airlines               6.43
39 Bart Heirewegh (Bel) Carlton Midstrength            6.52
40 Garry Parsons (Aus) Malaysia Airlines               7.27
41 Jonathan Cantwell (Aus) Vicroads                        
42 Shaun Higgerson (Aus) FRF Couriers                      
43 Michal Precechtel (Cze) Team Warrnambool            8.26
44 Jose Medina (Chi) City Of Melbourne                11.49
45 Lubor Tesar (Cze) Team Warrnambool                 12.02
46 David Kupka (Cze) Team Warrnambool                 12.28
47 Chris Bradford (Aus) Subaru                        12.33
48 Troy Glennan (Aus) FRF Couriers                    12.35
49 Chris Newton (GBr) Bendigo Building Industry       12.36
50 Andrew Graham (Aus) FRF Couriers                   12.37
51 Kieran Page (GBr) Bendigo Building Industry        12.38
52 Tomas Buchacek (Cze) Emu Spirit-Apsco                   
53 Paul Manning (GBr) Bendigo Building Industry       12.39
54 Brian Steel (GBr) Bendigo Building Industry             
55 Dominique Perras (Can) Active For Life                  
56 Paul Redenbach (Aus) City Of Melbourne                  
57 Rhys Pollock (Aus) Vicroads                             
58 George Vallins (Aus) Vicroads                      14.26
59 Peter Milostic (Aus) FRF Couriers                  14.29
60 Gerado Castro (Uru) Echuca-Moama                   15.29
61 Luke Weir (Aus) City Of Melbourne                  16.13
62 Nigel Dunstone (Aus) Caravello                     22.14
63 Trent Wilson (Aus) Jayco                           22.40
64 Ashley Baines (Aus) Subaru                         24.05
65 Marek Wesoly (Pol) Pelaco                          25.25
66 Jamie Burrow (GBr) Pelaco                          25.40
67 Jindrich Vana (Cze) Team Warrnambool                    
68 Ashley Hutchinson (Aus) Carlton Midstrength             
69 Stephen Wooldridge (Aus) Carlton Midstrength            
70 Glen Stojanow (Aus) Caravello                           
71 Anthony Challinor (Aus) FRF Couriers                    
72 James Hannam (Aus) Rio Coffee                      26.15
73 Trent Stevenson (Aus) Vicroads                     28.15
74 Luis Fernando Sepulveda (Chi) City Of Melbourne    29.05
75 Steve Cunningham (Aus) Rio Coffee                  32.33
76 Pavel Zerzan (Cze) Team Warrnambool                32.48
77 Alejandro Acton (Arg) Echuca-Moama                 40.55
78 Graham Rootes (Aus) Rio Coffee                     43.11
79 Colin Thornton (Aus) Emu Spirit-Apsco              44.24
80 Tim Decker (Aus) Subaru                            47.02
81 Alvaro Tardaguila (Uru) Echuca-Moama               47.14
82 James Perry (RSA) Barloworld                       50.21
 
Aggressive Rider Awards
 
1 Luke Roberts (Aus) Emu Spirit-Apsco                  $300
1 Simon Gerrans (Aus) Malaysia Airlines                $200
1 Steve Cunningham (Aus) Rio Coffee                    $200
1 Kjell Carlstrom (Fin) Pelaco                         $200
1 Ivan Fanelli (Ita) Pelaco                            $200
1 Hilton Clarke (Aus) Barloworld                       $200
 
Team Classification
 
1 Jayco                                            35.26.50
2 Malaysia Airlines                                    2.30
3 Europcar / Pelaco                                    4.02
4 Emu Spirit / Apsco                                   4.38
5 Barloworld                                           5.01
6 Ballarat Eureka                                      5.37
7 Active For Life                                      6.31
8 Caravello                                            6.52
9 Carlton Midstrength                                 12.13
10 Subaru                                             12.25
11 City Of Melbourne                                  23.19
12 Bendigo Building Industry                          26.46
13 Rio Coffee                                         29.43
14 FRF Couriers                                       30.35
15 Vic Roads                                          30.40
16 Team Warrnambool                                   31.08
17 Echuca - Moama                                     46.56
 
Sprint Championship
 
1 Kjell Carlstrom (Fin) Pelaco                           42 pts
2 Luke Roberts (Aus) Emu Spirit-Apsco                    25
3 Simon Gerrans (Aus) Malaysia Airlines                  20
4 Jonas Ljungblad (Swe) City Of Melbourne                18
5 Ivan Fanelli (Ita) Pelaco                              18
6 David McKenzie (Aus) Jayco                             15
7 Robert McLachlan (Aus) Caravello                       14
8 Jeremy Hunt (GBr) Malaysia Airlines                    13
9 Matthew Goold (Aus) Malaysia Airlines                  11
10 Lubor Tesar (Cze) Team Warrnambool                    10
11 Michael Sayers (USA) Ballarat*Eureka!                  9
12 Luis Fernando Sepulveda (Chi) City Of Melbourne        9
13 Sean Sullivan (Aus) Barloworld                         9
14 Jamie Drew (Aus) Jayco                                 9
15 Scott Moninger (USA) Ballarat*Eureka!                  8
16 Hector Morales (Uru) Active For Life                   7
17 Eric Wohlberg (Can) Active For Life                    6
18 Russell Van Hout (Aus) Emu Spirit-Apsco                6
19 Kristian House (GBr) Emu Spirit-Apsco                  5
20 Hilton Clarke (Aus) Barloworld                         5
21 Bart Heirewegh (Bel) Carlton Midstrength               4
22 Danny In't Ven (Bel) Carlton Midstrength               4
23 Tony Mann (Aus) Caravello                              4
24 Matt Wilson (Aus) Malaysia Airlines                    4
25 Troy Glennan (Aus) FRF Couriers                        4
26 Brett Aitken (Aus) Rio Coffee                          3
27 Chris Newton (GBr) Bendigo Building Industry           3
28 Mateusz Mroz (Pol) Pelaco                              3
29 Alejandro Acton (Arg) Echuca-Moama                     2
30 Jose Medina (Chi) City Of Melbourne                    2
31 Andrew Graham (Aus) FRF Couriers                       2
32 Chris Bradford (Aus) Subaru                            2
33 Marek Wesoly (Pol) Pelaco                              1
34 Adrian Laidler (Aus) Rio Coffee                        1
35 Kieran Page (GBr) Bendigo Building Industry            1
36 Michal Precechtel (Cze) Team Warrnambool               1
37 Alex Candelario (USA) Ballarat*Eureka!                 1
38 Tim Johnson (USA) Active For Life                      1
39 Nigel Dunstone (Aus) Caravello                         1
40 David Kupka (Cze) Team Warrnambool                     1
 
Mountains classification
 
1 Ivan Fanelli (Ita) Pelaco                              45 pts
2 Scott Guyton (NZl) Jayco                               14
3 Luke Roberts (Aus) Emu Spirit-Apsco                    13
4 Lubor Tesar (Cze) Team Warrnambool                      7
5 Jonas Ljungblad (Swe) City Of Melbourne                 7
6 Jamie Drew (Aus) Jayco                                  6
7 Jorge Libonatti (Uru) Active For Life                   5
8 Kristian House (GBr) Emu Spirit-Apsco                   5
9 Brett Aitken (Aus) Rio Coffee                           4
10 Chris Bradford (Aus) Subaru                            4
11 Hilton Clarke (Aus) Barloworld                         3
12 Sean Sullivan (Aus) Barloworld                         3
13 Matt Wilson (Aus) Malaysia Airlines                    3
14 Tim Johnson (USA) Active For Life                      2
15 Cameron Jennings (Aus) Caravello                       2
16 Simon Gerrans (Aus) Malaysia Airlines                  2
17 Danny In't Ven (Bel) Carlton Midstrength               2
18 Tomas Buchacek (Cze) Emu Spirit-Apsco                  1
19 Steve Cunningham (Aus) Rio Coffee                      1
20 Phillip Thuaux (Aus) Ballarat*Eureka!                  1
21 Michael Sayers (USA) Ballarat*Eureka!                  1
 
Criterium Championship
 
1 David McKenzie (Aus) Jayco                             10 pts
2 Michael Sayers (USA) Ballarat*Eureka!                  10
3 Ivan Fanelli (Ita) Pelaco                               9
4 Matthew Goold (Aus) Malaysia Airlines                   9
5 Hector Morales (Uru) Active For Life                    9
6 Jamie Drew (Aus) Jayco                                  8
7 Tony Mann (Aus) Caravello                               8
8 Simon Gerrans (Aus) Malaysia Airlines                   7
9 Hilton Clarke (Aus) Barloworld                          7
10 Marek Wesoly (Pol) Pelaco                              6
11 Sean Sullivan (Aus) Barloworld                         6
12 Brett Aitken (Aus) Rio Coffee                          5
13 David Kupka (Cze) Team Warrnambool                     5
14 Lubor Tesar (Cze) Team Warrnambool                     4
15 Jonas Ljungblad (Swe) City Of Melbourne                3
16 Michal Precechtel (Cze) Team Warrnambool               2
17 Matt Wilson (Aus) Malaysia Airlines                    1
18 Robert McLachlan (Aus) Caravello                       1
 
Leading Australian Based Rider
 
Tony Mann (Aus) Caravello