News for January 31, 2003
An interview with LTdL race director Alan Rushton
Alan Rushton
Photo: © CN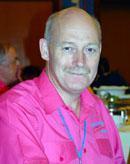 By Tommy Campbell in Langkawi

In between his busy schedule prior to the start of the Le Tour de Langkawi, Tommy Campbell took some time out with Race Controller Alan Rushton to find out what makes him tick.

Cyclingnews: How long have you held your current position?

Alan Rushton: Since Sport for Television/The Events Group first started working on the event which was after the second year. We took over from IMG who advised First Cartel for one year.

CN: What are the main responsibilities of your job?

AR: Its an overview. I give sound advice to First Cartel, the Malaysian event owners. It covers everything from route selection, start/finish layouts, personnel, equipment, teams, media to be invited etc. On the event I continually monitor these matters.

CN: What attracted you to this type of work?

AR: I have a PR background, combined with 15 years of racing. Experience has been hard won and is appreciated in different countries.

CN: What three words would you describe your work style?

AR: Detailed, searching and (hopefully) magnanimous.

CN: What is the worst or most frustrating aspect job?

AR: A bike race is a living event and things can go wrong; you attempt to minimise such things.

CN: How many hours do you work each day on average?

AR: 10 hours

CN: What is the biggest challenge that you have had to face since you began your working life?

AR: Every new event brings new challenges: World Triathlon Championships, Nissan Classic, Kellogg's Tour, Tour de France in England, Prudential of Britain, Tour de France Start from Ireland, Tour of the Philippines and most recently the Singapore Marathon (December 8th)

CN: How important has education and training been to your career so far?

AR: Having three children and a dozen job applications a month arriving at the office, I know how important Education and training is. However, it did not play a big role for me personally.

CN: What do you value most in your working life?

AR: The friendship of my peers.

CN: What did you want to be "when you grew up"?

AR: A pilot

CN: Whom do you most admire in the cycling world and why?

AR: Eddy Merckx, Sean Kelly, Phil Anderson, Marc Sergeant, Hendryk Redant, Jean-Marie Leblanc and journalists Sam Abt and Brendan Mooney because they have shown outstanding ability in their fields and conducted matters in a truly professional and gentlemanly manner.