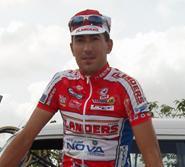 Photo: © Anthony Tan
Moving on up: The Trent Wilson Journal 2003
Welcome to the Trent Wilson Journal for 2003. The young iTeamNova rider was one of the six who made the cut when the Australian Div III team merged with RDM-Flanders to form Flanders-iTeamNova, and move into Division II.
Dodging the crashes
Tour de Langkawi, Stages 1-3
"A bike did come flying above my head with 800m to go, as someone hit the deck."
Chasing
Photo: © Anthony Tan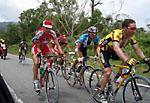 G'day all.
The team and I arrived in Malaysia last Tuesday. The temperature change wasn't too bad, it was actually a bit cooler than it has been in Sydney. First job was to receive our new Flanders-iTeamNOVA kit, a red and blue design and it looked good too. It was also time to meet a few of the Belgian riders and support crew.
We then spent a few days adapting to the weather and doing some rides around Langkawi island. In our spare time, how could you go past the bargains here in Malaysia? We all clocked up the credit cards, on DVDs, CDs or even Playstations. I went for a Cyber-shot U digital camera, the real small one, for only Au$400.
Stage 1 - January 31: Langkawi Individual Time Trial, 9.5km
My forte is definitely not time trials, so the aim for the day was to limit my losses. I was one of the final riders to start, which turned out to be a hindrance. The first rider of the day went off at 9am with little wind, but by the time I left it was blowing a fair bit. I went out over the first climb fairly easily but nudged the second climb and cooked myself a bit. I never recovered, and when I needed to crunch it home in the last 4km, the power just wasn't there. Even so I was fairly happy to only lose 1.30min to O'Neill (who was 23sec in front of second). Time loss was minimal and skin all intact, can't complain.
Stage 2 - February 1: Kangar - Butterworth, 148.3 km
In the first road stage of an early season tour you don't know what to expect. A lot were hopping for an easy day, and that's what they got. Three riders attacked straight from the gun, a Japanese and two Philippinos, and the bunch was quite happy to let them go. They got out to about five minutes before Saturn thought it was time to ride tempo on the front to defend O'Neill's jersey and keep the break at a reasonable time gap. It was a good chance to for the rest of us to catch up with a few of our European mates, and with 11 Aussies in the field, there was a bit of Aussie slang getting around.
With about 45km to go the pace lifted and teams were starting to get excited. Everybody was fighting for a position at the front and you could've been forgiven for thinking it was 4km to go. We came into the town to do two 8km local laps. The break had been brought back and Panaria were lining the sprint up for Graeme Brown. For most of the Euros this was going to be the first sprint of the year so it was always going to be a nervous and dangerous sprint. As we hit 2km to go I gave Dave Macca my last helping hand, then I kicked back and stayed out of trouble while the other guys did what they could. Coming into 700m to go, the obvious happened, a huge crash, it was carnage. The whole bunch stopped as the riders covered the entire road. Dave Macca was down and looked bad. As it turned out he needed 5 stitches in his left knee but it wasn't the season-ender we first thought. Pagliarini from Lampre won the stage.
Stage 3: February 2: Kulim - Ipoh, 169.6 km
Another flat day, with the only rise being a cat 3 climb after 110km. For Al Iacoune and myself today was a matter of watching the dangerous breaks before tomorrow's first hilly day. Dave Macca pulled up well and started the stage.
After the drop of the flag it wasn't long before the first attacks came, and that's the way it stayed for the first 40km. There was then a lull in the bunch before Jamie Drew got into a break that looked like it was going to go away but it included one GC rider and Panaria brought it back for Lanfranchi.
Once this break was caught the bunch wasn't interested and four riders slipped off the front. Saturn once again rode a good tempo on the front all day. The break was caught with 15km to go and it was down to the sprinters again. This time it wasn't as crazy but was still dodgy. Dave Macca got amongst the action again and led out our Belgie sprinter Ronny Assez, who finished 12th.
Once again there was a crash but nowhere near as bad. A bike did come flying above my head with 800m to go, as someone hit the deck. Tomorrow is a crucial day for us, as Alby and I try to mix it with the other climbers in the first mountain day. My legs feel ok, lacked a bit of punch early in the day but were good towards the end. It'll be interesting to see how they go when they go into overload over two 20km climbs. Big day tomorrow, better get some kip.
I'll keep you updated.
Cheers
Willo