News for February 9, 2003
Breaking through: Iran's national team at the LTdL
By Tommy Campbell in Kuala Lumpur
Leader of the Asian rider classification until Stage 9, Hossain Askari (far right)
Photo: © Mark Sharon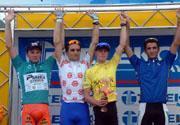 Iran as a nation is very rarely out of the news, whether it be in the print, television or radio.
But it is not a nation that stands out and hits you in the face when it comes to cycling. This week in the Telekom Malaysia Le Tour de Langkawi that may have been altered the perspective in the eyes of the cycling fraternity.
Last Saturday week in Butterworth, they made a piece of history by winning the team prize on stage two of Le Tour. The history makers were: Hasan Maleki Mizan, Hossain Askari and Alireza Haghi - not a bad effort for a nation not steeped in the traditions of cycling.
This week during the LTdL they have been having their own private battle with the rest of the Asian countries that are seeking the team prize and the overall winner in their category.
While everybody has been focussed on the overall classification, the Asian competitors are doing their own thing and in years to come, may be a force in world cycling.
The organisers of the Le Tour de Langkawi, First Cartel, are more than happy to facilitate the Asian nations in the event that has attracted the best cyclists from all over the globe.
"Competition at this level will improve the status of cycling in this continent. The Iranians are here because of the status they hold now. They are excellent competitors and it is good for the sport," says First Cartel's Dato Wan Lokman.
Albert Soloyan
Photo: © Aaron Lee

The Iranian Coach, Albert Solovan was more forthcoming as he explained the status of Iranian cycling.
"Structures are being put in place and in time we should see the benefits of these actions; possibly as we speak, there is a respect for us now as we are getting good press," says Solovan.
"Competition is very limited in the country, but because we are bordered by a number of countries, the boys get competition in Turkey, Saudi Arabia and in countries in the former USSR. This year I have brought along some new talent. It is a way of blending them into the rigours of bike racing at this level. It's about self belief."
Before you started this event, you must have instilled confidence into them as a unit?
"First and foremost, I explained there are times when to follow and when to go on the attack. They may not understand 100 per cent but if 50 per cent is retained that's excellent," says Solovan.
"It is very evident that are still learning. Not only will we improve, but also Asian riders in general will improve even further. They are not the same as they were two to three years ago. Now they can follow the group and even take risks."
Yesterday on Genting they proved that they will be around for a long time to come after consolidating their position as leading team in the Asian section. In a short space of time they are beginning to make inroads.
My assumption along with a number of other people, is that Iran will one day make the breakthrough.