News for February 4, 2003
An interview with Bjornar Vestol - Just the Faks
Tommy Campbell catches up with Bjornar Vestol from EDS-Fakta in Langkawi for a brief grab on life, cycling, and life without cycling.
Bjornar Vestol
Photo: © CN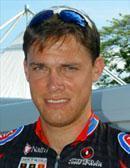 Cyclingnews: Do you enjoy coming to Malaysia?
Bjornar Vestol: I'm delighted to be back here in beautiful Malaysia. It will bring my fitness up to scratch and I should have a good season. This is my third time here.
CN: How did you get involved with cycling?
BV: I loved cycling and met some people from my home town that used to race.
CN: Who was your idol?
BV: Never had one
CN: The participant you most admire in the sport?
BV: Armstrong
CN: Who do you admire in other sports?
BV: Schumacher
CN: Which event do you look forward to each year, either as a participant or an observer?
BV: Langkawi!!
CN: Your favourite book?
BV: Garps World
CN: The last CD purchased?
BV: Tre små kinesere
CN: Would you recommend a life in sport for your off springs?
BV: Yeah, it's a fine life if you can't sit still in class!
CN: When did you realise that you could make a worthwhile career out of cycling?
BV: When I had my first contract
CN: What non-sporting figure do you most admire?
BV: Ingvar Ambjørnsen, a Norvegian writer
CN: When you hang up the wheels what would like to do?
BV: Adventure guide
CN: Your most memorable moment to date?
BV: Victory in Noord Holland
CN: How do view the payment to stars in other disciplines?
It's a better choice to play football
CN: What are you called in the peloton (nickname)?
BV: Bjørg
CN: If your house were on fire, what one item would you take with you as you dashed for safety?
BV: My bible