News for February 2, 2003
Laying down the law with LTdL Chief Commissaire Michael Robb
By Tommy Campbell in Ipoh
Michael Robb
Photo: © CN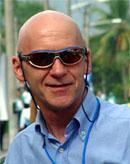 There's one thing that strikes you when you meet Michael against a backdrop of action: how fit he looks - no excess weight here! He is Ireland's leading and most respected commissaire and by all accounts, highly regarded on the international stage. In a way it is like another day in the office, but he certainly was courteous despite the demands on his time.
Cyclingnews: What are you training for at the moment?
Michael Robb: Well I'm not in training as such but in general I like to keep reasonably fit. At the moment, I'm probably five kilos heavier than when I used to race; that could come off easily if I started to train again. I like to go out for a spin to relax when I'm away at races, and I've been fortunate enough to have been able to go for a spin with some of the world's best riders.
CN: What inspired you to take up your sport?
MR: The late Noel Taggart, a club mate and in my opinion, one of the toughest and hardest athletes I've ever met. An earlier version of Sean Kelly. Off the bike, a gentleman who had always the time to help and inspire youngsters. Also, another club mate, Eddie Sands of the Banbridge CC, has been an inspiration; Eddie worked tirelessly out of the spotlight and his work is very much appreciated.
CN: Which athlete in your sport do you most admire?
MR: Tommy! I'm surprised you even asked that question! Sean Kelly and Stephen Roche, of course! They raced against me. Then Merckx and Hinault.
And any cyclist who gets a pro contract needs praise. Luck plays a huge factor in this sport. Many really promising careers have been cut short by luck or injury. For example, my radio tour on this event is Graham Jones, the ex-Peugeot pro. A class act if there was ever one. Had the White Jersey in the Tour de France as pro on his debut. Hit a car in training and damaged his knee which continually dogged him for the rest of his career.
CN: And in other sports?
MR: Mike Doohan, ex-500cc Grand Prix motorcycling champion. The dedication and the single mindedness that he showed to successfully return to his sport from near death was incredible, in the same vein as Johan Museeuw following his Paris-Roubaix crash or Lance Armstrong overcoming cancer. And Herman Meijer the downhill skier.
CN: What event do you most enjoy in the sporting calendar?
MR: Easy one! Tour de France and the Spring Classics. Away from cycling, The Dutch 500cc motorcycle Grand Prix.
CN: What other sports are you actively involved in?
MR: Motor cycling, but not racing - I'm too old and know my limitations!
CN: What was the last book you bought?
MR: Schindler's List.
CN: And the same for music?
MR: Ella Fitzgerald sings Cole Porter; I like acoustics blues guitar.
CN: Would you recommend a life of sport for your children?
MR: Without a doubt, yes, but it's important to be passionate and interested in whatever sport or hobby you may have. Most important, to really enjoy it.
CN: At what moment did you realise you were going to be an international commissaire?
MR: I always had an interest in the rules and regulations, and felt as a commissaire, it would be a good way of giving something back to the sport I love. I started as a national commissaire and eventually succeeded with my international exams. I have to say it was a difficult and a long process.
CN: What non-sporting figure do you most admire?
MR: Mother Theresa of Calcutta for her lifetime devotion to the poor.
CN: What is your favourite TV programme?
MR: I don't really watch TV but I have some of the old copies of Fawlty Towers and Father Ted.
CN: What would you like to do once your sporting career comes to an end?
MR: In an ideal world, I would like to travel to all the major bike races as a tourist.
CN: What is the pinnacle of your career to date?
MR: I am fortunate enough to have travelled the world, officiating at major cycling events. I have had many pinnacles and while it is great to work with the world's top riders and races, I'm just as happy working with he juniors or at local races. However, it is getting difficult as I'm away so much. Last year I spent a couple of months away from home at cycle races.
CN: In your estimation, are today's sports participants overpaid?
MR: No. Professional sportsmen sell a product for their sponsors and give great pleasure to many thousands or millions of people. In most cases they deserve what they are paid and good luck to them.
CN: What car do you drive?
MR: I have a 10 year-old diesel. I have no real interest in cars, but I love motorcycles. I have four of them at the moment and am about to buy another.
CN: Do you have a nickname?
MR: Robbo. I'm also known as "The Eagle", which is short for the Bald Eagle because of my shaven head.
CN: What bugs you about being a commissaire?
MR: Nothing really. You have to take the rough with the smooth. The travelling can be a hassle - especially if you have a number of flight transfers to make, but the racing more than makes amends for that.
CN: What appeals to you about being a commissaire?
MR: The kick of being involved with the racing, plus the fact I have made some really great friends of different nationalities around the world.
CN: What's your favourite piece of sporting memorabilia?
MR: Memorabilia or souvenirs don't interest me.
CN: If your house were on fire, what one item would you take with you as you dashed for safety?
MR: After my family, it would be my dogs. The rest can always be replaced.