2003 Giro d'Italia rider journals
Scott Sunderland and Magnus Bäckstedt
Nationality: Australian and Swedish
Team: Team fakta
Scott Sunderland is riding his first three week tour since his infamous crash in the 1998 Amstel Gold Race, a feat that he didn't think was ever possible again. The determined and experienced Aussie will be one of the leaders of the Danish fakta team, which boasts riders like Magnus Bäckstedt, Frank Høj, Jørgen Bo Petersen and Kurt Asle-Arvesen. Magnus will also be a contributor to this Giro diary, with the big Swede joining the Aussie in the hunt for stage wins. Magnus has ridden the Tour de France on several occasions and has won stages, and that makes him a big asset for Team fakta in the Giro.
Team presentation and more - May 9, 2003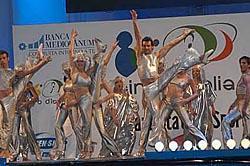 Colourful...
Photo: © Sirotti
Last night was the team presentation, and we almost didn't make it! There was a big podium set up in a small market square, and we were trying to squeeze our campervan through a narrow road to get there. We had about an inch on either side to get between two walls. It was a bit of a laugh really. We had to leg it on the bikes for the last 3-400m as we didn't want to risk it any more.
We were supposed to go on a 9pm but it wasn't until 9:30 that we got called up. We had ride up the ramp onto the podium on our bikes, be announced and hang around for a bit.
It was amazing when Cipo arrived. He's a superstar! He's just got such an aura around him. He was all smiles, looked good, calm and collected. There was one guy who jumped up on stage to try and get a closer look, and he was promptly told by the security guars "You can't go there"..."But I just want to see Cipollini!" said the fan.
The weather was good too. We went out for a good three hours on Thursday morning, covered a little bit of the parcours for Saturday. We also did hematocrit controls in the morning, and everything was fine. It was more or less settling in, doing a few adjustments to the time trial bikes, getting a bit of massage and so on. Tomorrow, we'll do couple of hours in the morning, have lunch and rest up for Saturday.
It's been a bit of a holiday feeling coming into a big tour. Normally when you have a prologue, everyone is doing laps around it a couple of days before. On the day itself you go for a couple of hours in the morning. Now today [Friday] was just easy. We didn't have to do any checking of the course or anything.
Looking at the sprint finish in Lecce, it's pancake flat. With a few kilometres to go, it's all windy - not straight at all. Then you turn in a big horseshoe in the final two kilometres, followed by a left hander into the last kilometre. But 160m before the finish, there's a left hand turn, even more than 90 degrees - it cuts back a bit. Don't worry, I'll be getting right out the back for that one!
It's a lot less worry for us really. The only ones who are a bit nervous are the big sprinters. The majority of the peloton - probably 97 percent - are in survival mode for that first stage.
As for the favourites you've got Cipo (Domina Vacanze), Lotto [for McEwen], who's not really with a super strong team, Panaria [for Brown], Svorada (Lampre). You've also got Petacchi from Fassa Bortolo, but he's on the same level as Svorada. But you're missing Strazzer, Hondo, Pollack.
In one way it could be quite an aggressive race on Saturday and I'm expecting a big fast start.
cheers,
Scott