2003 Giro d'Italia rider journals
Scott Sunderland
Nationality: Australian
Team: Team fakta-Pata Chips
Scott Sunderland is riding his first three week tour since his infamous crash in the 1998 Amstel Gold Race, a feat that he didn't think was possible ever again. The determined and experienced Aussie will be one of the leaders of the Danish fakta team, which boasts riders like Magnus Bäckstedt, Frank Høj, Jørgen Bo Petersen and Kurt Asle-Arvesen.
Stage 15 - May 25: Merano-Bolzano, ITT, 42.5 km
The race of truth
Get ready!
Photo: © Sirotti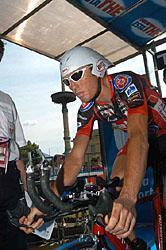 The day started off really nicely. I woke up to the sound of church bells ringing on Sunday morning. We're staying in a small town out of Bolzano in a really nice hotel, as I explained yesterday. I came down for breakfast and there was a nice laid out buffet, so breakfast was beautiful and relaxing. I went for a walk, sat in the sun in the courtyard - it was quite a peaceful morning to start the day. We haven't had many like that.
The only bad thing was that I had to go to the start earlier than I would have liked. All the team cars left together as some of the guys had early starts. Once they took off and all the nervous energy had left the camping car, it was better. No matter how relaxed you are, you still get anxious because of the pain and suffering that you'll have to endure. I don't think there are too many guys who rode comfortably today.
My main goal was just to get though it because I'm not a specialist, and try not to lose any more places on GC. Not that I've got an important place to defend but it's good to be able to keep all the hard work of the last few stages in place. In the end I didn't lose a single place (still 32nd on GC), and I've probably got a bit more of a buffer now. But this is all just child's play.
When I'm doing these time trials it just puts me in awe of guys like Armstrong and Ullrich. They just dominate in the mountains and time trials - Simoni and Garzelli are strong, but not like that. Big Mig and Riis in his day as well. Incredible.
I wasn't a bad time trialist to start off with, but after '98 it's come apart a bit. It's funny, because whereas on the mountain I can dig deep a bit more and endure longer, doing TT's just cracks me.
Magnus stomping
Then I see Big Dog Maggie start off giving full gas for Intergiro - that was his main goal today. He had his 55x11 on, all warmed up for it. Then after the Intergiro, he sits up, takes a drink, has a breather for a kilometre, then winds it up for the second half and finishes second to Gonzalez! Huge effort...
Second place in the time trial is impressive, especially as he's been more known for his sprint finishes in the first week. But he's worked hard for this, he worked all last year for it and it never went his way. He kept butting against walls. Then when we didn't get the starts in the World Cups this season we turned our focus to the Giro.
He's not had a big win in this race but he's constantly up there. He's taken the Intergiro jersey, and has a good buffer now, so now the boot's on the other foot to defend the Intergiro. If someone else in a break takes the sprints it it's no problem for us, unless it's one of the guys close on the classement. But when it's one on one sprinting, it makes it easy.
In the final time trial in Milan, Magnus will probably have a new bike - a new carbon monocoque frame from Opera. Today suited him although the climb was just a little bit too long, and that's where Gonzalez was taking time out of him. Definitely Milan will suit him with all the corners and flats.
Tidbits
Waiting...
Photo: © Sirotti

Our hotel is on Lago di Garda at the north end. There are mountains everywhere and you've got a beautiful view looking out on the lake. It'll take a hell of a lot to top what we had last night. All the guys took pamphlets from there, in case we come back this way.
Brownie was there to cheer us on today at the time trial. Poor old Brownie - he missed the time cut yesterday. I said "look mate, don't worry about it. You've had a bit of pressure on your shoulders this year after last year. Things don't quite turn out like you want them to. Take it easy, your time will come."
Things turned around unfortunately for Petacchi too with his fall today. I don't really see it as 'bad luck' because he's won four stages and got the points jersey, and there's still three stages up for grabs. But if he doesn't start we've still got a lotta guys like Baldato, Furlan, Svorada...The way things have gone, tomorrow will just end up being another bunch sprint.
Weather: It was 32-33 degrees today, certainly one of the warmest days on the Giro so far.
Drive my car?
The boss from Pata Chips was there in his Lamborghini today. It's one of the latest models and must be one of the most expensive cars you can get. He was there following it today, just behind the team car. On the climb he'd drop back and rev it up, so he got a big roar from the crowd. He did promise to lend it to us if we won the Intergiro jersey, but I'm not so sure...I think the best thing we can hope for is a big box of chips! Although I know that Maggie's a bit of a car freak. He'd give his eye teeth for a ride in a Lamborghini.
No pizza
We didn't get the pizza today. We'll have it tomorrow night, before the rest day. Today it was spaghetti and steak again. We did have a really nice mixed salad, but it was still spaghetti and steak. It does the job. Frank Høj and I put a big hole in the cheese platter and had a bit less meat. Our team boss Kim Andersen put a few bottles of wine on the table which was nice.
It's one of the reasons why I like this team because it's got a very nice attitude for keeping the head on the shoulders. I think you've seen it already - Magnus is doing a lot better in a relaxed atmosphere. We've got some young riders here who are handling it well. Each one is supporting the other. If we get through to Thursday we'll be nine riders at the finish.
A welcome visit
My wife Sabine's coming down for two nights tomorrow and it'll be great to see her and the kids. Since I left, Tristan can stand up and almost crawl. That's the way it goes.
I hope I can pull off something more from the Giro but so far it's been very enjoyable. I'm happy with the way things are going and I can't complain. At the beginning of the year when I was still having my knee problems I would have been happy to ride it at all, let alone to be at the front of the peloton on the big stages.
OK, it's been a long day, pretty drawn out for one hour of racing!
Cya tomorrow,
Scott
Photography
Images by Fotoreporter Sirotti