New York City Cycling Championship - NE
USA, August 3, 2003
2002 Results Map Live coverage
Big Apple bike bash rocks Lower Manhattan Sunday
By Tim Maloney, European editor in New York
2002 action
Photo: © Jonathan Devich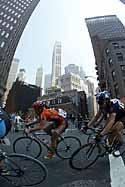 The second annual NYCCC is a day-long series of cycling events among the urban canyons of lower Manhattan that culminates in a Pro Men's 100km criterium. Last year, Lance Armstrong (USPS-Berry Floor) kicked off the inaugural edition of the NYCCC fresh from his fourth consecutive Tour De France win. This year, 2003 Tour Stage Winner Tyler Hamilton (CSC) will be at the NYCCC, but due to his cracked collarbone, Hamilton will not compete. Instead, the Man from Marblehead will act as Official Starter along with Mayor Michael Bloomberg.
Despite the absence of Armstrong, the 2003 NYCCC will provide quite a spectacle for spectators on the 50 laps of the 2 km lower Manhattan circuit. Last year's winner, Cuban missile Ivan Dominguez (Saturn) will be back to defend his title, backed by a solid squad that includes USPRO champ Markie Mark McCormack, Chris Horner, 2002 SFGP winner Charlie Dionne and Belaran blaster Viktor Rapinski.
Challenging Dominguez will be a small but dedicated international contingent of riders. Wachovia USPRO Championships runner up Uros Murn and his Tour De Georgia stage winning teammate Moreno DiBiase will represent Italian squad Formaggio Pinzolo Fiave'. Making their first-ever race appearance in North America will be three talented riders from the Spanish ONCE-Eroski squad. Portuguese hardman Jose Azevedo will lead the contingent, with youngster Isidro Nozal and the younger of the Gonzales de Galdeano brothers, Alvaro.
Facing off against the tough competition from Saturn will be sprinters from Navigators led by 2000 Olympic Sprint Champ Marty Nothstein, Prime Alliance's Jonas Carney and Schroeder Iron's Miguel Meza. But it may not come down to a sprint if attacking riders like Cyclingnews columnist John Lieswyn (7Up-Maxxis), Sportsbook.Com's Adam Myerson and Sierra Nevada's Adham Sbeih have anything to say about the outcome of the 2003 NYCCC.
Not present is Saeco's Stefano Zanini, winner of the Wachovia USPRO Championships in June, who will be riding the HEW Cyclassics Hamburg World Cup in Germany on Sunday.
The NYCCC Pro Race starts at Wall & Water Streets on Sunday, 3 August at 11:20 with pro rider warmups and opening ceremonies.
Full schedule of events
7:30am: Jr. PCT Grand Prix
8:25am: BMC Softwear Corporate Challenge
9:20am: Fred Mengoni Grand Prix (amateur)
10:40am: BMC Software Bike Messenger Challenge
11:20am: NYCCC Pro Rider Warm-Ups & Opening Ceremonies
12:15-3pm: NYCCC Pro Men's Race