Recently on Cyclingnews.com
USPRO Criterium Championship - 1.3
Chicago, USA, August 17, 2003
Startlist Schedule and results Photography
All set for Downers Grove
Vogels won last year ahead of Monahan, who was crowned national champion
Photo: © Ken Carl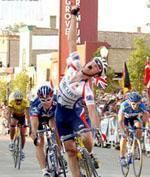 Sunday, August 17 marks the annual USPRO Criterium Championships, held once again in Downers Grove, Illinois. With $20,000 in total prize money, the 100 km men's event is the main race of the program, which also includes the USCF Women's and USCF Elite Men's championships. The USPRO race is ranked as UCI 1.3, carrying 60 UCI points for the winner. As is the case with the USPRO Road Championships in Philadelphia, the race is open to non-U.S. riders, meaning that the first rider across the line will not necessarily be the national champion.
The race is open to UCI Division I-III trade teams, and there are 10 teams down to start: Sierra Nevada/Clif bar, Prime Alliance, Sportsbook.com, U.S. Postal Service, Schroeder Iron, Saturn, Ofoto-Lombardi Sports, Jelly Belly/Carlsbad Clothing, Navigators and 7UP-Maxxis.
Defending national champion Kevin Monahan will line up backed by a strong 7Up-Maxxis team, which includes John Lieswyn, Dan Schmatz, and Greg Henderson. They will face plenty of opposition from the likes of the Navigators' Marty Nothstein and Vasilli Davidenko, Saturn's Ivan Dominguez and Chris Horner, Schroeder's Chann McRae, Miguel Meza and Gordon McCauley, US Postal's Antonio Cruz, and Prime Alliance's Danny Pate, Jonas Carney and David Clinger.
The day's program will see the USCF Women's Championships run on Sunday morning starting at 10:00am over 31 laps (50 km) of the 1.6 km course. This will be followed by the USCF Elite Men's Championship at 11:30am over 50 laps (80 km), then the USPRO Men at 3:45pm over 62 laps (100 km)
Races & Results
USCF Women 3/4
USCF Senior 4
USCF Senior 3
Citizen Masters Men ages 30+
Citizen Junior Men ages 17 and younger
Citizen Women all ages
USCF Sr 5 Men & Citizen Men Open
USCF Master Men 30+
USCF International Women's Open
Pro-Am Challenge Pro and USCF CAT 1&2
USCF Cat 2 Challenge