Rotterdam Tour - CDM
Rotterdam, Netherlands, September 15, 2002
Rossner takes Rotterdam Tour and World Cup title
Report courtesy of Giana Roberge, Team Saturn
Rossner takes the final round ...
Photo: © Rudie Ottens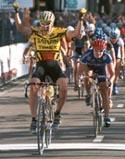 The 2002 Women's World Cup Title was determined in Rotterdam today with Petra Rossner being crowned the champion. The nine race series had been fiercely contested throughout the year, with the lead oscillating between Saturn's Rossner, well known as the top sprinter in the women's peloton, and Dutch all rounder Mirjam Melchers (Farm Frites Hartol). With only 13 points separating the two coming into the final round, Melchers had to finish in front of Rossner, or not too far behind her. Rossner had to finish in at least 9th place to gain the requisite 13 points with Melchers not taking any points, however, if Rossner won or finished second (and in front of Melchers), then the World Cup was hers.
With 25 teams on the start line, the wind and narrow roads forced any riders who wanted a shot at top honors to fight for position for the total 141 kilometres. Unlike last year, the course did not feature the final finishing circuits around Rotterdam, but instead brought the riders in for a straight gallop into finish.
Farm Frites-Hartol sent its strongest team to help Melchers in her quest, with Leontien Zijlaard-Van Moorsel, Anouska van der Zee, Madeleine Lindberg, Sissy van Alebeek and Arenda Grimberg. Saturn had only four their roster, with six of their athletes on the start line in San Rafael, CA to defend their Pro Tour Lead.
The race began as expected, from the gun, with the battle for position beginning in the first few kilometres. There was absolutely nothing left in reserve as attack after attack was launched, and it seemed as if the whole of Holland was racing for a Dutch World Cup Title.
Within the first thirty kilometres a split of ten occurred, containing four Farm Frites riders and three Saturn riders. The gap grew to thirty seconds before a motivated group from behind brought the ten back. The attacks began again with Saturn's Ina Teutenberg, Catherine Marsal and Judith Arndt manning the front to bring back split after split.
Things looked particularly grim for the Saturn Team when at one point Rossner was caught behind a crash. Isolated from her team, Rossner began to chase alone. However, the Farm Frites Team gained steam and Teutenberg, Arndt and Marsal sat up to assist Rossner back. Not an easy task with five Farm Frites riders pushing the pace into a cross wind. As the gap grew to thirty seconds, Teutenberg dropped off the pace and a flicker of hope must have passed through Melchers' mind. Would the Saturn Team be able to bring Rossner back?
Finally, Arndt and Marsal made contact with Rossner tucked safely in their draft. Ten kilometres later, nearly 25 kilometres from the finish, Teutenberg's group joined the front, just in time for Teutenberg to cover several more attacks.
... and the World Cup
Photo: © Rudie Ottens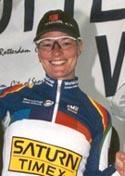 With the finish line only ten kilometres away, the Saturn Team was relentless in their pursuit to bring Rossner to the line for the win. Eager to shake them was Farm Frites' Van Moorsel, who continued her strong attacks to set up her teammate Melchers.
But with five kilometres left, it was the nearly unbeatable duo of Rossner and Arndt bearing down on the finish line. Melchers tried one more solo attack, and Rossner brought her back only to have another rider give it a try. This time is was Arndt bringing the field of 70 remaining riders to within a kilometre and a half to go. And then it was Rossner, with her teammates now completely spent, having to depend only on her guts and determination for the win.
In the last 500 meters, Rossner was alone in front, and had to hesitate to save some for the sprint. It was Regina Schleicher making a run for the win, but Rossner had just enough gas to cross the line victorious, with a satisfied grin. Debbie Mansveld was third.
With her win today, Rossner completed the series having won three of the nine races. She was crowned the World Cup Champion, following in her Saturn teammate Anna Millward's footsteps last year, and proving she is no longer solely a sprinter, but has now graduated into an all around rider.
Photography
Images by Rudie Ottens
Results - 140 km
1 Petra Rossner (Ger) Saturn                               3.24.42  (41.036 km/h)
2 Regina Schleicher (Ger) Michaela Fanini-Nürnberger Mix
3 Debby Mansveld (Ned) Vlaanderen T Interim
4 Yvonne Brunen (Ned) Power-Plate-Bik
5 Virginie Moinard (Fra) French National Team
6 Katia Longhin (Ita) Acca Due O
7 Tania Belvederesi (Ita) Power-Plate-Bik
8 Ghita Beltman (Ned) Acca Due O
9 Christina Mos (Ned) Power-Plate-Bik
10 Rochelle Gilmore (Aus) Rest of the World
11 Alesandra Cappelotto (Ita) Power-Plate-Bik
12 Sylvie Riedle (Fra) C.A. Mantes La Ville 78
13 Heidi Van De Vijver (Bel) Vlaanderen T Interim
14 Esther Van Der Helm (Ned) Netherlands National Team
15 Marcia Eicher Vouets (Swi) C.A. Mantes La Ville 78
16 Tanja Hennes (Ger) Michaela Fanini-Nürnberger Mix
17 Annette Beutler (Swi) Swiss National Team
18 Vera Koedooder (Ned) Netherlands National Team
19 Miho Oki (Jpn) C.A. Mantes La Ville 78
20 Sara Waller (GBr) British National Team
21 Vanja Vonckx (Bel) Vlaanderen T Interim
22 Susan Carter (GBr) British National Team
23 Erica Vilunaite (Ltu) Acca Due O
24 Elisabeth Chevanne Brunel (Fra) C.A. Mantes La Ville 78
25 Ine Wannijn (Bel) Belgian National Team
26 Brigit Sollner (Ger) Michaela Fanini-Nürnberger Mix
27 Wenche Stensvold (Nor) Team Sponsor Service
28 Caroline Slikker (Ned) RWC Ahoy
29 Mirjam Melchers (Ned) Team Farm Frites-Hartol
30 Baukje Doedee (Ned) Neckermann Beneluxteam
31 Andrea Bosman (Ned) Power-Plate-Bik
32 Melanie Szubrycht (GBr) British National Team
33 Areke Hassink (Ned) Netherlands National Team
34 Lucille Hunkeler (Swi) Swiss National Team
35 Jacolien Wallaard (Ned) Netherlands National Team
36 Josephine Groenveld (Ned) District Noord
37 Solrun Flataas (Nor) Team Sponsor Service
38 Cindy Pieters (Bel) Vlaanderen T Interim
39 Denise Baumann (Swi) Swiss National Team
40 Aline Camboulives (Fra) French National Team
41 Sarah Grab (Swi) Swiss National Team
42 Monica Valen (Nor) Team Sponsor Service
43 Lotte Schmidt (Den) Danish National Team
44 Tina Mayolo-Pic (USA) Rest of the World
45 Mari Holden (USA) T-Mobile
46 Maryline Salvetat (Fra) French National Team
47 Janildes Silva Fernandes (Bra) Acca Due O
48 Laure Werner (Bel) Vlaanderen T Interim
49 Francis Linthorst (Ned) Ondernemers Van Nature
50 Delphine Guille (Fra) French National Team
51 Vibe Kolding (Den) Danish National Team
52 Sandra Rombouts (Ned) Michaela Fanini-Nürnberger Mix
53 Loes Gunnewijk (Ned) Ondernemers Van Nature
54 Stacey Peters (USA) T-Mobile                               0.07
55 Evy Van Damme (Bel) Belgian National Team
56 Kimberley Anderson (USA) T-Mobile                          0.09
57 Judith Arndt (Ger) Saturn                                  0.13
58 Kelli Emmett (USA) T-Mobile                                0.16
59 Leontien Zijlaard-Van Moorsel (Ned) Team Farm Frites       0.18
60 Arenda Grimberg (Ned) Team Farm Frites-Hartol
61 Minke Van Dongen (Ned) District Zuidwest
62 Sharon Van Essen (Ned)  Netherlands National Team
63 Anouska Van Zee (Ned) Team Farm Frites-Hartol              0.43
64 Sissy Van Alebeek (Ned) Team Farm Frites-Hartol
65 Katrina Berger (USA) T-Mobile                              0.46
66 Daphny van den Brand (Ned) RWC Ahoy                        0.51
67 Martine Bras (Ned) Ondernemers Van Nature                  1.10
68 Sandra Missbach (Ger) RWC Ahoy                             2.45
69 Catherine Marsal (Fra) Saturn                              3.55
70 Ina Teutenberg (Ger) Saturn                                7.47
71 Monique Verstraten (Ned) District Zuidoost                13.43
72 Vera Hohlfeld (Ger) Michaela Fanini-Nürnberger Mix
73 Mirella Van Melis (Ned) Vlaanderen T Interim
74 Corien Van Haastert (Ned) Ondernemers Van Nature
75 Jannie Kleinjan (Ned) District Oost                       16.45
76 Inge Klep (Ned) District Zuidoost                         16.57
77 Afke Sijm (Ned) Ondernemers Van Nature
78 Lise Christensen (Den) Danish National Team
79 Kerstin Forstner (Ger) Michaela Fanini-Nürnberger Mix
80 Julie Hutsebout (Can) Rest of the World
81 Lensy Debboudt (Bel) Belgian National Team
82 Charlotte Goldsmith (GBr) British National Team
83 Aukje De Koning (Ned) District Zuid Holland
84 Regina Van Zuijlen (Ned) District Zuid Holland
85 Frederieke Van Der Wiel (Ned) District Noord
86 Eefje Ottenvanger (Ned) District Zuidoost
87 Marit Kamp (Ned) District Noord
88 Kirsten Wild (Ned) District Oost
89 Kirsten Miggels (Ned) District Zuid Holland
90 Mischa Cooler (Ned) District Oost
91 Brigit Mulder (Ned) District Oost
92 Sandra Oosterbosch (Ned) District Zuidoost
93 Fonny Wekema (Ned) District Noord
94 Magali Le Floc'h (Fra) French National Team
95 Mieke Van Den Burg (Ned) District Zuid Holland
96 Lenie Dijkstra (Ned) Power-Plate-Bik
97 Catharina Mulders (Ned) RWC Ahoy
98 Jorunn Kvalo (Nor) Team Sponsor Service
99 Jose Laan (Ned) District Zuid Holland
100 Evelien Bekkering (Ned) District Noord
101 Melanie Mansveld (Ned) Neckermann Beneluxteam
102 Marieke Verhoeven (Ned) Neckermann Beneluxteam

Starters: 124
Classified: 102


Final World Cup standings

1 Petra Rossner (Ger) Saturn Cycling Team                          345
2 Mirjam Melchers (Ned) Team Farm Frites-Hartol                    283
3 Regina Schleicher (Ger) S.C. Michela Fanini Record Rox           225
4 Priska Doppmann (Swi)                                            155
5 Rochelle Gilmore (Aus)                                           111
6 Susanne Ljungskog (Swe) Vlaanderen-T-Interim Ladies Team          99
7 Fabiana Luperini (Ita) Edilsavino                                 98
8 Hanka Kupfernagel (Ger) Equipe Nürnberger Versicherung            92
9 Svetlana Boubnenkova (Rus) Edilsavino                             86
10 Simona Parente (Ita) Edilsavino                                  84
11 Lyne Bessette (Can) Saturn Cycling Team                          82
12 Deirdre Demet-Barry (USA)                                        75
13 Debby Mansveld (Ned) Vlaanderen-T-Interim Ladies Team            59
14 Nicole Brändli (Swi) Acca Due O Pasta Zara Lorena Camicie        57
15 Virginie Moinard (Fra)                                           57
16 Anna Millward (Aus) Saturn Cycling Team                          50
17 Diana Ziliute (Ltu) Acca Due O Pasta Zara Lorena Camicie         50
18 Judith Arndt (Ger) Saturn Cycling Team                           45
19 Hayley Rutherford (Aus)                                          44
20 Edita Pucinskaite (Ltu) Figurella Dream Team                     39
21 Aline Camboulives (Fra)                                          37
22 Eneritz Iturriaga (Spa) Deia-Pragma-Colnago                      36
23 Chantal Beltman (Ned) Acca Due O Pasta Zara Lorena Camicie       35
24 Geneviève Jeanson (Can) Equipe Cycliste Rona                     35
25 Heidi Van De Vijver (Bel) Vlaanderen-T-Interim Ladies Team       35
26 Sandrine Marcuz (Fra)                                            34
27 Luisa Tamanini (Ita)                                             33
28 Andrea Bosman (Ned) Power-Plate-Bik                              32
29 Angela Brodtka (Ger)                                             30
30 Yvonne Brunen (Ned)                                              30
31 Zinaida Stahurskaia (Blr) Usci Chirio                            30
32 Alison Wright (Aus)                                              30
33 Melissa Holt (NZl) Equipe Cycliste Rona                          29
34 Naomi Williams (Aus)                                             29
35 Caroline Alexander (GBr)                                         28
36 Nicole Cooke (GBr) Deia-Pragma-Colnago                           28
37 Miho Oki (Jpn) C.A. Mantes La Ville 78                           28
38 Joane Somarriba Arrola (Spa) Deia-Pragma-Colnago                 26
39 Katia Longhin (Ita) Acca Due O Pasta Zara Lorena Camicie         24
40 Alessandra Cappellotto (Ita) Power-Plate-Bik                     23
41 Sylvie Riedle (Fra) C.A. Mantes La Ville 78                      23
42 Tanja Schmidt-Hennes (Ger) Equipe Nürnberger Versicherung        23
43 Vera Carrara (Ita) Itera Team                                    21
44 Rosalind Reekie-May (NZl)                                        21
45 Monica Valen (Nor) Team Sponsor Service                          21
46 Tania Belvederesi (Ita) Power-Plate-Bik                          21
47 Margaret Hemsley (Aus) Equipe Nürnberger Versicherung            19
48 Susan Palmer (Can)                                               19
49 Mari Holden (USA)                                                18
50 Tatiana Stiajkina (Ukr) Deia-Pragma-Colnago                      18
51 Sara Symington (GBr)                                             18
52 Ghita Beltman (Ned) Acca Due O Pasta Zara Lorena Camicie         18
53 Rosa Maria Bravo Soba (Spa)                                      16
54 Amber Neben (USA)                                                16
55 Arenda Grimberg (Ned) Team Farm Frites-Hartol                    15
56 Zoulfia Zabirova (Rus) Usci Chirio                               15
57 Christina Mos (Ned) Power-Plate-Bik                              15
58 Kym Shirley (Aus) Itera Team                                     13
59 Cindy Pieters (Bel) Vlaanderen-T-Interim Ladies Team             12
60 Pia Sundstedt (Fin) Team Sponsor Service                         12
61 Kimberly Bruckner (USA) Saturn Cycling Team                       9
62 Trixi Worrack (Ger)                                               9
63 Sophie Creux (Fra)                                                8
64 Rasa Polikeviciute (Ltu) Acca Due O Pasta Zara Lorena Camicie     8
65 Kimberly Anderson (USA)                                           7
66 Emma James (Aus)                                                  7
67 Madeleine Lindberg (Swe) Team Farm Frites-Hartol                  7
68 Lisbeth Simper (Den) S.C. Michela Fanini Record Rox               7
69 Olga Slioussareva (Rus) Itera Team                                7
70 Elisabeth Tadich (Aus)                                            7
71 Esther Van Der Helm (Ned)                                         7
72 Magali Le Floch (Fra)                                             6
73 Theresa Senf (Ger)                                                6
74 Anita Valen (Nor)                                                 6
75 Daniela Veronesi (Smr) Edilsavino                                 6
76 Marcia Eicher Vouets (Swi) C.A. Mantes La Ville 78                6
77 Olga Zabelinskaia (Rus) Itera Team                                5
78 Sara Felloni (Ita) Edilsavino                                     4
79 Catherine Marsal (Fra) Saturn Cycling Team                        4
80 Anette Beutler (Swi)                                              4
81 Jessica Phillips (USA) Saturn Cycling Team                        3
82 Vera Koedooder (Ned)                                              3
83 Elisabeth Chevanne-Brunel (Fra) C.A. Mantes La Ville 78           2
84 Olivia Gollan (Aus)                                               2
85 Valentyna Karpenko (Ukr) Deia-Pragma-Colnago                      2
86 Valentina Polkhanova (Rus)                                        2
87 Susy Pryde (NZl)                                                  2
88 Sarah Waller (GBr)                                                1

Courtesy of Henrik Voogt/UCI