Mengoni Grand Prix - NE
Central Park, New York City, September 25, 2004
2003 Results Results Past winners
"Fortune favors he who dares"
By John Tomlinson, Century Road Club Association
Melito Heredia
Photo ©: Andy Shen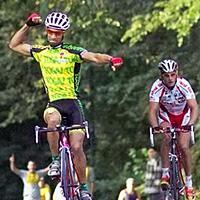 Nice weather greeted the racers at the 2004 Mengoni Grand Prix, promoted by New York's Century Road Club Association and supported by long-time cycling patron Fred Mengoni.
The course is just rolling roads through Central Park, and in good weather races typically come down to field sprints. Not this year. In the pro-1-2 race, first-lap attacks by riders including Greg Wolf (Stelvio Teamwear) and Edwin Morel (GS Gothm/Toga) came together into a 21-rider break with powerful teams like Gotham/Toga, Ideal Tile, Navigators and ACT-UPMC all having at least two men in the move. The GS Mengoni team missed the break completely, partially due to disarray following a serious accident of 3-time winner Wilson Vasquez. Others decided against going and didn't make it either: Germany's Sonke Thiel (Stevens-Hamburg) said "I was on Van Haesebroucke's [Navigators] wheel when he went up, but I thought 'It's too early' and let him go."
Early in the penultimate lap (with about nine miles to go) Gotham/Toga's Melito "Pulla" Heredia and Ideal Tile's Bill Elliston got clear of the rest of the break. Elliston described it: "Pulla was going really hard on the downhill leading into the climb at the top of the park. I took a pull and when I moved over, no one else would do anything. So I went after him. He still had a gap on me at the top of the climb, so I yelled, he waited, and that was it -- we stayed away. Really he was doing most of the work for the rest of the race. Like a freight train."
Edwin Morel
Photo ©: Andy Shen

Why the attack? With a smile Heredia said, "I wanted to win. I've wanted to win this race for years. It was good to have a teammate in the big break, but I was worried about Joe Papp [America's Cycling Team-UPMC] and the Navigators."
A few riders, including last year's cat 3 winner Rob Lattanzi (CRCA/Next), made it across to the break late in the race, as cooperation broke down and the field came close due to chasing efforts from Mengoni, with individuals from CRCA-Conrad's, CTS and other teams helping out. Mike Henson of CRCA/VisitBritain was one of the riders trying to keep the break clear, but reported that "The group was too big and not enough guys were working." Still, most of the break was just ahead of the field at the end. As Mike McGinley of CVC-Pig Iron put it "It was nice not having to deal with a huge mob at the end." In the break, Uruguayan Alvaro Tardaguila of America's Cycling Team-UPMC won the sprint for third over Van Haesebroucke.
Catherine Powers
Photo ©: Andy Shen

An early move also worked in men's 3 race, with six riders getting away early. Fourth place Michael Sherry of CRCA-Merrill Lynch-Stelvio described the move: "The break kind of formed in slow motion. VisitBritain's Ken Harris was last to join to make the juncture but the main reason the gap got comfortable." Winner Daniel Byrne (CRCA/Sanchez-Metro) was not very confident leading into the finish. "There was a prime sprint earlier and I got a touch of cramp then." Bernie McGarry and Tom Cipolla of CTS rounded out the podium.
The women's race was the only one that finished in a field sprint, won by Ashley Kimmet of Colavita-Bolla. Kimmet improved one place over the previous year, as did runner-up Catherine Powers of La Grange. Caryl Gale of CRCA-Aquafina was third. Powers, who began racing in New York City, described the finish as "tricky" adding "I used to have it dialed in but it's been a long time since I've raced in Central Park. I like to go early but got a little bungled up when Betty Tyrell launched even earlier and then faded and pulled off to my side. Still, it's great to be back in New York!"
Photography
Images by Andy Shen/www.mlracingteam.com
Images by Marco Quezada/www.mlracingteam.com
Results
Men Pro-1-2, Seven laps/42 miles, 100 riders
 
1 Melito Heredia (GS Gothm/Toga)
2 Bill Elliston (Ideal Tile)
3 Alvaro Tardaguila (America's Cycling Team - UPMC)
4 Franky VanHaesebroucke (Navigators/ Watchung Racing)
5 Greg Wolf (Stelvio Teamwear/Orbis Properties)
6 Bill Short (Land Rover)
7 Eneas Freyre (Americas Cycling Team/ UPMC)
8 Adam Pantastico (Ideal Tile)
9 John Semmelhack (ABD Cycling Team)
10 Kevin Molloy (CRCA-Sakonnet Technology)
11 Skip Foley 
12 John Durso (Liberty Cycle)
13 Robert Lattanzi (CRCA/Next)
14 Daniel Zmolik (NECSA/Cuevas)
15 Michael McGinley (CVC)
16 Roger Aspholm (Westwood Velo)
17 Horace Burrowes 
18 Colin Sandberg (ESSM/GPOA Cycling)
19 Edwin Morel (GS Gotham/Toga)
20 Michael Miller (K2-Shirk's Bike Shop)
21 Todd Herriott (Colavita Olive Oil Mens Pro Cycling Team)
22 Marty Nothstein (Navigators Insurance Cycling Team)
23 Sebastian Alexandre (Colavita Olive Oil Pro cycling team)
24 Lisban Quintero (NECSA/Cuevas)
25 Joseph Papp (America's Cycling Team - UPMC)
26 Roosevelt Martes (GS Mengoni)
27 Anthony Alessio 
29 Michael Henson (CRCA/Visit Britain)
30 Christian Young (Ideal Tile/Brielle Cyclery)
31 Ward Solar (America's Cycling Team - UPMC)
32 Haig Marino (CRCA-Conrad's)
33 Craig Cook (CRC Association)
34 Jerry Kapko (Deno's Wonder Wheel Cycling)
35 Ted Inoue (K2/Atlantic Racing)
36 Christopher Pile (CRCA/Remax)
37 Ed Krasnai (Bike Doctor/Cannondale)
38 Steve Hylton (Century Road Club Association)
40 Stephen Badger (CRCA/Sakonnet Technology)
41 Troy Kimball (Westwood Velo)
42 JP Partland (Kissena)
43 Jared Bunde (Ideal Tile/Brielle Cyclery)
44 Pete Petrillo (CVC Pig Iron Sports)
45 Martin Lechowicz (NECSA/Cuevas)
46 Sonke Thiel (Stevens-Von Hacht-Harvestehuder RV Hamburg)
47 John Paproski (K2/Atlantic Racing)
48 Gerardo Castro (America's Cycling Team - UPMC)
49 Eric Juzysta, Capitol Bike Racing Club--Albany (NY)
50 Leon Moser (CRCA/VisitBritain)
51 Anthony Taylor (CRCA-Foundation)
52 Chris Romero (CRCA/Sakonnet Technology)
53 Oscar Pineda (Stelvio Teamwear/Orbis Properties)
54 Karl Rahn (CRCA/Sakonnet Technology)
55 Marc Bertucco (ABD)
56 Somraj Seepersaud (NECSA ACT Espoir)
57 Alberto Blanco (Team 508/MBS)
58 Unknown
59 Jonathan Lowenstein (Arc en Ceil Racing Team)
60 Mike Norton (Ideal Tile/Brielle Cyclery)
61 David Sommerville (Ideal Tile/Brielle Cyclery)
62 Doug O'Neill (CTS)
63 Mateo Sasso (America's Cycling Team - UPMC)
Other finishers unplaced
 
Women Pro-1-2-3, Five laps/30 miles, 24 riders
 
1 Ashley Kimmet (Colavita Women's Team)
2 Catherine Powers (La Grange)
3 Caryl Gale (CRCA-Aquafina)
4 Sarah Caravella (Team Cadence)
5 Sarah Chubb Sauvayre (CRCA/Sanchez-Metro)
6 Anne-Marie Miller (Verizon Wireless - Wheelworks)
7 Juana Fernandez (Dominican Republic)
8 Lisa Jellett (CTS/Cranford)
9 Alison Fischer (East Coast Velo)
10 Caroline Hacker (Evolution Racing)
11 Ellen Moses (CRCA/Foundation)
12 Brenda Nevins (Verizon Wireless - Wheelworks)
13 Leslie Jennings (CRCA/Radical Media)
14 Jacqueline Paull (Land Rover)
15 Tara Parsons (CRCA/Aquafina)
16 Veronica Jennings (CTS/Velocity)
17 Cindy Ma (CRCA/Sanchez-Metro)
18 Elizabeth Renaud (CRCA/Sanchez Metro)
19 Alaina Gurski 
20 Reem Jishi (CRCA/Radical Media)
Other finishers: 
Angela Johnson (Axis/CRCA)
Kristi Roberts (CRCA/Sanchez-Metro)
Ann Marie Shrader (Somerset Wheelmen)
Elizabeth Tyrell (Somerset Wheelmen)
 
Men Category 3, Six laps/36 miles, 80 riders
 
1 Daniel Byrne (CRCA/Sanchez-Metro)
2 Bernard McGarry (CTS/ Cranford)
3 Thomas Cipolla (CTS)
4 Michael Sherry (CRCA/Merrill Lynch/ Stelvio TeamWEAR)
5 Barry Miller (Unione Sportiva Italiana)
6 Ken Harris (CRCA/VisitBritain)
7 Chris Gugliemo (CTS)
8 Garrett Crooks (Northeast Bicycles Road Club)
9 Brian Wolf (Bethel Cycle)
10 Richard Gonzalez (Team Bikery/Shebell)
11 Matthew Howard (CRCA/Blue Ribbon - Translations.com)
12 Raymond Smith (Team Bikery-Shebell & shebell)
13 Roger Friedman (VisitBritain)
14 Vinny Vicari (Sanchez-Metro)
15 Marcos Grateraux (CRCA)
16 Robert L Brown Jr (Global Locate/MHB Cycling)
17 Jeff Cline (Kreb East End)
18 Rick Spear (Northeast Bicycles Road Club)
19 Jeffrey Hansen (Bethel Cycle Sport Club)
20 Unknown
21 Eddie Burlem (Denos Wonder Wheels)
22 Unknown
23 Anthony Lowe (VisitBritain/CRCA)
24 Unknown
25 Unknown
26 Unknown
27 Andrew McGee (CRCA - Deutsche Bank / Renaissance)
28 Timothy Spence 
29 Chris Rassekh (WVU HealthCare)
30 Marc Mauceri (CRCA/Blue Ribbon - Translations.com)
31 Paul DeBartolo (GS Gotham/Toga)
32 Todd Sammann (CRCA - Deutsche Bank / Renaissance)
33 Greg Bartick (Tokeneke Road Club)
35 Matt Kupsky (Team Beacon)
36 Didier Blanc (Liberty Cycle)
37 Russell Young (Deno's Wonder Wheel Cycling)
38 Unknown
39 Jason Beerman (Hell's Kitchen Cycling Team)
40 Peter Martin 
41 Brian Plouffe (Powder Ridge)
42 Robert Stern (CRCA/MoneyGram)
43 Wade Hess (Team Beacon)
44 Pat Gellineau (Team Squiggle)
45 Dan Bernard (CRCA/Deutsche Bank-Renaissance)
46 William Thompson (Bethel Cycle Sport)
47 Jackson Wandres (Deno's Wonder Wheel Cycling)
48 Unknown
49 Unkownn
50 Eric Ragot 
51 Zebulon Nelessen (Kissena Cycling Club)
52 Oscar Rosales (CRCA - Deutsche Bank / Renaissance)
Other finishers unplaced
Past winners
2003 Wilson Vasquez (USA) GS Mengoni

2002 Joseph Papp (USA)
2001 Wilson Vasquez (USA)
2000 Graeme Miller (NZL) Team Shaklee
1999 Wilson Vasquez (USA)
1998 ???
1997 Mike McCarthy (USA) Saturn Cycling Team
1996 Wilson Vasquez (USA)
1995 Roberto Gaggioli (ITA) Guiltless Gourmet
1994 Brian Dykes (USA) Navigators Cycling Team