Mengoni GP - NE
New York City, NY, USA, September 27, 2003
Wilson Vasquez (Mengoni) wins again
Photo ©: Stephen Chang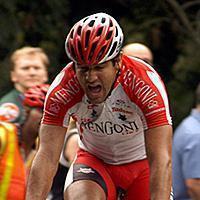 Van Gilder's Saturn swan song
Photo ©: Stephen Chang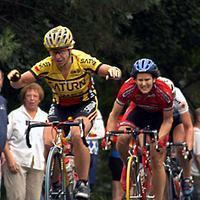 Vasquez wins again; Van Gilder's victorious Saturn swan-song
By John Tomlinson
Wilson Vasquez of GS Mengoni won his fourth Mengoni Grand Prix in New York City Saturday in a field sprint over Uruguay's Mateo Sasso of UPMC Fraysse and Eneas Freyre of LeMond Fitness-Captain CRA-Z Soap. As in 2002 the race was held in very slippery conditions with light rain and fog, but this time the field stayed together despite non-stop attempts by a range of riders to get away. The visiting team of Dutch espoirs was particularly active. The final lap saw a crash with about 300 meters to go disrupt the chances of many contenders.
The women's race also had a lot of action and some mishaps on the wet roads. It ended in a field sprint won by former US national criterium champion Laura Van Gilder in possibly her last appearance in Saturn colors. Second was last year's winner Ashley Kimmet of Colavita-Bolla, with Catherine Powers of Richard Sachs in third.
The category 3 men's race looked like it ended in a field sprint, but winner Rob Lattanzi of the promoting club's CRCA-Next team actually attacked with a kilometer to go and just held on.
Photography
Images by Stephen Chang/wwww.MetroSanchezRacing.com
Results
Men Pro-1-2, seven laps/42 miles, 100 riders
 
1 Wilson Vasquez (GS Mengoni)
2 Matteo Sasso (UPMC Fraysse)
3 Eneas Freyre (LeMond Fitness-Captain CRA-Z Soap)
4 Anthony Alessio (Remax/CRCA)
5 Gerardo Castro (UPMC Fraysse)
6 Edwin Morel (Toga Bikes)
7 Scott Zwizanski (Snow Valley)
8 Ryan Oelkers (Sportsbook.com)
9 Horace Burrowes (CRCA)
10 Raymond Newton
11 Ben Jamesson (BBC/Tom's)
12 Alejandro Acton (UPMC Fraysse)
13 Ron Fantano (CVC/Pig Iron
14 Paul Choo-Wee-Nam
15 Kevin Monahan (7-Up/Maxxis)
16 Eugene Boronow (GS Mengoni)
17 Rik Sijm (Holland/Yum Yum Bake Shops)
18 Roger Aspholm (Westwood Velo)
19 Samual Acevado (Toga Bikes)
20 Marc Bertucco (Athletes By Design)
21 Niki Terpstra (Holland/Yum Yum Bake Shops)
22 Chris Hardee (LSV/Trek/VW)
23 Frank Kwanten (Holland/Yum Yum Bake Shops)
24 Mark Light
25 Steve Dioslaki
26 John Tomlinson (CRCA-Conrad's)
27 Jonathan Lowenstein (Arc En Ceil Racing Team)
28 Marcos Gratereaux (Gap/Crca)
29 Charlton Hoag (Liberty Cycle)
30 Jason Bremer (GS Mengoni)
31 Juan Barroso (Foundation)
32 David Johnson (Southern Maine Cycling Club)
33 Ben Lindsay (Ride with Rendall)
34 Huub Duyn (Holland/Yum Yum Bake Shops)
 
(other finishers not placed)
 
Women Pro-1-2-3, five laps/30 miles, 30 riders
 
1 Laura Van Gilder (Saturn)
2 Ashley Kimmet (Colavita-Bolla)
3 Catherine Powers (Richard Sachs)
4 Caryl Gale (EAS/Fitness-CRCA)
5 Sarah Chubb Sauvayre (CRCA/Sanchez-Metro)
6 Frances Harrison (CRCA/Sanchez-Metro)
7 Elizabeth Begosh (Snow Valley)
8 Ann Marie Miller (Verizon Wireless-Cervélo)
9 Lisa Jellett (CTS/Cranford Bike Club)
10 Julie Upton (CRCA-EAS/Fitness Magazine)
11 Katherine Lambden (CRCA/Gotham)
12 Leslie Jennings (CRCA-Conrad's)
13 Bronwyn Law-viljoen (Radical Media)
14 Lenore Imhof (Colavita-Bolla)
15 Elizabeth Tyrell (Somerset Wheelmen)
16 Alison Fischer (East Coast Velo)
17 Jane Kenyon (CRCA/Team EAS)
18 Kristen LaSasso (Rona-Esker)
19 Randall Sharp (CRCA-Axis)
20 Tara Parsons (CRCA-EAS)
21 Reem Jishi (CRCA-Conrad's)
 
(other finishers not placed)
 
Men Category 3, six laps/36 miles, 80 riders
 
1 Robert Lattanzi (CRCA/NEXT)
2 David Williams (CRCA)
3 Daniel Byrne (CRCA/Sanchez-Metro)
4 Herrick Lane (Hells Kitchen Cycling)
5 Thomas Ziermann (GBSC/Carl Hart/FESTO)
6 Todd Cassan (Rocinante)
7 Christopher Pile (Tokeneke Road Club)
8 Samraj Seepersaud (NCCSA)
9 Ezekiel Volkert (Brooklyn Velo Force)
10 Ben Rhodes (Milburn/508)
11 Edgardo Torres (Tokeneke)
12 Keith Mcmahon (CRCA)
13 William Thompson (Powder Ridge)
14 Daniel Schmalz (CRCA/Sanchez-Metro)
15 Rick Spear (Tokeneke Road Club)
16 David Ottavio (CRCA-Conrad's)
 
(other finishers not placed)
 
Prime won by Vincent Cintron (Strictly Bicycles/CRCA)

Past winners

2002 Joseph Papp (USA)
2001 Wilson Vasquez (USA)
2000 Graeme Miller (NZL) Team Shaklee
1999 Wilson Vasquez (USA)
1998 ???
1997 Mike McCarthy (USA) Saturn Cycling Team
1996 Wilson Vasquez (USA)
1995 Roberto Gaggioli (ITA) Guiltless Gourmet
1994 Brian Dykes (USA) Navigators Cycling Team