Results and Reports from Singapore
Promoters wishing to submit results should send them to Cyclingnews
Singapore Teams Time Trial
Changi, July 13, 2003
By Kerrie Crisp
You go girls! ANZA Ladies pull off a surprise win
Photo: © Kerrie Crisp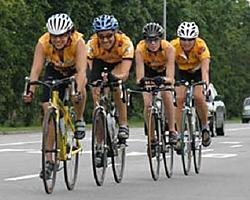 Another great turn out for the Singapore Amateur Cycling Association (SACA) 2003 Teams Time Trial held on Sunday the 13th. Fine weather but a slightly strengthening breeze meant harder work for the teams starting further down the order.
24 teams contested the event with ANZA Cycling fielding 6 and arch rivals Cycleworkz putting up 4.
Mixed
ANZA Ladies pulled off a surprise victory in the mixed category, beating home teams comprising of three men and one female rider to take the gold medal! Newcomer Amy Williams showed she had some serious grit with a gutsy performance. Leah Bayer, Kerrie Crisp and Julie Cunningham made up the quartet. What the ladies lacked in pure grunt, they made up for in technique to take the win by 18 seconds over the 39km flat course.
Masters
ANZA Vets A performed strongly with consistent lap times to scoop the gold medal in the vets race. The team consisted of some powerhouse riders in Peter Sharman, Brian Holden, Marcus Coghlan and Marshall Allen. Cycleworkz put a class vet team together to counteract the strong ANZA A but had to settle for 2nd on the day. New to SACA racing, Mobile Edge, staged a polished and consistent performance to take out 3rd.
ANZA Vets C just missed out on a top three finish by 6 seconds for 4th. The team, comprising of Bob Quirk, Mike Cunningham, Peter Lacoste and Gary Harvey, rode well to pip ANZA Vet B by 30 seconds. Vet B - David Kirkby, John Winkie, Gavin Bentley and Stuart Nelson faded slightly on the middle lap, then picked up the pace on the final lap but were unable to reel in the others and placed 5th.
Open
There was some serious competition in the open category again this year, and at the eleventh hour, the ANZA Open A boys only had three riders (one with the flu). Stuart McIntosh, Colin Pearson, Cas Brentjens and Mark finally hit the street and acquitted themselves well with a 5th placing.
Cycleworkz put a talented team together with Kale Buonerba, Arab and Nick Swallow among them. They lost a man at lap two but managed to put in a stylish ride and a strong final lap to win gold. Nick said, "Kale, Arab and myself were well matched and worked smoothly together despite only a short practice session the day before."
Team Absolut took out the second place - Alexander Ling, Teo Woon Lip, Darryl Lee and Nathanial started with two slow laps but really put the hammer down to come home strongly. Alexander commented, "I can say that one reason why the team could perform was because we understand and trust each other - something built over many rides together."
Photos
Images by Kerrie Crisp
Results

Mixed, 39 km
 
1 ANZA Ladies
2 Team Geylang
3 Team Liquid Elements
4 Team Absolut
5 Team Ascender Espoirs
 
Masters, 39 km
 
1 ANZA Vets A
2 Cycleworkz A
3 Mobile Edge
4 ANZA Vets C
5 ANZA Vets B
 
Open, 52 km
 
1 Cycleworkz A
2 Team Absolut
3 Geylang Cannondale
4 Cycleworkz B
5 ANZA A