Results and Reports from Australia
Promoters wishing to submit results should send them to Cyclingnews
Riverland CC
February 23, 2006
Boase claims impressive victory
Three B-grade riders (on left) lead by eventual winner Angus Boase
Photo ©: Mark Kershaw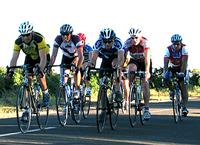 Angus Boase produced a fine winning ride at Tuesday's Riverland Cycling Club criterium meet. Boase, who over the past few weeks has been dominating the pace of the B-grade group, lead out the final sprint to win comfortably from his fellow competitors.
Chris Stevens also produced a solid ride to finish strongly in second place, with Mark Kershaw and Greg Hatcher placing third and fourth respectively. Boase will probably find himself promoted to A-grade next week as this week's effort also saw him drive the B grade bunch past the A grade group three on three occasions.
The A grade race saw Nigel Willoughby take victory with a strong sprint that proved too good for current club champion, Lee Stevens. Willoughby has been racing consistently for some time now and his win was well deserved. Mick Grey finished in third place some distance behind Willoughby and Stevens.
In C grade, Matthew Benson's maiden victory proved that his adjusting well to the rigours of criterium racing. Benson, who has consistently placed second since joining the club, was too strong over the final lap overcoming a surge from Craig Ward to cross the line ahead of Ward and Simon Woods. Ward and Woods are also new members to the club.
Bob Pankhurst showed that he still has what it takes to win by riding to victory in D grade. Pankhurst didn't show the affects of a 120km ride from Glenelg to Victor Harbour on the weekend by holding off Barry Trewren and new club rider Peter Evans over the final lap. This weekend sees the conclusion of the Track Championships at Renmark. Racing commences at 9am on Sunday at the Renmark oval.
Results

A Grade
 
1 Nigel Willoughby    
2 Lee Stevens         
3 Mick Gray           
 
B Grade
 
1 Angus Boase         
2 Chris Stevens       
3 Mark Kershaw        
4 Greg Hatcher        
5 Ben Vagnarelli      
6 Michael Anderson    
DNF Lara MacKirdy     
 
C Grade
 
1 Matthew Benson      
2 Craig Ward          
3 Simon Woods         
4 Peter Weston        
5 Amanda Steele       
6 Elton Reimann       
7 Ruth Strout         
8 Angelo Ylia         
 
D Grade
 
1 Bob Pankhurst       
2 Barry Trewren       
3 Peter Evans         
4 Gordon Lawton